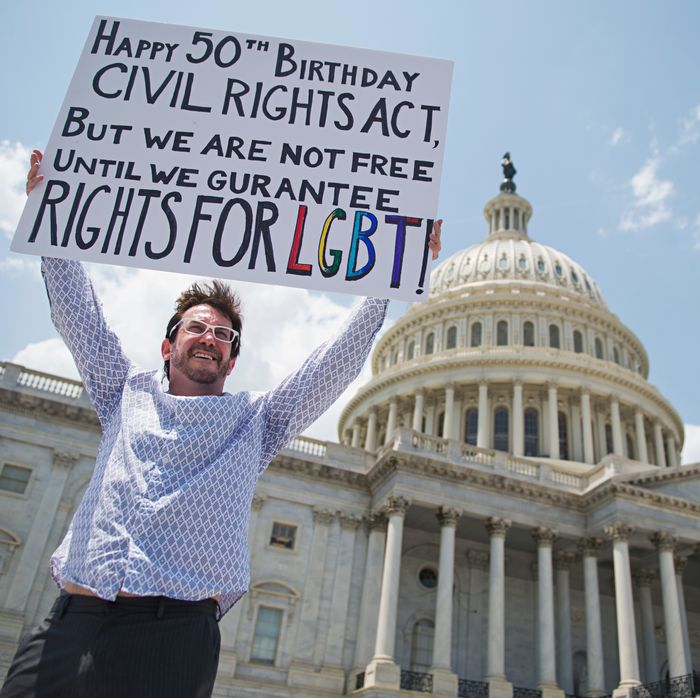 Steve Cohn protests in front of the Capitol on July 2, 2014.
Photo: Tom Williams/CQ-Roll Call,Inc.
A federal appeals court in Chicago ruled on Tuesday that the 1964 Civil Rights Act protects LGBT employees from discrimination in the workplace. Three weeks ago, another appellate court in Georgia came to the opposite conclusion, and the matter is likely to end up before the Supreme Court.
For now, gay-rights groups are hailing the ruling as a major victory. "This decision is game changer for lesbian and gay employees facing discrimination in the workplace and sends a clear message to employers: it is against the law to discriminate on the basis of sexual orientation," said Greg Nevins of the nonprofit Lambda Legal.
The decision allows Kimberly Hively to proceed with a 2014 lawsuit in which she claims that Ivy Tech Community College in South Bend, Indiana, decided not to hire her for a full-time position because she is a lesbian. According to CNN, Hively filed the suit herself when she couldn't find a lawyer who would take it. A lower court dismissed her suit, and a three-judge panel of the Seventh U.S. Circuit Court of Appeals rejected her appeal.
Lambda Legal helped Hively request a rehearing, and this time all 11 judges considered her appeal. They ruled 8-to-3 in her favor on Tuesday, which is particularly notable because the court is fairly conservative. Five of the eight judges who ruled in the majority were appointed by Republican presidents.
The AP reports that the decision came down to the meaning of the word sex in Title VII of the Civil Rights Act, which says employers can't discriminate against workers based on their "race, color, religion, sex, or national origin."
"Any discomfort, disapproval, or job decision based on the fact that the complainant — woman or man — dresses differently, speaks differently, or dates or marries a same-sex partner, is a reaction purely and simply based on sex," Judge Diane Wood wrote for the majority.
However, Judge Diane Sykes, who was on President Trump's list of potential Supreme Court nominees, said "sex" could not be stretched to mean "sexual orientation."
"It's understandable that the court is impatient to protect lesbians and gay men from workplace discrimination without waiting for Congress to act," Sykes said. "Legislative change is arduous and can be slow to come. But we're not authorized to amend Title VII by interpretation."
Ivy Tech said on Tuesday night that it does not intend to appeal the case to the Supreme Court. "The college denies that it discriminated against the plaintiff on the basis of her sex or sexual orientation and will defend the plaintiff's claims on the merits in the trial court," said Jeff Fanter, the school's senior vice-president for communication and marketing.
The Supreme Court's legalization of same-sex marriage left LGBT people open to many other forms of discrimination. In January, President Trump promised not to revoke President Obama's executive order banning federal contractors from discriminating against workers due to their sexual orientation or identity, but last week Trump quietly rolled back some of those protections.
Hively said she hopes the ruling ultimately closes "the gap that was left when the marriage law passed," and that it "gives people pause when they're bullying someone over their sexual orientation."