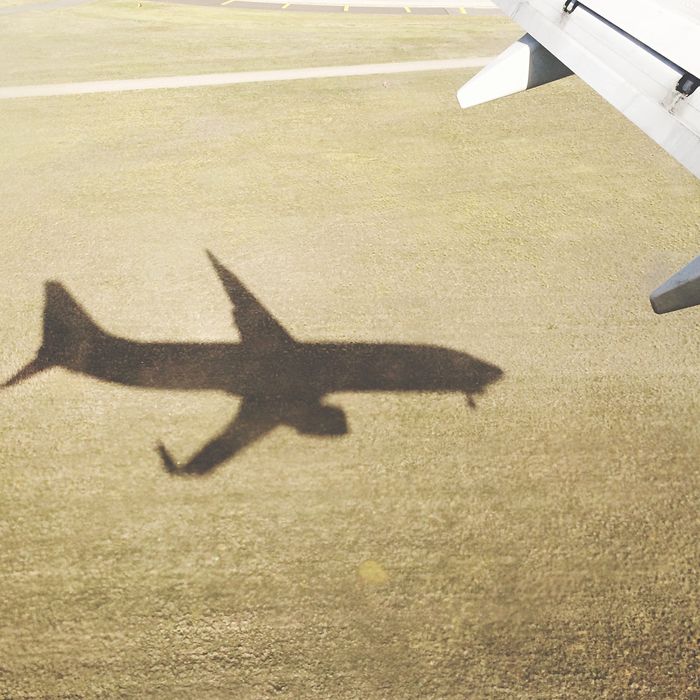 This week, United Airlines was all over the news for the way it handled a situation. Now, a report from Fortune looks at a few other airlines — this time, for how they treat employees who are pregnant and new parents.
Last year, according to the report, a flight attendant for a regional airline owned by Delta filed a discrimination complaint alleging the company failed to provide adequate pumping facilities. Fortune reports this case has now been settled, with the airline paying the flight attendant $30,000. But at least two other clashes between airlines and working parents are still in flux, per Fortune: "Four female pilots, represented by the ACLU, sued Frontier Airlines for discrimination last May, and pilots at Delta Air Lines lobbied their male-dominated union to negotiate for paid maternity leave, so they could stay home to pump."
Unfortunately, the airline industry is exempt from the Affordable Care Act's stipulation that workplaces with 50 or more employees provide workers with a non-bathroom place to pump. But, as Fortune points out, local laws sometimes protect workers from pregnancy discrimination (and include the right to lactation accommodations). The nature of the airline industry, with workers jetting from place to place, however, means knowing how to apply regional rules is tricky.
The case with Frontier Airlines is ongoing, with the pilots involved asking that pregnant and nursing pilots be temporarily reassigned to ground jobs. Currently, Frontier's policies, like many airlines', dictate pregnant pilots stop flying a few months before they're due. This means mothers-to-be are on leave — and missing out on pay — well before the baby arrives.
For some employees, Delta changed its leave policies earlier this year: Ground employees and flight attendants may now take six weeks maternity leave, with one month's leave — unpaid — available to both male and female new parents. But because a union (which, again, is male-dominated according to Fortune) determines their workplace policies, these new leave offerings do not currently apply to pilots.