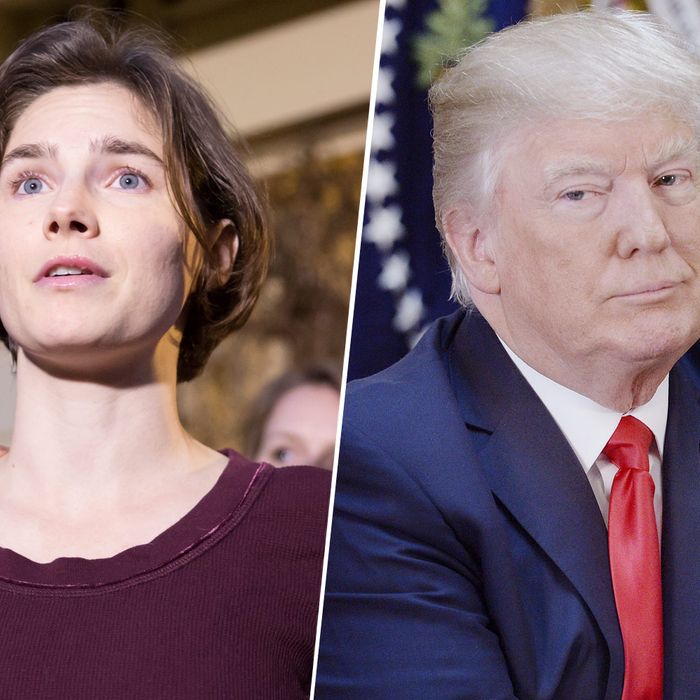 Amanda Knox, Donald Trump.
While Seattle native Amanda Knox was imprisoned in Italy after she was accused of murdering her roommate, one of her vocal defenders stateside was now-President Donald Trump. He gave television interviews about her and tweeted missives like "Everyone should boycott Italy if Amanda Knox is not freed — she is totally innocent."
Knox was definitively exonerated in 2015 and during the 2016 presidential race, she backed Hillary Clinton, voicing her support for the Democratic candidate on her blog. In a post-election column at the Ballard News-Tribune, Knox even acknowledged that, despite Trump's past advocating on her behalf, she did not support him or his policies. And, according to one of president's friends, he isn't too happy about that.
The New York Times profiled Italian immigrant George Guido Lombardi who, in addition to being Trump's friend and Trump Tower neighbor, is also apparently his tie to far-right ideologues in Europe. Back in the day, Trump reportedly "asked Mr. Lombardi to look into her case during a trip to Italy. Now, Mr. Lombardi said, the president is 'very upset' with the ingratitude of Ms. Knox, who supported Hillary Clinton."
No word yet on how he feels about Robert Pattinson, who, you may recall, he supported quite publicly during his 2012 relationship troubles with Kristen Stewart.