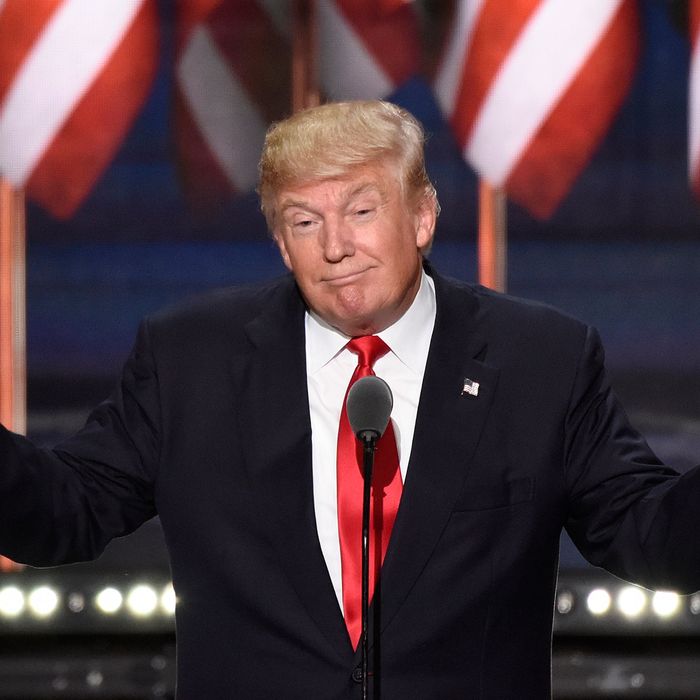 The president is basically your dad.
Photo: Ida Mae Astute/ABC via Getty Images
Donald Trump's obsession with cable TV is well documented, as is his tendency to be influenced by what he watches; his late-night tweet rants tend to sync up with Fox News programming, and he recently made a foreign-policy decision based on televised images that "had a big impact" on him.
A Washington Post report published over the weekend gave further insight into the president's TV habits, and if there's a man in your life between the ages of 45 and 75, some of them might sound familiar.
On his campaign plane, Trump watched television on full volume — usually Fox News, sometimes CNN — almost constantly, said someone who flew with him, shushing his aides whenever he himself came on the screen and listening with rapt attention. When Hillary Clinton appeared, he'd similarly quiet his team, often before pointing a finger at the TV and scolding: "She's lying! She's lying!"

To relax, however, he would occasionally watch the Golf Channel, while on his plane or in the clubhouses of some of his private courses.
According to officials who commented for the story, TVs in the West Wing are usually tuned to one of four stations: CNN, Fox, Fox Business, and MSNBC. At night, the president likes to "hate-watch cable shows critical of him" in his private residence "while chatting on the phone with friends." And that's when the tweeting happens: "Once he goes upstairs, there's no managing him," one adviser told the Post.
All of which is to say: Should World War III seem imminent, don't rule out the Golf Channel as a deescalation tactic.