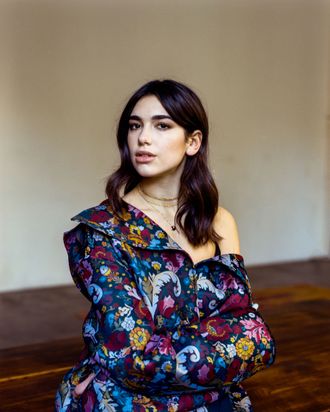 Dua Lipa.
Photo: Andre Wagner
Pop stars usually get a bad rap — they're hard to deal with and even harder to please (cough, cough Mariah Carey) but Dua Lipa, whose name, fittingly means "love" in Albanian, is the complete opposite. The minute she walks into our shoot, wearing a mix of cool, independent designers so perfectly styled she looks like a model who just left a runway show, she says hello to everyone on set and ogles the racks of clothes like a kid in a candy store. "I've always loved dressing up" she says, while running her fingers over a brocade Marques Almeida jacket (seen above). "I like how powerful fashion makes me feel. I live for that grungy-prissy juxtaposition that Kate Moss, Naomi Campbell, and Drew Barrymore wore in the '90s."
Lipa's style is equally as captivating as her music, which she likes to call "dark pop." It's the kind of sound that's fun and addicting, but also means something. Lipa has managed to tap into a fresh take despite pop music's oversaturated and repetitive sound, with Rolling Stone dubbing her a cross between Amy Winehouse and Nelly Furtado. And with a handful of singles out, and a new one, "Lost in Your Light," that debuted with Miguel two weeks ago, Lipa's 1 million Instagram followers are focused on two things: When her album is coming out, and where she gets her clothes. "I want fans to remember my shows by the outfits I wear, and every time I try to be different, especially now that I'm on tour." Her style is an eclectic mix of sporty and girly, with no set guideline of what's "in" or "out."
Touring with Australian YouTube sensation Troye Sivan last year prepped Lipa for her own 15-city headlining extravaganza, which commences in the U.K., and includes stops at Bonnaroo, Governors Ball, and Glastonbury this summer. The London-born Kosovar-Albanian singer is releasing her eponymous debut album on June 2, and it feels like a long time coming: Her hit singles, "No Lie" with Sean Paul, "Blow Your Mind," "Hotter Than Hell," and "Scared to Be Lonely," with Martin Garrix (which she sung at a surprise performance at Coachella) have all been hits on the charts for months.
It's a rarity for a new artist to go on tour prior to releasing an album, but it makes perfect sense that Lipa's already a star. Her voice is raw and unfiltered; it hasn't been manufactured by label managers in a boardroom. And her words are powerful: Lipa's single, "Hotter Than Hell," a tropical dance-inspired track, features lyrics with religious undertones. "You're my manna from heaven / We all gotta get fed / Can let me know I'm wanted / Can you let me in your head," she sings of a relationship that gives her a spiritual type of nourishment. You actually feel Lipa's emotions when she sings, and it's the sincerity that sets her apart, and pushes her version of pop music to a more autobiographical place.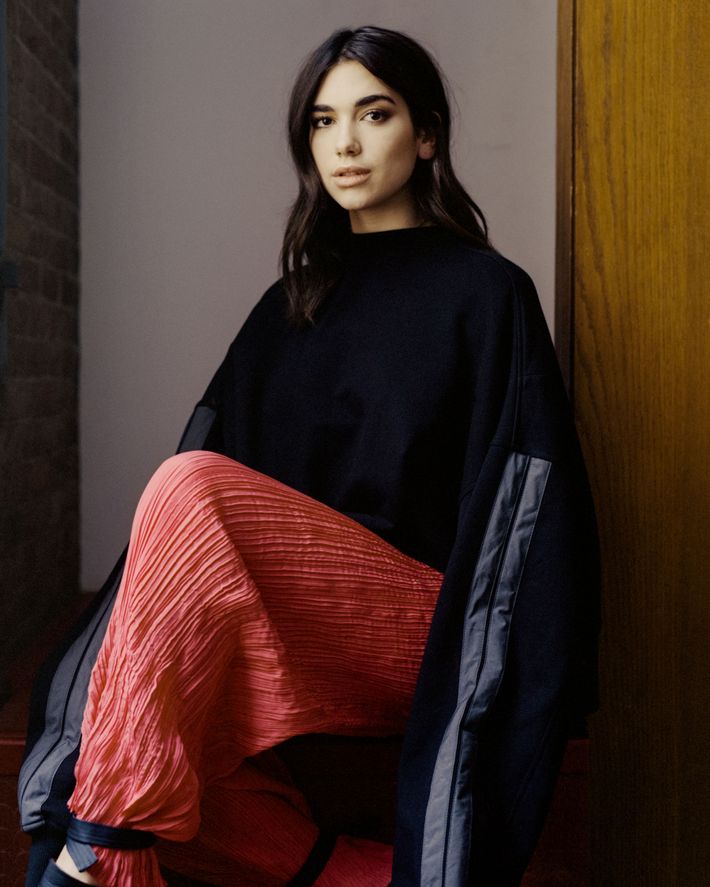 Vera Wang Top and Pants, Price Upon Request at Vera Wang.
Though she started singing at the age of 5, Lipa didn't always envision a career in music. Teachers told her she didn't have the vocals, and one even went so far as to tell her she couldn't hit high notes and that singing wasn't for her. "I was 11 and living in Kosovo," she explains. "I knew I wanted to perform, but didn't feel like I could do it there. So I moved back to London on my own at 15, carried on going to school, and started posting cover songs online. I had no idea how I was going to become a performer, but I felt like I had so many more opportunities being in London."
When she was growing up in Kosovo, her parents exposed Lipa to all different kinds of music (dad is Albanian rock star Dukagjin Lipa), which she says shaped her own voice — a mix of pop, hip-hop, and rock. "I grew up listening to David Bowie, Bob Dylan, and Radiohead and then as I got older really got into Nelly Furtado and Pink," she says. "I started out by going into the studio, putting on one of my favorite songs and dissecting what I liked about it. Lyrically, 'Hotter Than Hell' was exactly what I wanted it to be. When I think of artists I love like J. Cole, it's the storytelling that grabs me. I want to be honest with my music."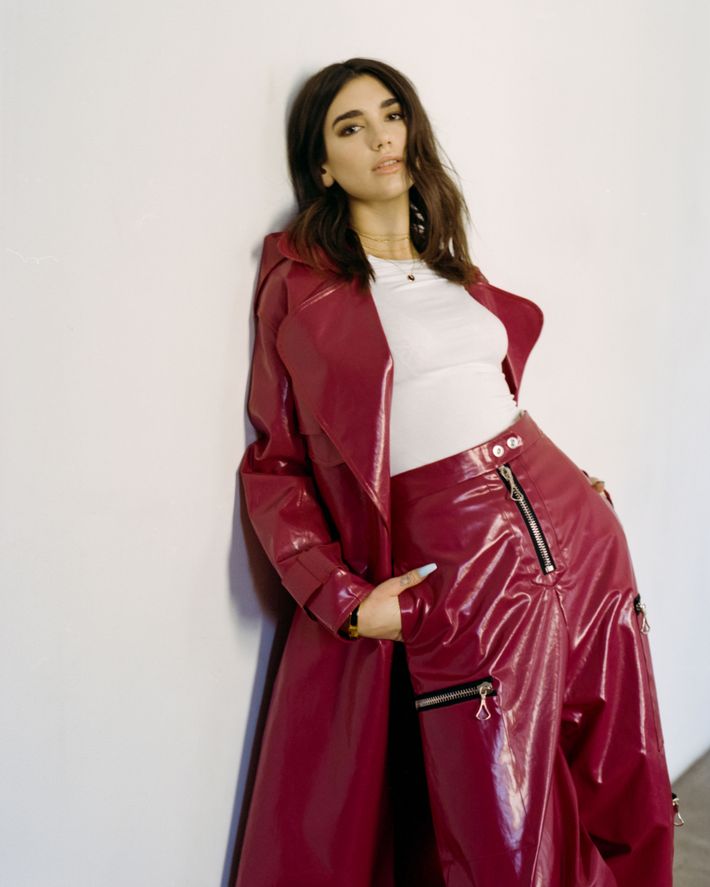 Ellery Jacket and Pants, Price Upon Request at Ellery, Gap T-Shirt, $19 at Gap.
By the time she was 18, Lipa's YouTube covers of Alicia Keys's "If I Ain't Got You" and Christina Aguilera's "Beautiful" gained the attention of Warner Bros. Records, who signed her in 2015. In 2016, she won New Musical Express's coveted Best New Artist Award in the U.K., for her debut single, "Be The One," beating out Christine and the Queens, Anderson .Paak, and Zara Larsson. Her fifth single, "Blow Your Mind" charted on Billboard's Hot 100, giving her the crossover that most international artists hope for all their careers. "My goal is to get my music out to as many people as possible," she says. "That a song of mine is being played on the radio so far away from home really, really pushes me. It's everything I've dreamed of."
Though it's catchy, Lipa's music is a far cry from happy-go-lucky. Her new album stays true to her love of storytelling, in the form of darker, more visceral pop songs. "I've been working so long on this project that I want 100% of it to be coming from me, I owe that to myself," she says.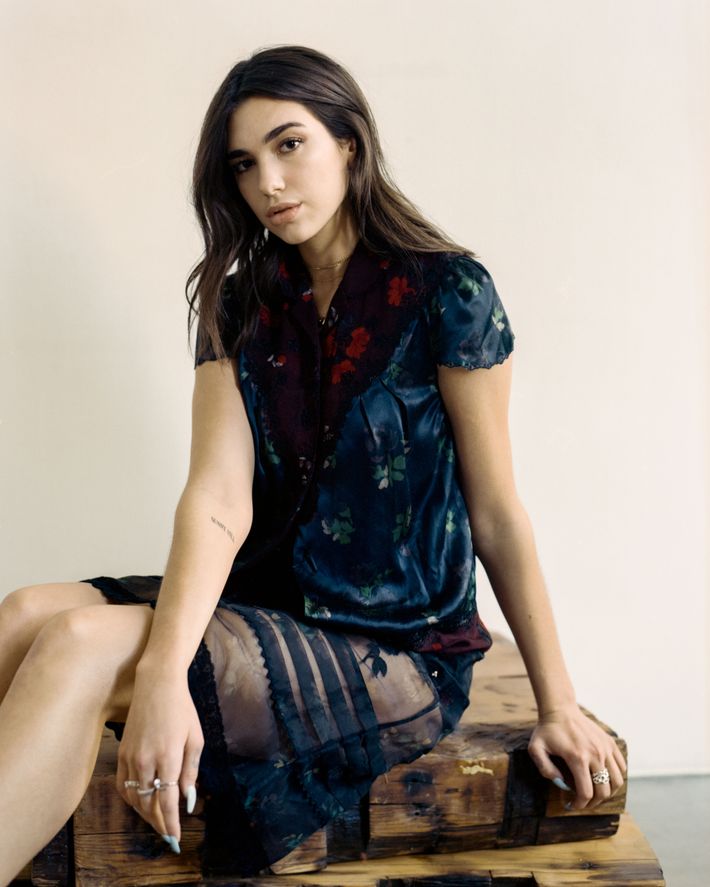 Coach Similar Silk Top, $299 at Coach, Coach Embroidered Skirt, $495 at Coach.
Lipa describes her new album as "diverse and progressive pop" and emphasizes that honesty is the key. Most of it's still a secret, but we do know she has some hits coming. "It's been a massive learning curve writing for this album," she says. "What I've realized is that we're all going through the same shit; we're all human and trying to get through it."
Now that she's 21, Lipa says she's learning to stand her ground and using her female fans to fuel her own revolution in music. "I've learned now to deal with a lot of opinions and also how to get my point across," she says. "Now more than ever, women have the opportunity to express themselves creatively, wear what they want to wear, and lead their lives how they want to," she says. "There's nothing more powerful than what's happening right now in politics, and as women we're becoming stronger every day." And that's when I understand why Lipa is different — she doesn't preach that she knows it all, or act oblivious to things going on in the real world. Her lyrics are about finding strength and love and at the end of the day she's just like the rest of us, trying to figure it all out.
Photos by Andre Wagner, Styling by Lindsay Peoples, Hair and Makeup by Sacha Harford. Lead Image Credit: Marques Almeida Jacket, Price Upon Request at Marques Almeida.