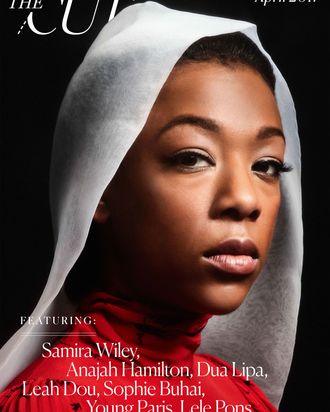 Photo: Bobby Doherty/New York Magazine
My favorite email subject in my inbox last month said simply, "The Cut needs to write about the GREAT PANTS CONFUSION of this moment." The message didn't really require much context. I knew that the sender was talking about those cropped, wide-leg "sailor" pants, first made popular by Jesse Kamm and Rachel Comey and now everywhere, from Anthropologie to Everlane. She included an email exchange between herself and a friend:
"I have spent a lot of time thinking about whether to try these pants on. (#32yearsold) But the first woman they show in this shopping newsletter has a giant fuckin' camel toe! What is going on with pants right now? I don't know what silhouette is 'in.' All the ones that are definitely cool are definitely unflattering. I miss skinny jeans being the only situation."
The lament is pure. She's basically asking, "Why do I have to change because styles move on? Why do I have to wear something I feel ugly in just because my favorite thing is 'out'?" She doesn't, of course. But her anxiety gets right at the heart of our theme this month: popularity. In addition to trying to get to the bottom of why we all now want to wear our jeans slightly frayed and just three-quarters of the way down our calves, we'll be delving into lifelong forms of toxic socialization, hierarchy, and conformity unique to women. It turns out that even in nursing homes there are queen bees, wannabes, and strict social norms dividing them.
We talked to singer Dua Lipa, whose super-pop song Scared to Be Lonely has already been streamed over 250 million times — and she hasn't even released an album yet. Actress Samira Wiley appears on our cover in a Valentino dress that recalls her character in The Handmaid's Tale, a new show on Hulu that's based on Margaret Atwood's 1985 book about a repressive Christian dictatorship. As Wiley told us, "After the election it was like, 'Oh God, this is way too relevant.'"
April 4 is Equal Pay Day, which is not quite as Instagrammable as Pi Day or National Pizza Day, and therefore will probably never catch on. Nonetheless, you'll be hearing from women in many different fields on the lengths they went to just to get paid as much as the men they work with — including one who had to quit.
So, yes, there are bigger ideas and issues that command our attention right now. But while we're working on everything else, there's also the confusion of pants. Which, it turns out, may, in fact, be existential.
————————————————-
On Samira Wiley: Valentino Printed Crepe-de-Chine Dress, $9,980 at 693 Fifth Ave.; 212-355-5811; Heather Huey Organza Hood, $60, to buy email order@heatherhuey.com.
Photograph by Bobby Doherty; styling by Diana Tsui; makeup by Tim MacKay; hair by Derick Monroe.