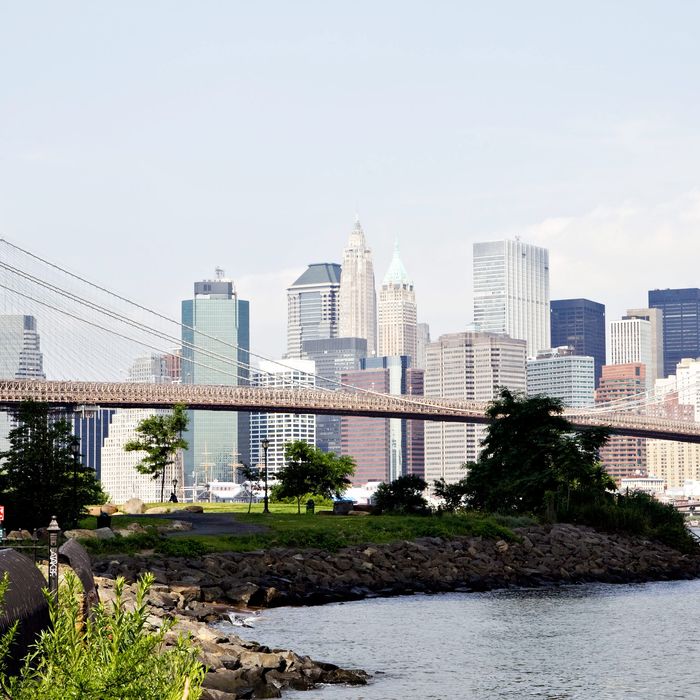 Brooklyn.
Photo: DANIEL ACKER/Bloomberg via Getty Images
Following the announcement of Mayor De Blasio's plan to move fashion production out of Manhattan, the city's garment workers and designers are taking a hard pass.
The Manhattan appeal is more than just heritage — as Bloomberg reported, each New York Fashion Week brings in $900 million to the New York economy and many of the office spaces and production centers are within blocks of each other. De Blasio's plan would end a 1987 zoning law that prohibited landlords from forcing out garment makers. Brooklyn warehouses would then become a cheap alternative as the Garment District is exposed to unprotected Manhattan real-estate prices.
What De Blasio sees as space to grow, the current Garment District tenants see as isolation. Manhattan borough president Gale Brewer explained the necessity of the district to Bloomberg, "If you start paying people to move to Brooklyn you're going to destroy an ecosystem that is crucial to New York. If it goes, it hurts Broadway's costume makers, the design community, the mom-and-pop button and fabric shops."
Over 100 designers already work in Sunset Park, the area of Brooklyn where De Balsio would invest $236 million to renovate.
Who is happy? The business-improvement corporation Garment Center Alliance, which "is so enthusiastic about the proposal that it plans to assess its member businesses an extra $2.5 million a year for 10 years to help pay manufacturers to move out of the neighborhood," according to Bloomberg. Another potential blow to New York Fashion Week.
*This post has been updated to show Garment Center Alliance offered to assist manufacturers who are choosing to go to Brooklyn.