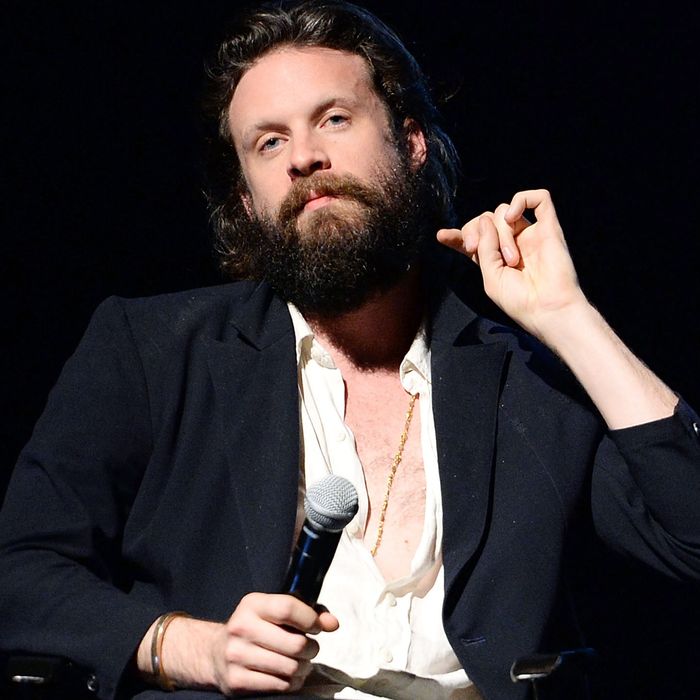 L'Artiste.
Photo: Ben Gabbe/Getty Images for The New Yorker
Father John Misty, né Josh Tillman, is known as much for his musical career as he is for his trolling — whether it's releasing a cover of Ryan Adams's cover of Taylor Swift's 1989 in the style of the Velvet Underground, or claiming to steal Amanda Chantal Bacon's rose-quartz crystal from Moon Juice.
Most recently, Tillman hung out with comedian Patton Oswalt for the first time as part of T Magazine's "Perfect Strangers" column and, among other subjects discussed, said that he's painted his balls before. On the one ball, the anecdote seems a little staged, but on the other, it does genuinely sound like something he would share within minutes of meeting someone.
You know [director Alejandro] Jodorowsky's whole "psychomagic" thing? He has all these prescriptive rituals for people, and the one for men who are experiencing spiritual impotence is: Paint your balls red. And I've done this. Wet paint, underwear, pants, and then just walk around all day knowing your balls are painted red. It's like a life hack.
This has been a life hack from Father John Misty.