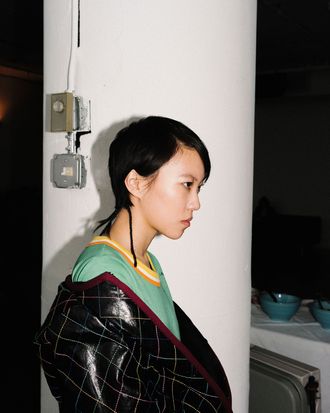 Leah Dou.
Photo: Ben Rayner
The world first heard Leah Dou on the song "Tong", an upbeat dance-y track written by Faye Wong, the artist known for combining alternative music with mainstream Chinese pop, who happens to be her mother. Leah was just 1 year old when her laugh was sampled. Now 20, she's calling the shots on how her voice is used. Born Dou Jingtong in Beijing, becoming a performer seemed like the obvious move, growing up in a famous musical family. Faye is a big deal in China — think Beyoncé-level fame, except her avant-garde style is more akin to Björk's and she's acted in Chinese films like the well-received 2046. Leah's dad Dou Wei is a successful musician too, known for composing experimental work that crosses genres from folk to ambient, and he made a formidable impression on the Chinese rock scene. The hit single "River Run," off Leah's first record, Stone Cafe, gained attention after selling 25,000 copies in 2015, and now she's ready to release a new song next month ahead of her sophomore album, out soon.
Her palatable sound (albeit moody and downtempo at times) makes for easy listening — maybe because her poppy voice sounds familiar, like ones that have been paired with jazzy, R&B beats before (Suzanne Vega mixed over DNA on "Tom's Diner" comes to mind). Even so, Leah stands out against her East Asian contemporaries, for writing her own music, singing in English (instead of a few languages like many other stars in her region), and sporting a more unconventional look, with a choppy bob and face tattoo. Considering how much Leah idolizes popular musicians from the height of trip-hop in the '90s, her use of Zero 7–esque soft guitar makes a lot of sense. She manages to draw in traditional Chinese elements like dramatic strings, too. On a foggy January day in a studio in Manhattan's Chelsea neighborhood, with an ink line running down her chin to her neck marking the symmetry of her face, she tells the Cut, "Getting big hasn't been my goal" — which isn't to say she's not on that track, having already opened for the popular band Bastille at London's mega O2 Arena. It took dropping out of music school, couch surfing in Los Angeles, and finding a personal connection to music before she learned up there it's not the big stages that make her nervous.
Leah's publicist says she'll be ecstatic to see the deck's Statue of Liberty view, but she plays it cool, posing in front of the camera like it's not her first time at the rodeo, spontaneously bouncing on the couch in a way only a model can get away with for the sake of a photo shoot. Maybe her ease and star quality are the results of following her own script, or the effect of sporting exactly the right number of braids (less than ten). Dou's parents left whether or not she wanted to pursue music up to her. As a kid, she loathed piano lessons like the rest of us, so bored she skipped them.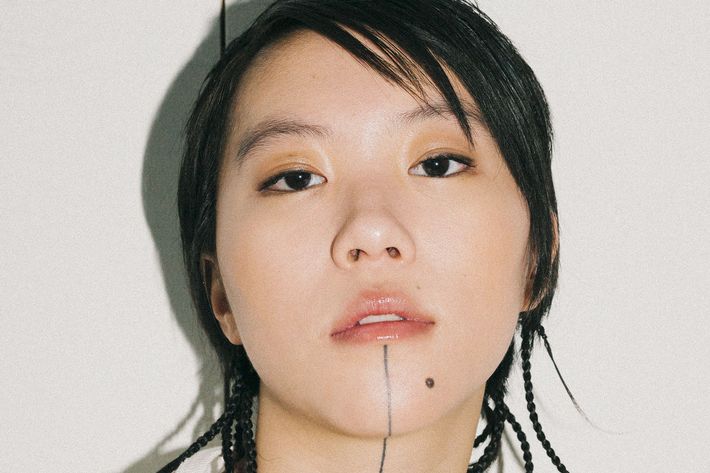 In town for a small sold-out show, Leah's moving at her own pace, hoping to book more gigs in the U.S. "I want to share music with more people and coming here I don't really have high expectations. The more you expect the easier it is for you to get disappointed, there's no point. I love music, I want to share my music, I'm gonna do that and see what happens."
Leah's music can sound like Massive Attack, despite the fact she was born in 1997, three years after Portishead, the trip-hop pioneers she looks up to, released their hit album Dummy. Her artsy music videos, whether they use a 360 VR view or pop-out animation over film footage, sometimes emerge out of a very clear image she has, requiring her full involvement in the direction, while for others she takes a step back. She's often seen wandering, be it on city rooftops or sprawling country roads. In "May Rain," there's a recurring use of blue wigs, but when asked about the symbolism, Leah says they hold no significance. She simply liked the way they looked. The overstimulation of a cosmopolitan city in the visuals for "Bitter Sweet" feels like a scene out of the trippy film Enter the Void.
Bossa-nova-style music (specifically a Guns N' Roses cover album with a bossa-nova twist), jazz, and Australian folk have all influenced Leah's work. While applying for art school, the world-renowned Interlochen Center for the Arts in Michigan, Leah had to choose between two trajectories: a singer-songwriter or vocal major. The vocal route would mean classical singing, which she knew she didn't have the voice for. The singer-songwriter application, to write three songs, was a game changer for Dou when she started writing on guitar.
In the studio's cafe after the photo shoot, Leah casually mentions dropping out of school at 16. "I loved it there, but I was so clear on what I wanted to do that I didn't really want to spend any more time in classes I knew I wasn't going to need for music," she said, of couch surfing for the rest of the school year, without disclosing if leading the life of a struggling artist was out of necessity or choice. "I called every friend I had in L.A. and asked them if they had a couch I could crash on, or a mattress, anything. It was tough because I didn't drive. It was hard to get into the scene [music] because I didn't have a car to get to places," she remembers of a time that must've predated Uber. Despite being mostly stranded in Los Angeles, unable to see live music because she was underage, Leah speaks of the city with the same romanticism of many New Yorkers. "It really mellowed my music out," she said of the experience, which might explain why she's also so laid back in conversation.
Dazed magazine named Leah China's next pop prodigy but she didn't seem very comfortable with the superlative when asked about it, or concerned with her competition. Unlike many East Asian megastars, she wasn't scouted and her sound is less about churning out pop-friendly ballads, or choreographed tours, as it is a product of organic songwriting."It's interesting because I never felt like I really fit into the pop scene in China," she admits, segueing into how listening to Chinese artists during childhood affected her musical style. You can hear the melodic structure and arrangements she credits to her upbringing in the strings and build-ups on "(It's Not a crime) It's Just What We Do," and orchestral parts of "Explosions." Leah says to expect more of these sonic elements on the upcoming album, which will be more experimental as a product of listening to a greater variety of music. "Haven't really taken into thought what other people might like, it's definitely coming from a very selfish point of view," she confessed.
Surprisingly, Leah's parents haven't given her much advice, instead allowing her the space she needs to navigate show business on her own. "They've been super hands-off. It's probably because I've asked them. Family is family but music is music and also work, I like to separate the two," she says about staying professional.
After fighting it for a while, as many celebrity kin often do, Leah learned to embrace the association with her parents. "I used to get annoyed, when I was a teen, there was a point in my life where I was really tired of being compared to my parents and didn't really feel I had an identity. You get used to it and realize it doesn't really matter what other people say because they are your parents, that's the truth and you love them. What's the point in getting all angry about what other people are saying. I'm not making music so I can not be spoken of as their daughter. Once you get your purpose clear and your mind clear it really doesn't matter," she reflected. With that being said, of all the people she wants to partner with, Leah mentions Willow and Jaden Smith, who also have fame in their blood. There might not be a father-daughter duet à la Ozzy and Kelly Osbourne's coming down the pike anytime soon; Leah's holding out for a special project to come along before collaborating with her parents.
"It was pretty crazy when I was young because I was always with my mom but when I'm not with her, it's actually not as crazy as people might think. Where I live in in Beijing, I don't usually get paparazzi walking around, it's a pretty normal life," she says of tabloids interested in her high-profile background, who focused more on her dating life and sexuality than her music. Unfazed, learning how to dodge paparazzi in Beijing seems to have helped.
While Leah does sound like she's living a relatively normal life, she's a pro at posing in designer clothes. Thrifting in Beijing is more or less nonexistent, but she loves checking second-hand stores while stateside or in the U.K. For someone who claims to be no fashion expert, Leah knows a lot about how Dior clothes fit her when the stylist has her try on some white pants by the brand. In 2016, Chanel sat Leah front row to view the Couture collection. "I enjoy the [fashion] shows, it's fascinating to me how they combine music you usually wouldn't hear on the radio with fashion," said the artist asked to perform at a Gucci event the year prior. "I'm pretty clueless when it comes to fashion. I'm so out of touch when it comes to what's hip and what's in, because I love thrift shopping, I like to wear old clothes. Hand-me-downs. I've gotten so many good sweaters from my dad." Once the shoot wraps, she changes into a vintage-looking teal velour sweater.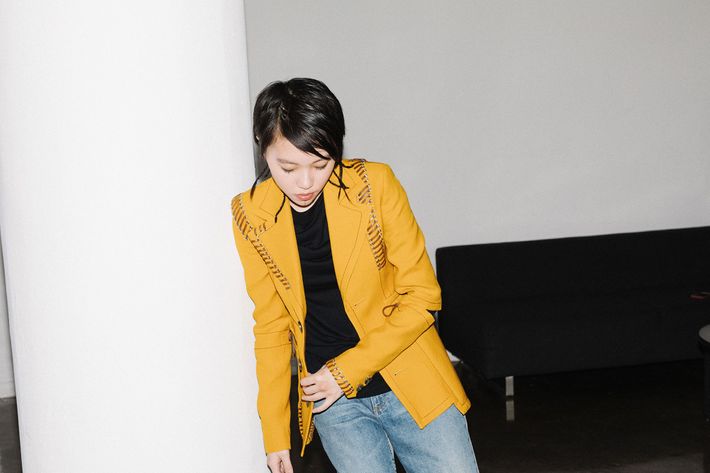 Bally Blazer, Price Upon Request at Bally, J.Crew T-shirt, $29 at J.Crew, A.P.C. Jeans, $210 at A.P.C.
"It brings me a lot of joy to play here because I can see how much people love new music and want to be a part of it. I remember being 16 in L.A. and thinking I really wanted to play in the States, but I couldn't do that at that time — to finally be able to do that is amazing to me," Leah said a couple of days before playing the popular underground New York music venue Mercury Lounge in the East Village, where indie artists like The Strokes paid their dues.
"I get more nervous when I play smaller venues, you can see everyone's facial expressions. When you're playing a venue that's big you can't really see them, the lights are in your face, it feels like you're playing for nobody," she says modestly. For the sake of Leah's performance anxiety, hopefully she gets booked to play some large arenas in the U.S. soon.
Photos by Ben Rayner, Styling by Lindsay Peoples. Lead Image Chanel Jacket, Price upon request at Chanel, Marc Jacobs T-shirt, $150 at Marc Jacobs.