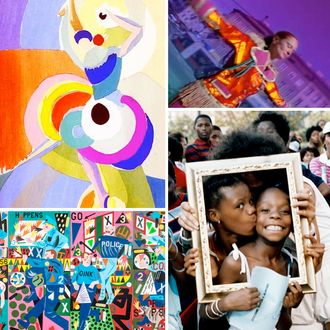 Continuing the Cut's series celebrating women in the arts, and expanding on the National Museum of Women in the Arts' social-media campaign to get their followers to name #5WomenArtists, we asked female artists to tell us about the female artist they've been inspired by most. For more, see the first and second entries in the series — women curators and art professors — here and here.
Dynasty Handbag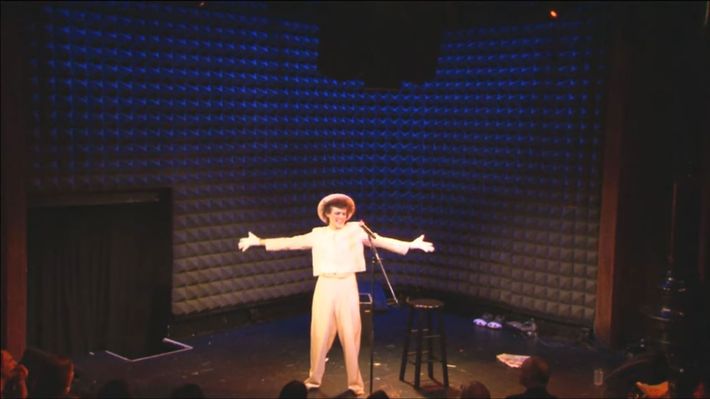 "I love the work of so many female artists (Hito Steyerl, Jill Magid, Sophie Calle, Andrea Fraser, Barbara Kruger, to name a few). Recently, I've been really interested in Jibz Cameron's work as Dynasty Handbag (her 'lesbian robot clown' alter ego she has performed as for the last decade). I think the humor in her work is brilliant — a hook through which she digests and spits out anew pop culture, politics, feminism, queerness, social anxieties, tact, performance, and labor. I loved Dynasty Handbag's recent January performance at Joe's Pub: I An, Moron. The performance moved between genius stand-up routines, covers of pop songs, dance, and physical theater. It landed at such an intense moment — between the election and the inauguration. Because Jibz Cameron's alter ego leaves all social tact at the door, Dynasty Handbag can say all the things the rest of us repress from public view, allowing her to delve deep into all kinds of issues. My favorite part of the performance was when she did her cover of Rihanna's 'Work,' turning it into a meta-reflection on performance as labor, but also asking, what is work? 'This is work, this is my work. Work work work work work.'"
–Sara Stern, artist and MFA candidate at Columbia University Visual Arts Program
Pipilotti Rist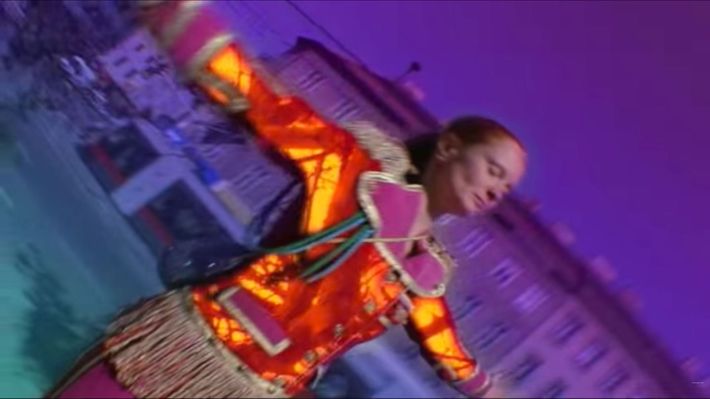 "Pipilotti Rist's work removes anxiety and brings us joy. I'm fascinated by how she uses familiar objects like underwear, strawberries, pop songs, and human bodies to reconstruct our senses, perspectives, leading us to explore where we are, who we are, and how living can be. Living can be really fun, and just like the tone of her work: playful, warm, and delightful. Like some kind of meditation, experiencing her work makes me feel free, forgiven, and loved, and makes me appreciate and see all the little things in life, the simple pleasure from living. I highly recommend everyone to get a positivity recharge from the work of Pipilotti Rist.
Her first feature film, Pepperminta, brings out a lot of energy, imagination, and warmth. There is magic in seeing those actors and actresses, those people who are non-Hollywood stars, who are just like us, transforming reality with Pipilotti's cheerful touch and film editing. These characters in the film are not afraid of our body, the nakedness of it, and our liquid souls that are craving … adventurous exploration of connections and possibilities! I'm also constantly reminded by these characters that we are in this world together, not alone. And that we should help each other overcome our fears — fears of dying, fears of doing something different, fears of following our hearts, expressing ourselves, fears of confronting ourselves and the imperfection of the world and so on. In Pepperminta, we aren't programmed robots living in rules, codes, seriousness, and anxiety but humans who enjoy and love this ride called life that we are already a part of."
–Astrid Bai, artist and MFA candidate at the School of Visual Arts
Lee Lozano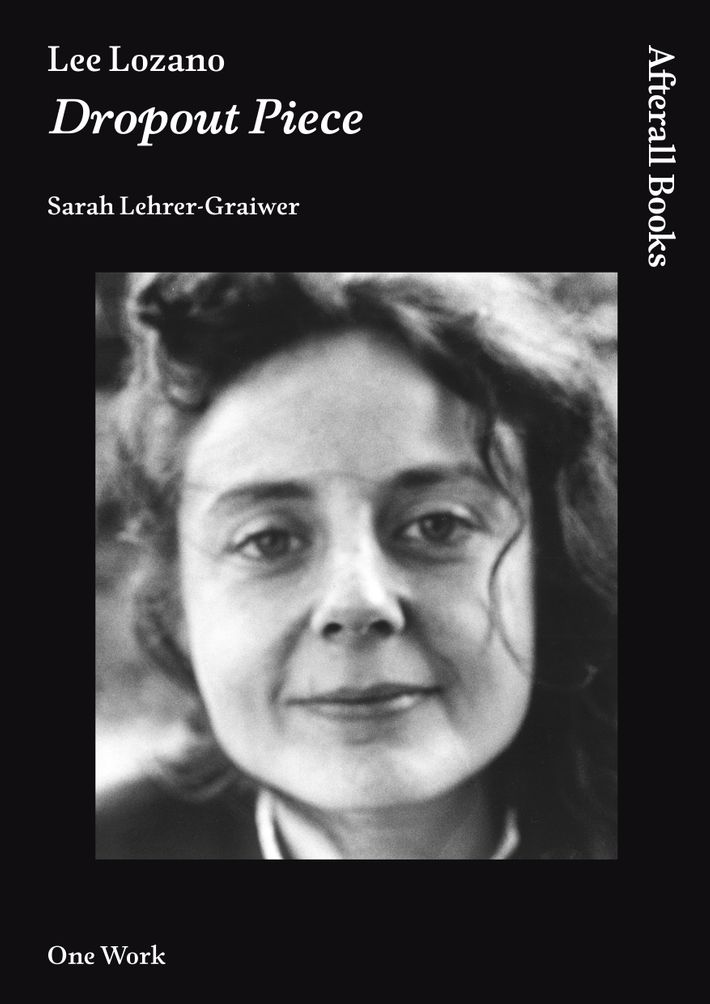 "Hands down, my favorite female artist is Lee Lozano. Her work continues to broaden my understanding of the intersection of life, art, and politics. Lozano's notebooks from 1967–1970 are extraordinary because they show the evolution of her thinking that led to my favorite work, Dropout Piece (begun circa 1970) in which she withdrew from the art world. This self-imposed obscurity or act of refusal is an incredible experiment in art and endurance that helps delineate the boundaries of art's history and economy. This work is one that I return to on a regular basis to help unravel the blind spots of artistic production and its role in contemporary society."
–Dana Buhl, artist
Ree Morton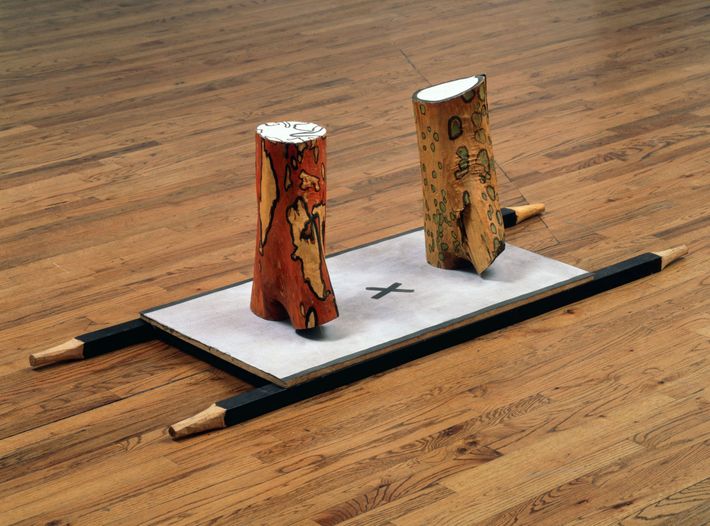 "Many of my favorite women artists are also unrecognized — it's a topic I ponder constantly, as it parallels my own work that often pays tribute to women writers. If I had to choose only one visual artist that has had the most significant impact on my work, it would definitely be Ree Morton. Her work is spellbinding. When I first saw her work in the late '70s, I had never before seen anything like it. Its uniqueness is all her own. My instinctive reaction to her work is to become overtaken with a poignant sense of loss and loneliness, which is an emotion that I can never quite rid myself of. The more time I spend with her work, the more humor I find in it as well. If I were to name my favorite piece by Ree Morton, it would be one of her ambitious and profound installations, but it is extremely difficult to capture their entirety in a photograph. One never gets the full visual and emotional experience unless they are there firsthand. So instead, I'd say my favorite work of hers is the sculpture Untitled (Stretcher Piece) to express Ree Morton's brilliance."
–Petah Coyne, artist
Joan Eardley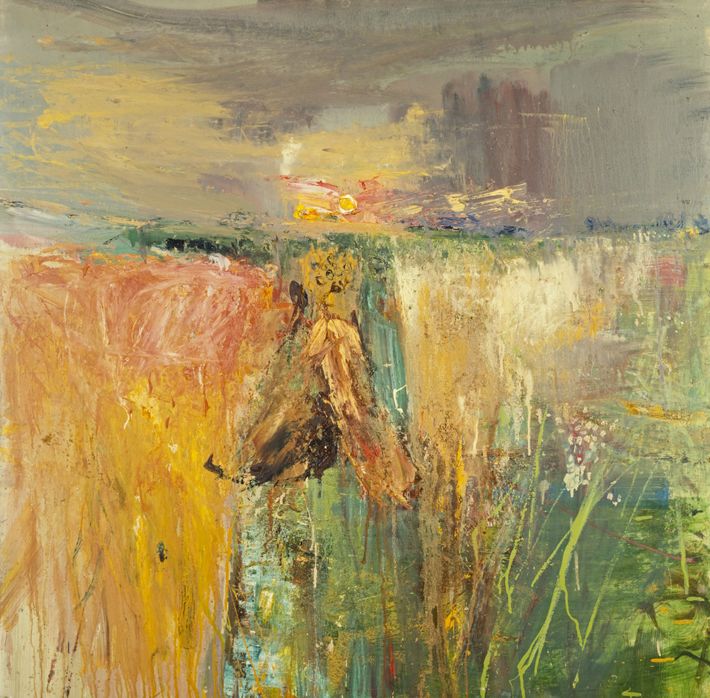 "I was moved by seeing Joan Eardley's full body of work in Edinburgh recently after loving her work for so long. Seeing it in the flesh, her work is so steeped in her own emotion and environment through her use of color and texture. I love the marks she makes in oil in Harvest — they draw your eye to move downward, but it is so playful and beautiful. The colors are so directly related to harvesttime. It symbolizes hope and plenty from a land that doesn't give its bounty without great hardship. The painting is full of life."
–Alison McWhirter, artist
Lorraine O'Grady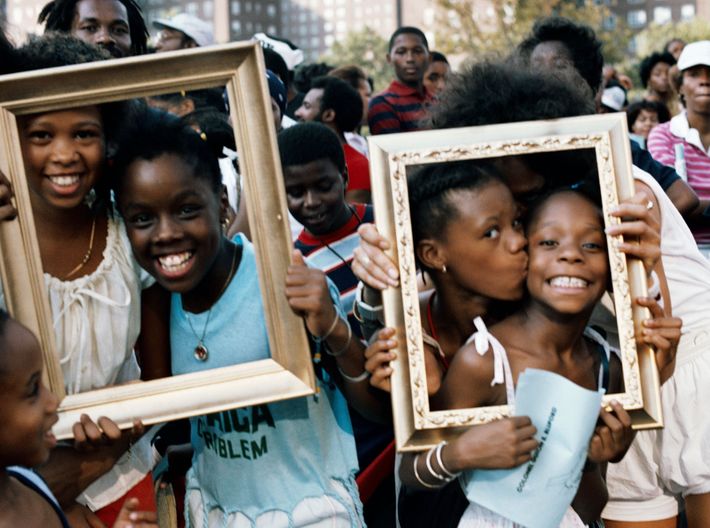 "Lorraine O'Grady became an artist in her mid-40s after working as a translator, a rock critic, and running her own business. I went to journalism school and worked as a critic before transitioning into becoming a full-time artist, so her path is really inspiring to me. At age 83, she is a deeply committed feminist, still making work and collaborating with younger artists. And she rocks black leather pants like nobody's business.
My favorite O'Grady piece is Art Is, a parade float with a huge gold frame and a crew of dancers holding smaller gold frames. It's a beautiful combination of ritual and public spectacle and a celebration of Harlem and black folks. It's also prescient of the current age of selfies and how the public now frames and defines its own image. She's always been ahead of her time!"
–Holly Bass, performance artist and writer
Louise Despont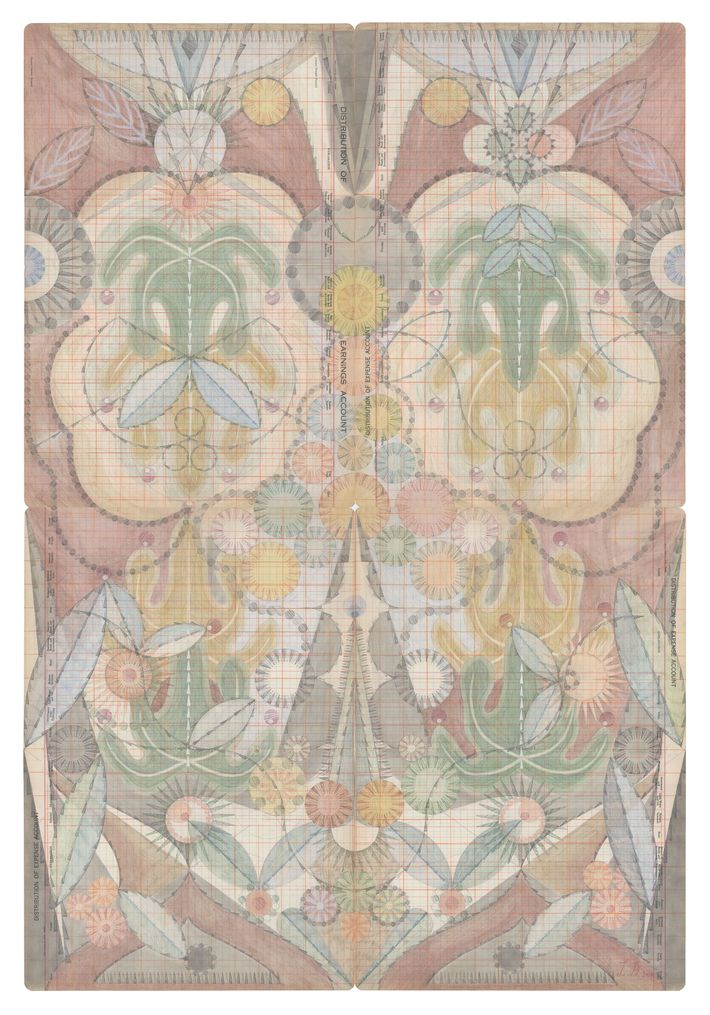 "Louise Despont is a French-American artist living between NYC and Bali who creates monumental colored-pencil drawings on antique ledger-book pages. She's my favorite because her work is subtle yet powerful, her pieces really vibrate and transport you as a viewer. They are amazingly intricate, require so much patience and attention to detail; the color of the vintage paper also gives them a very 'old' yet modern aesthetic. Her pieces speak of spiritual and energetic realms, which is unusual. She's directly influenced by Swedish artist Hilma af Klint whom I also love. She speaks of feminine energy and of things that are intangible, things we cannot put into words without falling into clichés or being misunderstood.
My favorite piece of hers is Offering in Appeasement. I love the colors, the shapes. It is a majestic piece. I feel it is alive: If I had a room big enough to put it in (it would need so much space), it would be the heartbeat of the house."
–Blandine Bardeau, artist
Marlene Dumas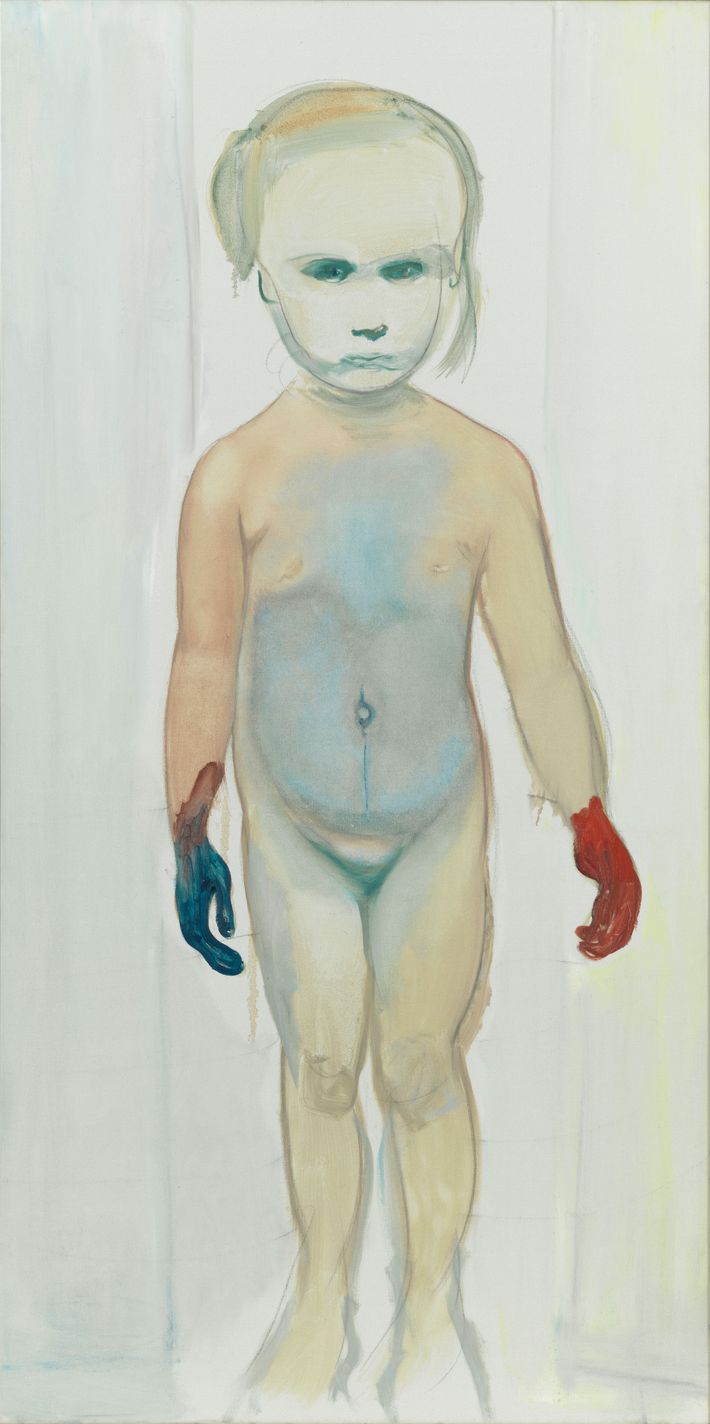 "When I look at Marlene Dumas's work, it always hits me. It's extremely powerful. There are so many emotions. It is always about the human. You see various techniques in her work, too: Some areas were sketched very quickly, almost like a drawing, she makes stains, some areas have almost been rubbed out, and some are very detailed. You always find something new.
Dumas painted her daughter, Helena, when she was 5 or 6. She has hands dipped in black and red paint and [she is] paint-smeared on her baby-like body. She is so vulnerable and strong at the same time. When I saw this painting in real life, it was bigger than I thought it would be and because of that it made even more if an impression. She appears as a force of destruction. Yet the title reveals her to be a creative force, a painter. Dumas has said of this work: 'Historically, it was always the male artist who was the painter and his model the female, here we have a female child taking the main role.'"
–Barbara van den Berg, artist
Nina Chanel Abney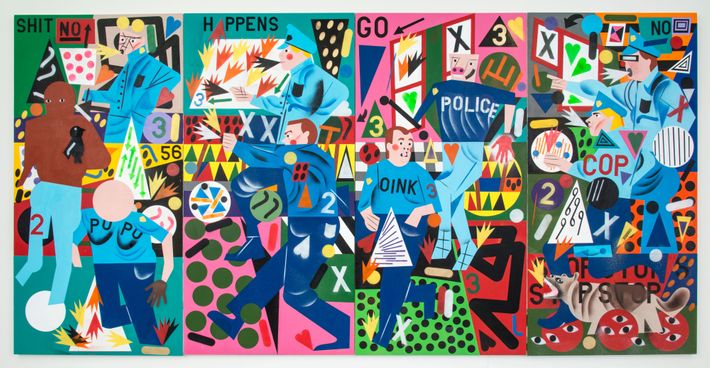 "It's so hard for me hard to choose one artist, so I have two that are very different in presentation, but similar in concept. The first artist that I'm currently looking at is Nina Chanel Abney. Her paintings are graphic, powerful, and surreal. Her current images read like short stories with symbols and colors floating through an abstract space. They interrogate many social and political themes through this lens. Her paintings pack a powerful punch and inspire me to work harder on my own paintings and collages to communicate the political unrest I feel.
My other inspiration is Adrian Piper. I first learned about her during a college art-history class. We watched her video piece Cornered. This was my first experience with video art in a class setting. This video pointedly confronts and shatters the concept of whiteness in an uncomfortable matter-of-fact way. Its as if Piper is delivering the evening news. Adrian Piper is one of my favorite artists because the line between her life and her art doesn't exist. She inspires me because her performances are protests against the expected."
–Ashley Teamer, artist
Eliza Myrie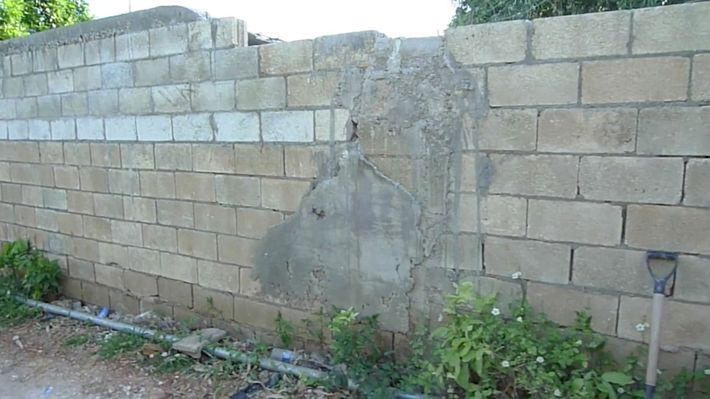 "Eliza Myrie has made a huge impact on me in recent years. Her project Building a Wall Through My Father is my favorite. It's a great example of how she brings together art, sculpture, this notion of family and community, and work. Eliza's social-practice collaborations with Theaster Gates have brought me together with a whole new community of people in the past few years. I admire how her work so elegantly and explicitly connects people."
–Pamela Council, artist
Tala Madani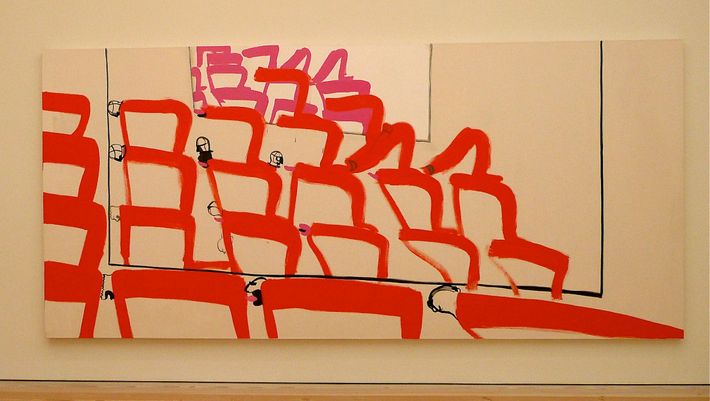 "When I first saw Tala Madani's paintings in person, it wasn't only seeing paintings of a successful Iranian woman that excited me, it was the complexity in meaning. The way each painting can be read from different perspectives leads the audience to experience a dissonance in interpreting her work. Her loosely applied brushstrokes portray often cartoonish characters, which may not initially seem to be a sophisticated style to convey such complicated concepts. This approach even adds to the sense of perplexity you get from her works. In her works, you can see men as objects, reversing the convention throughout the history of painting that the female body is an object. She often tells violent or perverse stories in such a comic ambiance, blended with playfulness. This irony makes you feel a specific kind of tension."
–Arghavan Khosravi, artist and painting MFA student at RISD
Jenny Saville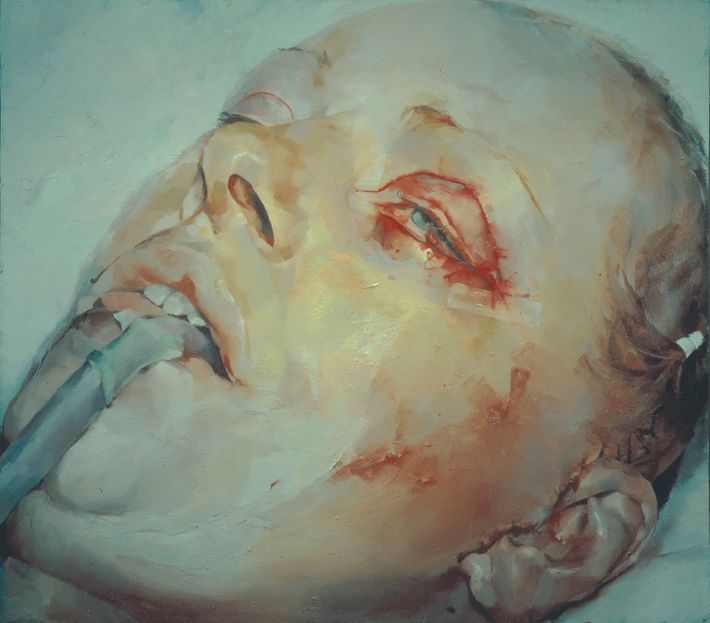 "I love Jenny Saville's work because she continually blows my mind. Her piece Kneaded specifically was an influential piece because of the way it repulses at the same time that it lures you in."
–Laurel Shear, artist
Sonia Delaunay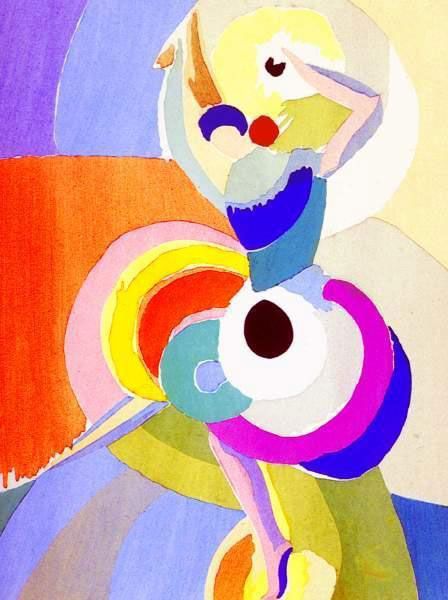 "I love 20th-century artists, especially Sonia Delaunay. Her masterful use of strong colors and geometric shapes to create figurative compositions, abstract patterns, and even typography is an absolute inspiration. I particularly like how diverse her production was — she was an artist, but she also applied her creations to furniture, fabrics, clothes, and even cars. A true tour de force. I'd say my favorite piece is her painting Petit Flamenco (1916), because of how it synthesizes her incredible skills: a luminous use of color and geometric shapes to create a memorable figurative composition."
–Marina Esmeraldo, artist
Ruth Asawa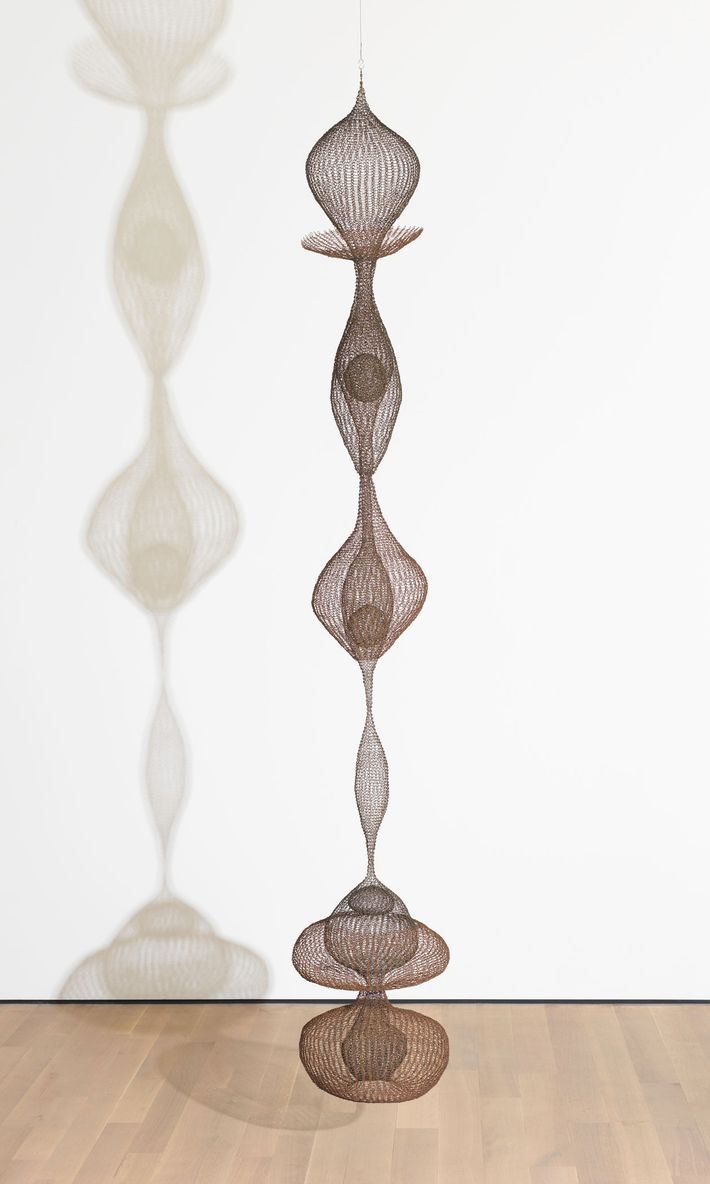 "Ruth Asawa's woven wire sculptures are meticulously technique- and material-driven, while also being incredibly expressive. I am inspired by her work as well as her passion for advocating art education in the community.
Asawa's extensive body of work spans many different mediums, from sculptures to drawings, and from printmaking to public works. I really love Untitled (S.228, Hanging Six-Lobed, Discontinuous Surface (three sections) with Interlocked Top Section) [nb: slightly different than what is pictured here] because I had the chance to experience it in person. It took my breath away!"
–Cindy Hsu Zell, artist

Agnes Martin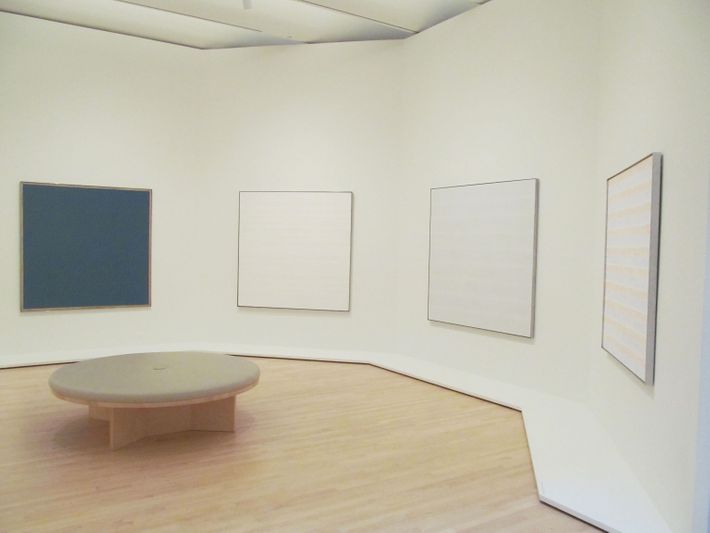 Humility, beautiful daughter
She cannot do either right or wrong
She does not do anything
All of her ways are empty
Infinitely light and delicate
She treads an even path
Sweet, smiling, uninterrupted, free
–Agnes Martin
"I discovered Agnes Martin's poem about humility about 20 years ago when I was beginning to study Buddhism, and it was her words that led me to her art. Until this year I'd only seen two of her paintings in person, one at the Museum of Modern Art and one discovered by pure chance at the Peggy Guggenheim Museum in Venice, so I was entranced by the Guggenheim retrospective of Martin's work. I feel the same sense of reverence in the presence of her paintings that I feel when I look at a Vermeer. There is the quietness of an awakened mind, of mindfulness lived and expressed.
My favorite painting is a single work in 12 parts called The Islands, painted in 1979. Twelve six-foot, square, impossibly pale yet radiant canvases, each one painted to be quietly, almost indiscernibly, different from the others. The effect of so much pale tonality on my retinas was disorienting, like a snowbound whiteout, or a flight through the clouds. Or Nirvana."
–Melisa Taylor-Metzger, artist
Judy Pfaff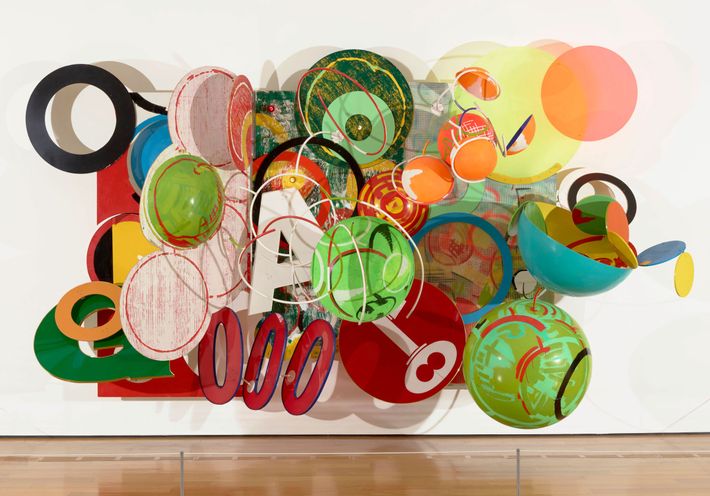 "The human mind is an associative apparatus. We have survived by being able to create relationships between things: 'These berries before me now, are they the same as the ones that made me sick last year or are they slightly different?'
To look at a Judy Pfaff sculpture is to engage in a process of visually probing a series of unfolding relationships. Here, there is a platonic half-sphere. Here there is a colander, also a half-sphere. Over there, is a square whose surface is perforated, a visual rhyme with the colander. The process of reading the piece unfolds in time and in the relationships of parts, much like a piece of music. It is not an all-at-once experience, it is a journey. The work traffics in visual complexity presented with bravura and smarts. And the experience of engaging with it makes for a uniquely active visual experience. One feels one's own mind challenged and activated as it mimes the networks and pathways of the sculpture itself.
Secondly, how can you not love an artist so richly protean? Pfaff can work huge — a piece for the Philadelphia Convention Center was hundreds of feet long. But, she can also work small. She can deploy a raucous panoply of colors, or work entirely in bare metal. She can work on the wall or off the wall. She has designed sets for dancers and the theater. She is a hugely inventive graphic artist. I think she is a visual genius of extraordinary talent. One particular favorite of mine is Apples and Oranges in the collection of the High Museum of Art. The title reminds us of both the quotidian aspects of her work, the fruits themselves, and the thoughts we have about logic and our ability to compare things — which brings me back to where I started. Pure Pfaff."
–Jane Hammond, artist
Jaune Quick-to-See Smith

"Jaune Quick-To-See Smith is an amazing artist and mentor to younger contemporary indigenous artists and was one of the first hybrid artists I studied in my undergrad at the Maine College of Art. My favorite work of hers is Trade Canoe for Don Quixote."
–Gina Adams, artist
Hannah Hoch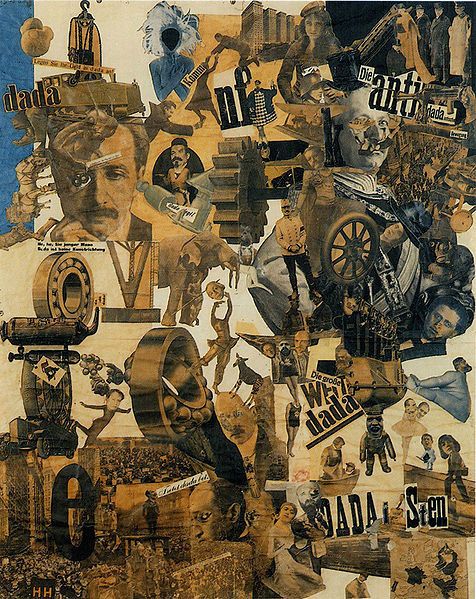 "Hannah Hoch's use of photomontage, like in Cut With the Kitchen Knife Through the Beer-Belly of the Weimar Republic, was the first to show in collage the fragility of a woman's body and how the female body has been used as currency. Her collages explored poetic beauty and used satire to gain agency and power."
–Deborah Roberts, artist