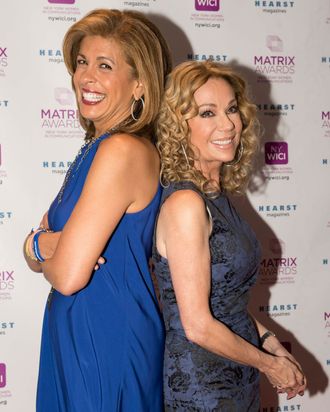 Hoda Kotb and Kathie Lee Gifford at the 2017 Matrix Awards.
Photo: Maryanne Russell Photography
As New York Women in Communications honored extraordinary female leaders in the communications industry at the annual Matrix Awards luncheon, political statements were fair game. Emcee Katie Couric kicked off the luncheon by tossing a pink hat in the air, Mary Tyler Moore–style after a video-homage nod to the late actress.
"We're reminded of the power and importance of role models and that's what we're here to celebrate today," she quipped. "I'm thrilled to be your host today or as Roger Ailes might say, your stewardess."
Couric continued, "Besides having the honor of winning the Matrix Award back in 1999 presented by someone who apparently 65 million fellow Americans think very highly of, Hillary Clinton … here are badass women changing the world for the better, kind of like Spanx."
And since Hearst Magazines sponsored the awards, chief content officer Joanna Coles approached the podium: "We all feel the power and the energy flowing in this room … We're marking a group of amazing, accomplished women. We're friends, we're colleagues, we're competitors, we're rivals, but I'm sure there's all one thing we can all agree on: This lunch is Mike Pence's nightmare. It's enough to make him pray for a gay conversion."
Politics aside, we caught up with several accomplished winners and their colleagues to ask if they knew going into the industry what they know now, what would they have done differently?
Rukmini Callimachi, foreign correspondent, the New York Times and 2017 Matrix Award winner
"From the outside, journalism looks easy and it took me a long time to figure out how difficult it really is and how much nuance there is in what we do. I was schooled by very kind editors who were nice enough to forgive those mistakes when I was still young in my career. I misspelled the name of the mayor of the town that I was covering. He called to complain!"
Lydia Polgreen, editor-in-chief of the Huffington Post
"I was so young when I joined this profession, I had no idea what to expect. All of the surprises have actually been incredibly exciting! When I first became a foreign correspondent, I said, 'Oh, this is going to be such a glamorous profession traveling all around the world, I'm going to interview presidents and rebels and I'm going to go out and cover war and conflict.'
One of the things I discovered is that 90 percent of being a foreign correspondent is waiting around. It's the most incredibly unglamorous thing you can imagine. I remember sitting with Rukmini in a hotel in Timbuktu day after day after day waiting for stuff to happen and I think that's the part that doesn't make it into movies about war correspondents.
In Timbuktu we actually didn't have electricity. We had one very pokey generator that Rukmini had kindly provided and it could only power a certain number of laptops at a time. We had no phone service. We were using these satellite phones that also needed to be plugged into the generator, and of course most problematically it was Timbuktu after it had been liberated from Al-Qaeda so there was no alcohol. There was a black market in beer but it was very hard to get and the supplies that [had] been dug up in the desert had been depleted pretty quickly so we had to amuse ourselves by telling funny stories and hanging out."
Susan Credle, global creative officer, FCB and 2017 Matrix Award winner
"Don't be afraid of that moment when you feel insignificant or that you got invited to the party that you shouldn't have been invited to. Just go, show up. It's going to be incredible!
It was my first time in Cannes and I'm in advertising, we do a big Cannes Festival of Creativity every summer. I had been invited by my company to go. Someone had asked me to join a dinner party up in Super Cannes the first night, Sunday night at Cannes. 'Oh yeah, that's great!' I looked at the guest list — it was 30 people and 29 of them were famous. One of them wasn't and that was me.
I was like, 'I'm not going to go, I'm going to tell them I'm jet lagged. I'm going to tell them I'm not feeling well, I'm just not going.' I flew all the way here to represent my company so I gotta go.
I got dressed and went down the stairs of the Carlton Hotel, my stomach's just flipping, flipping, two steps up, one step down, two steps up, one step down and I saw one of the guests that was going to the dinner party because he was famous in our industry. I said, 'Rick [Boyko], I need a friend really fast. I'm scared to death to go to this thing and I'm just going to tell you that. Will you just help me?' And his wife Barbara goes, 'Come on, honey! We're going to have a great time!'
And that night I met so many amazing people and they all were incredibly generous and said whatever we can do. Throughout the next 20 years so many of them have been there for me. It was the moment that I realized step into it. Just go for it!"
Joanna Coles, chief content officer, Hearst Magazines
"I would be a farmer because you'd be at one with the land and nature and it's hard to think of something that's less one with the land and nature than media. I've lost a lot of brain cells and the truth is, it's pretty exciting to have the extraordinary scale that you now have for brands.
When I started at Marie Claire and Cosmo, the media footprints were big but they've just quadrupled, they've gone up by tenfold because of digital. And that's super exciting and also, to be able to talk to readers every single day, sometimes several times a day on Snapchat or on Instagram or on Facebook, so it's really exciting. So, actually it's great and it's definitely aging you.
There's got to be a life post-media, I'm looking forward to it. Although I may not grow organic fields, I think I will grow fields and fields and fields of corn and probably do everything I can to make them grow very, very fast. I'll stay here. I'm planning to moving to the great prairies. Not really."
Sheinelle Jones, weekend co-anchor, Today
"The importance of women supporting other women. When each one of us joined the Today show, we each had our own experience. Savannah, who we're here to celebrate today, was the nicest colleague. She's how you should do it. She's super talented, she's super smart, and she's super kind and she's a good person and I think that's what's being celebrated today."
Dylan Dreyer, meteorologist, Today
"Overall in this business, I still feel like I'm growing in the business and I'm still learning everything that's going on around me. So, just as a woman in this business I'm proud of myself for the steps I've made to get where I am today and I just keep working my butt off and keep trying to make my family proud."
Jenna Bush-Hager, correspondent, NBC News
"I was a teacher first and so I would say do anything you want! The most important thing when I first went back to work, Mila who's 4 now, she was little and she could barely talk, she said, 'Mama's working. Mama's always working.'
At first, my heart broke because I travel a lot. I'm gone a lot and it broke my heart but then I also thought, how empowering for her to think, 'I can match this. I can do this, too.' And maybe not everything is so smooth or graceful in our house, but it is a possibility so I think empowering my girls to see this future that includes them at the table and have a seat at the table is really important."
Savannah Guthrie, co-anchor, Today, and 2017 Matrix Award winner
"I wish I knew that it would all turn out okay and not to be so anxious. And I wish that I knew that my hair wouldn't always look that bad. Now it's gotten better! I think of that time and being in your early 20s and having big hopes and dreams, not sure if you could do it, not sure if you could pull it off, not sure if you'll get your chance, it's an exciting time but it also can be really scary. We talk to interns a lot, I always say take a deep breath, the road is long but you're going to get where you want to go, sometimes there are detours, that's okay, just be in the present, be peaceful and hopefully whatever happens, even if it's not the thing you're setting out to do, if you have the right attitude you're going to end up where you want to be.
I think a lot of it is just getting older. It's piling up experiences, going through ups and downs and realizing that it's okay, there's no substitute for years of experience, just living and then you grow calm and confident.
I started in local news and Katie Couric was my idol when I was in college. I was a journalism student — I'm sure there was a part of me that wouldn't even dare to dream to be on the Today show so today it's still kind of a pinch-yourself thing."
Gretchen Carlson, journalist and women's empowerment advocate and 2017 Matrix Award winner
"Don't keep as many things. When I had to move around so many times, the TV business is hard and challenging and you don't just move up to a different office floor to get a promotion. You have to move cities, so I've lived a ton of different places, I would have kept my one suitcase now of stuff that I learned to do later on in my life.
My biggest advice would be sometimes women have to work harder than men to get ahead and unfortunately, that's still true in 2017. I know that it was especially true for me so my advice is you accept any opportunity, you say yes to any opportunity — you can work any hours, you respect your colleagues, especially in television, it's not just about you. It takes a whole team to put the effort together. It's an incredibly important lesson to learn early on."
Kathie Lee Gifford, co-anchor, fourth hour of Today
"I would have much earlier decided whose opinion mattered and completely ignore everybody else. I had to learn that and it took a while. You learn because you can't survive if you're listening to all these voices with all these differing accusations or just advice and you just go, you know what? Let me be honest about whose opinion would really make me change my mind. I stopped listening to anybody else and boy, it was like being born again again again. Really, there's very few people whose opinions actually matter."
Hoda Kotb, co-anchor, fourth hour of Today
"I was very sensitive early in my career like any time anyone on the street said, 'Oh my God, turn around.' Any time anyone would criticize me, I would take it home and feel terrible about it and I remember thinking to myself all these strangers are making me feel kinda bad so why am I taking it?
You try to remember who you are. Strangers don't know you. They don't like my shoes. One lady said spin around — I was in the mall — and I did. She was like, 'Oh you look so much bigger than I thought.' And I'm spinning around like an idiot for a woman in the mall like a crazy person — that's a little extreme."
Andrea Mitchell, chief foreign affairs correspondent and anchor, NBC News
"I might take a few more vacations along the way and smell the roses but maybe I wouldn't even have that option because it's so competitive.
There is never a respite — when you now have to worry about Donald Trump tweeting at 7 a.m. on Saturday morning. There's never a window when you're on the air now of course with cable and with the internet with dot com, you're always producing something and especially on my foreign-policy beat, something is always happening somewhere in the world so I have to be a lot more flexible and adaptable."
Cynthia McFadden, senior investigative and legal correspondent, NBC News
"Part of it is to not take the bad stuff so seriously and to enjoy the good things a little bit more. We were talking on the way over, we remember every bad word ever written and you tend to not remember the good stuff so enjoy it a little more. Breathe in a little more. It's too bad that everything in retrospect seems so much more fun than at the time."