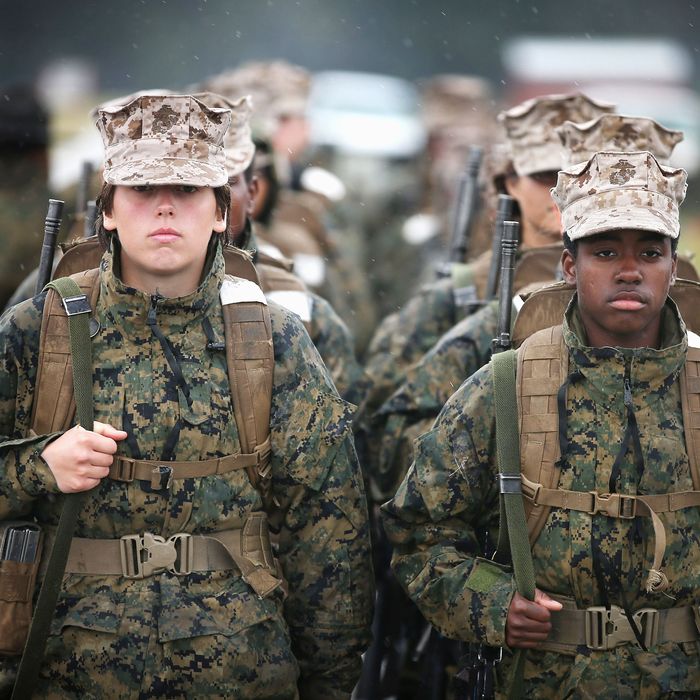 Female Marines.
Photo: Scott Olson/Getty Images
Just weeks after news broke that the Defense Department was investigating a Facebook group called "Marines United" for sharing nude photos of active female military members, nearly a hundred female Marines and Marine veterans have written an open letter calling for an end to misogyny in the Marine Corps, the Washington Post reports.
In a letter obtained by the Post, nearly 100 co-signers — ranking as high as colonel — urged their male colleagues to change their behavior. Written by the group Actionable Change, which started as a Facebook group of more than 400 members, the letter claims the Marine Corps has encouraged "a culture where women are devalued, demeaned, and their contributions diminished," while brutality and barbarianism are mistaken for strength and ferocity. The letter states:
"Yet we respectfully disagree with the notion that to fight and win our country's battles, we must preserve an institution where men are permitted or even expected to behave like animals, and women trespass at their peril. Particularly if this institution is the United States Marine Corps."
The co-signers explain that the letter is "not really about Marines United," though the group certainly served as a catalyst. "This is about the fact that many of you knew, and it took a former Marine to say 'enough.'" The letter calls out servicemen for making degrading comments about women and treating sexual-assault training as a burden, and asks for Marine Corps members to encourage leadership and no longer embrace bigotry.
The letter's authors also address their sisters-in-arms:
"We will speak on your behalf. We will ensure your voice is heard. We will resist the idea that women are a threat, or that success as a female Marine can come only at the expense of family and self."
The letter comes one month after reports that members who abandoned the "Marines United" group are simply posting nude photographs of female Marines and other unidentified women elsewhere. According to the Post, Actionable Change seeks to increase the percentage of female Marine Corps members from around 7 percent to 20 percent, in addition to improving gender integration, making revenge porn illegal in the military, and addressing training problems.