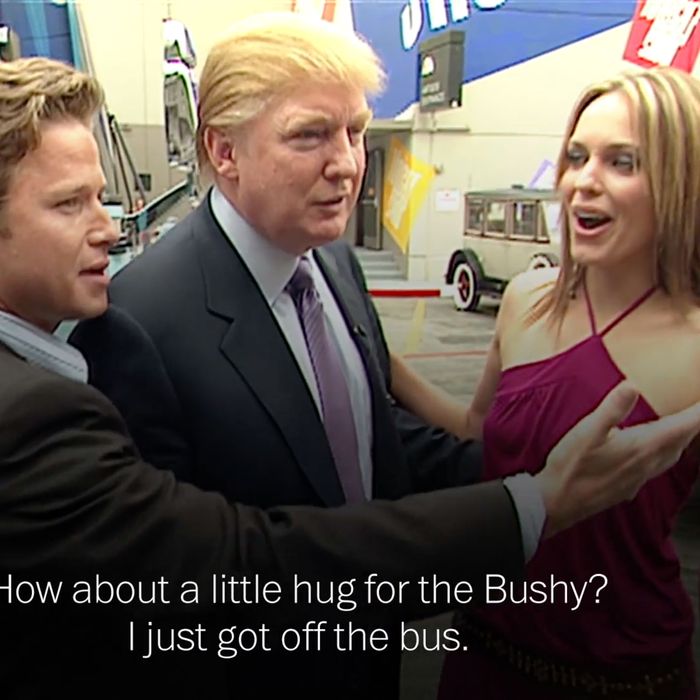 Donald Trump and Billy Bush with actress Arianne Zucker.
When an Access Hollywood tape featuring then-candidate Donald Trump bragging about "grabbing [women] by the pussy" was made public just a month before election day, many thought it would be the end of the Trump campaign. But Trump survived the hit and went on to become president of the United States, and it turns out the tape is serving a purpose beyond the campaign trail, too. According to The Hollywood Reporter, 21st Century Fox — the parent company of Fox News — is using it as an example in employee seminars about sexual harassment.
The report comes from an attendee at one of the seminars, which are held in a movie theater on the studio lot in Los Angeles. The attendee said that, at one point during the hour-long seminar, a photo of Trump, Billy Bush, and actress Arianne Zucker appeared onscreen.
During a five-minute portion of the Fox presentation, "They went through the scenario of the tape, why it was harassment and why it's something you should report," says the employee. "There was an audible gasp in the room, like, 'Can you believe this is happening?'"
As THR points out, Fox News anchors defended Trump during the scandal produced by the tape, calling his comments "crude guy talk," in accordance with Trump's own characterization of the incident. Likewise, when Fox's Roger Ailes was accused of serial sexual harassment, Trump defended him, calling him a "very very good person," and he used the exact same line to defend Bill O'Reilly, who's dealing with similar charges.
The attendee added that later on in the presentation, a human-resources official joked that "the department handled all of Fox except Fox News, so the presentation could not include any information about Ailes or O'Reilly." The attendee said, "It was a joke … but it did not play well in the room."