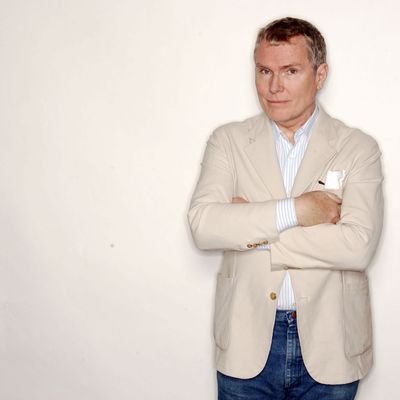 Glenn O'Brien
Photo: Scott Gries/Getty Images
Glenn O'Brien saved my life. Perhaps as a key architect of the downtown art/music/fashion/nightlife scene of the 1970s and '80s that served as a lodestar for a lot of us in our bland American towns, Glenn saved many lives. But for me, in the early spring of 2008 when I was flailing in my magazine career at the ripe age of 32, Glenn called me up and invited me to lunch.
We met at an Italian restaurant on Bond Street (which I'd later learn was not far from his enchanted art-strewn apartment) and there I found myself unwittingly auditioning for the job of editor-in-chief at Interview Magazine. Peter Brant had just reacquired the publication and had brought on Glenn and Fabien Baron as editorial directors. Of course I knew Glenn's history with the magazine — it was the stuff of legend. He had started at the Warhol independent in 1971 when it was still technically a film rag as one of the first editors; his music column, "Glenn O'Brien's Beat," covered or discovered some of the most influential bands of the period in his wry, I-know-the-way-backstage-but-also-the-meaning-of-life-and-love style.
I didn't tell him, but I owned a bootleg DVD copy of his public-access show TV Party where he interviewed folks like Klaus Nomi, Fab 5 Freddy, Jean-Michel Basquiat, and Cookie Mueller. It often seemed that there was very little going down in New York in the '70s and '80s that Glenn didn't witness first hand. One example that readily comes to mind is when I mentioned Grace Jones in passing, and he gave his signature mischievous smile, as if savoring the filet mignon of his words, and rattled off, "Oh, I dated her."
I should have been nervous interviewing for the big job at Interview, but the truth is that I was having too much fun. Glenn was such a wit — in terms of wit, my only description for the unacquainted is a straight, male version of Fran Lebowitz (another Interview denizen), except Glenn's charm let you in on the ride. His humor zinged at lightning speed, it could cut and flatter simultaneously, and it had the ability to reference the art world, a recent presidential press conference, a photo shoot from the 1990s, and your mom's breasts in a single beat. (I would later go to Joe's Pub to watch Glenn's live stand-up comedy act.)
We hit it off instantly, because we were both from Ohio, because we had both gone to Jesuit high schools and to Columbia, because we liked the same writers and laughed at the same jokes. But I think for all my modest success in magazines, what tipped the scales in my favor was the fact that I was pals with local young artists — Dash Snow, Dan Colen, Nate Lowman, etc. — that he liked and respected. That's the thing about Glenn. He understood the importance of a downtown art scene, and he could sniff out a real personality from a fake one in a second.
He was committed to keeping alive the Warholian spirit of New York as a fast, dynamic, and infinitely possible place. He was one of the last real New Yorkers in that way: a hustler dressed to the tens like a one-man Rat Pack, a street poet with a million dollar art collection, a philosopher king at the front row of a fashion show. I think he believed in the dream of a young, street-wise New York in his mid-sixties more than I did in my early thirties.
I was supposed to be the youthful hot shot coming into Interview to breathe new life into its pages, but honestly when it came to text — from full interviews to three-word cover lines — Glenn was a magician. He could infuse a single sentence with more cheek and panache than anyone I've ever met or read. He was a natural at crafting a crackling advertising slogan, but his roaming intellect made him ideally suited for editorial. For our first redesigned issue in September 2008, Glenn interviewed our cover subject, Kate Moss. The interview was classic Glenn, serious and ribald, warm and naughty, to the point that Kate coos to him, "You're so bad."
Glenn was so good he could be bad and get away with it — like he was flirting with you as well as hearing your confession. (Years later, when I had to interview Kate Moss for the magazine, her agent responded to my performance with, "You did okay, but you're no Glenn O'Brien," to which I wanted to shout, "No, I'm not, there is no other Glenn!") Glenn demanded a lot from our staff for the new iteration of Interview because the magazine meant so much to him — in a way he was returning to his first battlefield, the hallowed publication that put him on the map. Being true to the legacy of Andy Warhol was also vital; Glenn hung a photo of Warhol in his office, and a year later, when egos got in the way and everything turned sideways, Glenn stormed out of his office for the last time with that photo of Warhol under his arm, a symbolic Elvis-has-left-the-building good-bye.
In that year working with Glenn, he taught me so much, about writing, about treating words — even deks — both seriously and playfully, about blowing up the perceived hierarchy of the arts (Glenn loved fashion and didn't mind giving as much space to it as painting or literature; I think his credo was, If I find it interesting, it is interesting), and about how to work the room at a gallery opening or a dinner, and hear what everyone was up to. "I worked a big room last night," he'd tell me the next morning when we were both nursing hangovers (my hangover showed in my wrinkled clothes, but no matter how much white wine Glenn consumed the night before, his suit was still crisp and color-coordinated). Glenn might have held grudges — his generation knew how to hold onto personal slights that occurred at three in the morning in a midtown basement in 1982 — but Glenn also held onto friends, and almost daily there would be an artist or socialite or golf buddy or decorator or musician or Warhol superstar or former junkie taking up space on his office couch and telling him they were due for a feature in the magazine. Sometimes Glenn relented, and even those off-track stories were exciting to edit just to hear his supremely sharp banter. "I don't even remember doing that interview," he said once, "which probably means it's good."
After Glenn left the magazine, I too moved on, from editor-in-chief to editor-at-large (a title that Glenn purportedly invented when he was at High Times — all editors-at-large the world over owe Glenna debt). We didn't see each other or talk to each other as much, but we did email and I loved crossing his path at a party. There'd be long droughts where I wouldn't hear from him, and then out of nowhere an email to let me know that I looked handsome in my tux the last time he saw me, or that he was proud of me when I published my first novel. Sometimes, it would just be a joke or he'd ask me if I had a contact for someone he wanted to reach out to. Glenn was always working, always drumming up new material, and even with his saintly white hair, he was still so much a kid of this city, the median spirit age of New York must have jumped up by 20 years the moment he took his last breath. I once wrote him, How are you? And he wrote back the truest words: I'm amazing.