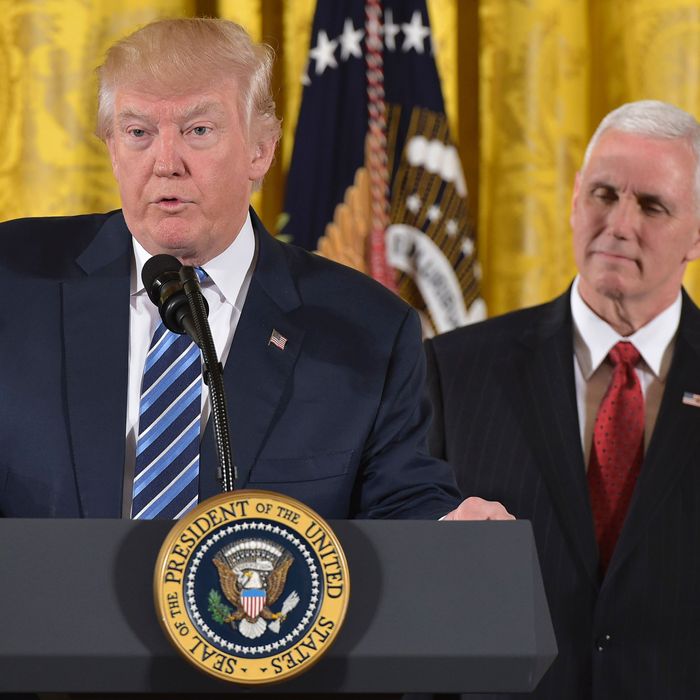 Mike Pence signed a similar religious-liberty order when he was governor of Indiana.
Photo: MANDEL NGAN/AFP/Getty Images
As recently as last month, President Trump promised attendees at the National Prayer Breakfast to "do everything in [his] power to defend and protect religious liberty in our land." But we're approaching the 100th day of the Trump administration, and the president has yet to sign a "religious liberty" executive order — something he promised to do during the campaign, and something his supporters have pushed for.
A draft of the order was obtained by the Nation last month, but when it failed to materialize on the president's desk, buzz around the issue died down. Now a letter obtained by USA Today shows that members of Congress are still pushing for the order, even as the president seeks "middle ground."
Fifty-one members of the House of Representatives (all men, except for Missouri Representative Vicky Hartzler) signed the letter, which "request[s] that [Trump] sign the draft executive order on religious liberty, as reported by numerous outlets on February 2, 2017, in order to protect millions of Americans whose religious freedom has been attacked or threatened over the last eight years." Senate Republicans sent the president a similar letter earlier this month.
But a White House official implied that Trump is unwilling to comply with their request right away:
On Monday, a senior White House official told USA TODAY that some sort of policy to protect religious liberty is still in the works, but that the president is trying to find middle ground. The official did not want to publicly discuss a policy that is still under development.

The official said that Trump has been clear about his support for the LGBTQ community — including following the shooting at a gay nightclub in Orlando and again during the Republican National Convention — and that he does not support any kind of discrimination. But Trump also believes there should be policies that allow for people to express and maintain their strongly held religious beliefs, the official said.

The official acknowledged it would be a delicate balance and said discussions were ongoing about how best to proceed.
As the Nation's Sarah Posner wrote last month, the draft religious-liberty order legalizes discrimination against LGBTQ Americans on religious grounds in an astounding number of cases. It "construes religious organizations so broadly that it covers 'any organization, including closely held for-profit corporations,' and protects religious freedom 'when providing social services, education, or health care; earning a living, seeking a job, or employing others; receiving government grants or contracts; or otherwise participating in the marketplace, the public square, or interfacing with Federal, State or local governments.'"
According to "people close to" the president, he never seriously considered signing the order, and did not need much convincing," the New York Times reported. (There was also some question as to whether the draft order violated the First Amendment.) Given that his ties to the religious right run as deep as his vice-president, we might still see him throw them a bone before long.