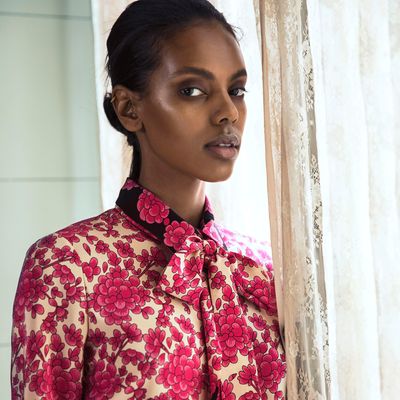 Grace Mahary in Harper's Bazaar Arabia.
Photo: Haper's Bazaar Arabia
Celebrities talk a good game when it comes to trendy issues, but Grace Mahary actually shows up to play. For instance, the 27-year-old model launched a nonprofit dedicated to providing renewable energy sources for some of the world's poorest residents. She's even roped Russell Simmons into the fray, who will be co-hosting a fundraiser for the nonprofit at his yoga studio in L.A. later this month. As Mahary prepped for her event with Simmons, the Cut caught up with our Canadian neighbor, where she explained how image isn't everything in the modeling world, why she likes to wrap herself up in a blanket to sweat, and how a "pressed serum" is actually great.
How I like to sweat: I try to do yoga in every city I travel to, first and foremost. If I can do it once or twice a week, I'll try, but then there are droughts where I'll go three weeks without it. I prefer warm or heated studios. I used to be an athlete — I played basketball, softball, and volleyball — so my attention span is short when it comes to working out. I like to try a variety of things. I do kickboxing, high-intensity training, spin classes, hot yoga, Pilates … I mix it up. I work out at least four to five times a week, total.
How I start my day: I'm usually up between 6:30 and 8. I like to work out in the morning, so I try to get my workout in before I start a shoot, or before I need to head to a meeting, or do research for a project. After I work out, I go to set; but even on set, I'm in the hair-and-makeup chair working on my nonprofit.
How I end my day: I either meditate or work toward winding down the day. For me, meditating can be when I'm reading and just focusing on a good book. That's 20, 30 minutes a day for me.
To me, wellness is: A lot of people try to tie [wellness] into what your body looks like, or what they read as the new fitness or diet trend. Coming from a background as an athlete and as a model, wellness to me is a continuous term. It's something that you work toward every day, and that you try to find ways to make it fun and sustainable. You want to keep doing it in the long run. It's an evolving thing for me.
How wellness has changed for me: In high school, I thought wellness was being able to run the quickest on the court. And now I realize it's something more about waking up without pain — waking up and feeling good, having a positive feeling — mentally, physically, emotionally, because it's a trifecta.
How I stay positive about my self-worth in the modeling industry: People are going to pick at your body and your features in this industry. To focus on that all the time is crazy. I focus on making sure I am healthy and getting all my nutrients and exercise in. At the end of the day, my body looks the way it looks. If people are still picking at it, I don't have anything to worry about because I'm fit and healthy and well. I can live long and enjoy life.
My spa fixation: I'm obsessed with the sauna. When you get that internal sweat out — the toxins — everything is flowing, and I feel like a new person. I go to Higher Dose in New York, and then I go to a sweat lodge in L.A. It is amazing. You're in this sauna bed. They wrap you in a blanket, and then you sweat.
My skin-care favorites: I used to be terrible and didn't do anything — I just washed my face and put on Bio-Oil, or whatever cream I could find. Now, I use Bioderma to remove makeup, and sometimes the Chanel eye-makeup remover when on set. To moisturize, I switch a lot. Right now, I'm in between the Dior Hydra Life moisturizer and Algenist, which has a really great pressed serum. I do a lot of steam and sauna treatments because that really makes a difference for my pores and the "glow."
The most valuable thing I've learned in the modeling industry: I learned from a woman who has been in the industry a lot longer than I have. You really can't define yourself. There's no age or body limit to what you can do. I've seen it. Your character and your personality can define how far you go, sometimes. I came from this really structured background, and coming into this industry where you can't plan your next day, knowing that my personality can carry me on further really helped. Liya Kebede was a really big inspiration for me, and when I met her, she helped me formulate how you can last in this industry.
This interview has been edited and condensed.