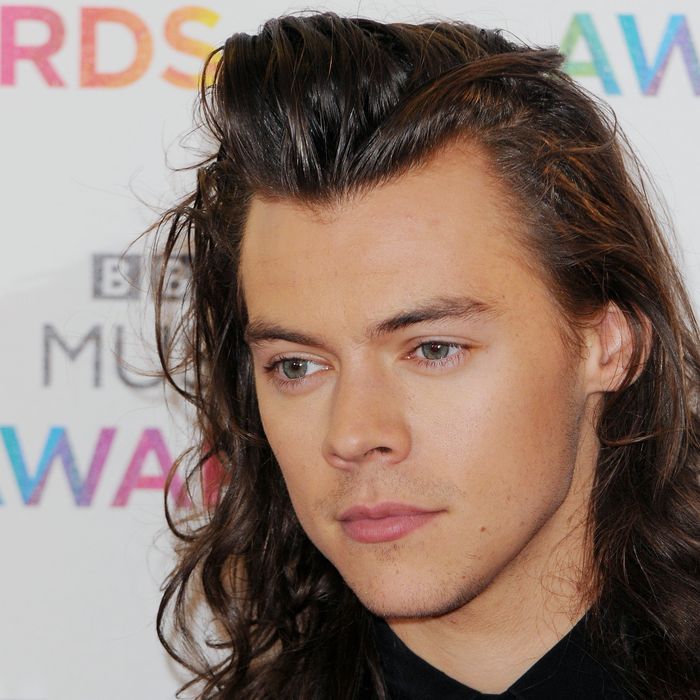 Harry Styles.
Photo: Eamonn M. McCormack/Getty Images
Much like a majestic silky-haired Pokémon, former One Direction member Harry Styles recently evolved from boy-band dreamboat to full-fledged adult rocker. And let me just say from personal experience: If this is an attempt to find a new audience beyond 1D's traditional teenage fan base, it is working.
Almost Famous filmmaker Cameron Crowe (and Aloha, never forget) profiled the notoriously elusive singer for Rolling Stone, and the profile is a cornucopia of unending delights, whether it's Harry professing his belief that teenage girls are the future ("they kind of keep the world going"), praising ex Taylor Swift ("she's so good"), or describing his impressive gift-giving regimen (a cactus for a friend, a carrot cake for Stevie Nicks).
At this point, I want to take the time to apologize on behalf of all the adult women who have been sleeping on Harry Styles. Turns out, as always, the teens were right. Harry Styles is a heartthrob so swoon-inducing that it verges on self-parody, a perfect crush object beamed straight from the godhead, one deserving of the tears and screams and cardboard cut-outs bestowed upon him.
A few examples:
He wore a Melania-esque Gucci pussy-bow blouse for the shoot, because he loves pink.
He quotes the Clash's Paul Simonon: "Pink is the only true rock-and-roll colour."
He does Hillary's stump speech better than she did (#ImWithHarry):
"Who's to say that young girls who like pop music — short for popular, right? — have worse musical taste than a 30-year-old hipster guy? That's not up to you to say. Music is something that's always changing. There's no goal posts. Young girls like the Beatles. You gonna tell me they're not serious? How can you say young girls don't get it? They're our future. Our future doctors, lawyers, mothers, presidents, they kind of keep the world going. Teenage-girl fans — they don't lie. If they like you, they're there. They don't act 'too cool.' They like you, and they tell you. Which is sick."
He refuses to speak ill of his former bandmates:
[On Zayn Malik, who has dissed the band in recent interviews]. "I never wish anything but luck to anyone doing what they love. If you're not enjoying something and need to do something else, you absolutely should do that. I'm glad he's doing what he likes, and good luck to him."
He once bought Stevie Nicks a carrot cake, because he is a man of rich and varied musical tastes:
"Piped her name onto it. She loved it. Glad she liked carrot cake."
He loves his mom (of course):
"Since I've been 10," he reflects, "it's kind of felt like — protect Mom at all costs. … My mom is very strong. She has the greatest heart. [Her house in Cheshire] is where I want to go when I want to spend some time."
His flight schedule is planned around succulent-shopping:
"Leaving Saturday?" asks Winston.

"Yeah, gotta buy a cactus for my friend's birthday," says Styles.
He still remembers how his first girlfriend's perfume smelled:
"Later, I'd remember her perfume. Little things. I smell that perfume all the time. I'll be in a lift or a reception and say to someone, 'Alien, right?' And sometimes they're impressed and sometimes they're a little creeped out. 'Stop smelling me.'"
He still has fond words for a certain ex-girlfriend who was born in 1989:
"Certain things don't work out. There's a lot of things that can be right, and it's still wrong. In writing songs about stuff like that, I like tipping a hat to the time together. You're celebrating the fact it was powerful and made you feel something, rather than 'this didn't work out, and that's bad.' And if you run into that person, maybe it's awkward, maybe you have to get drunk … but you shared something. Meeting someone new, sharing those experiences, it's the best shit ever. So thank you."
He's a true romantic:
"The one subject that hits the hardest is love," he says, "whether it's platonic, romantic, loving it, gaining it, losing it … it always hits you hardest. I don't think people want to hear me talk about going to bars, and how great everything is. The champagne popping … who wants to hear about it? I don't want to hear my favorite artists talk about all the amazing shit they get to do. I want to hear, 'How did you feel when you were alone in that hotel room, because you chose to be alone?'"
He'll go see the new Nicholas Sparks movie with you, and will probably cry at the end:
To wind down in Jamaica, Styles and Rowland, the guitarist, began a daily Netflix obsession with sugary romantic comedies. Houseworkers would sometimes leave at night and return the next morning to see Styles blearily removing himself from a long string of rom-coms. He declares himself an expert on Nicholas Sparks, whom he now calls "Nicky Spee."
He'll put on a dress and jump in the ocean without thinking twice about it:

After almost two months, the band left the island with a bounty of songs and stories. Like the time Styles ended up drunk and wet from the ocean, toasting everybody, wearing a dress he'd traded with someone's girlfriend. "I don't remember the toast," he says, "but I remember the feeling."
And here I was thinking that Zayn was the good one.