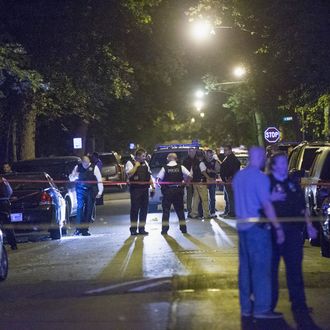 Photo: Scott Olson/Getty Images
Violence doesn't just hurt people by physically harming them, or by snatching people away from their families and loved ones entirely. It also leaves deep, psychic scars that have very real effects on individuals and neighborhoods — scars that psychologists can (and increasingly are) documenting, to help humanity better understand the long-term effects of conflict.
In the United States, no one has a greater chance of being victimized by violence than young black and Hispanic men. "Among 10-to-24-year-olds, homicide is the leading cause of death for African-Americans and the second leading cause of death for Hispanics, according to the Centers for Disease Control," writes Nick Chiles in a new article for NPR's Code Switch. To try to better address this, New York's Vera Institute for Justice is "embarking on an ambitious, federally funded study to figure out the best ways to help young black and Latino men heal after violent events."
What's particularly interesting about this effort, which is being spearheaded by Vera's Center on Youth Justice, is that researchers there are recruiting black and Latino men themselves "to form an eight-man research team that will spend the next year conducting 150 interviews with other young men of color, age 18 to 24." The thinking seems to be that it will be easier for young men touched by violence to discuss these difficult experiences with interviewers who come from similar backgrounds.
The goal of the initiative isn't just to help people recover psychologically from exposure to violence, but also to better understand how when people aren't given the opportunity to recover, it might contribute to the spread of violence. "The working hypothesis is that the cycle of violence happens because hurt people hurt other people because they never heal, according to [Ryan Shanahan, research director at the Center on Youth Justice]," writes Chiles. "And that perpetuates the cycle of violence in certain neighborhoods that are already under the weight of systematic oppression around racism, that don't have as many recourses as other communities and that are being overpoliced."
This seems like a good example of researchers of violence taking a more holistic approach to problems that are quite complicated — and quite difficult to talk about. It's an effort worth keeping an eye on.