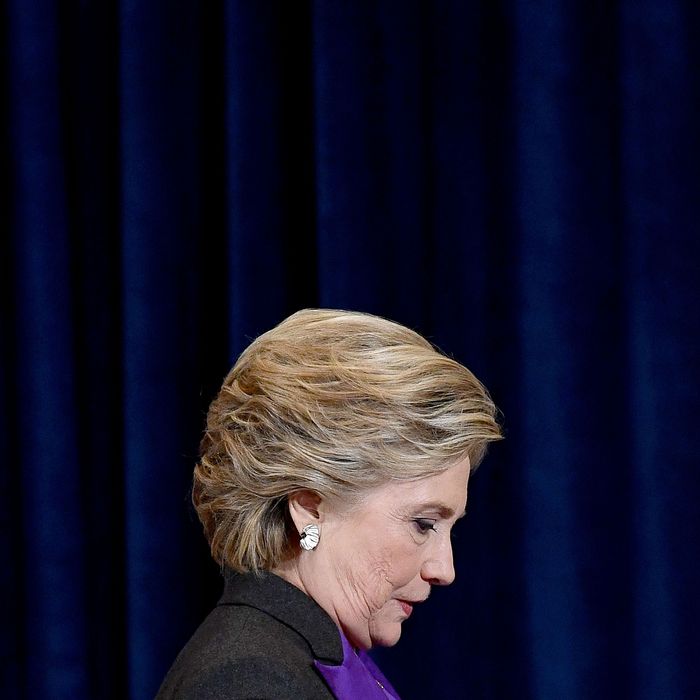 Hillary Clinton delivered her concession speech in New York the day after the election.
Photo: JEWEL SAMAD/AFP/Getty Images
On November 9, Hillary Clinton did something she never thought she'd have to do: She conceded the presidency to Donald Trump. Standing in a New York hotel wearing the same outfit she'd picked out for her victory speech, Clinton delivered an emotional address that both apologized to her supporters and reassured them she'd keep working to promote their interests.
Clinton's loss was a shock to everyone, including (and maybe especially) her own campaign. And although dozens of analysts have done their best to pinpoint where she went wrong, Shattered: Inside Hillary Clinton's Doomed Campaign, which comes out Tuesday, is a comprehensive look at how the flaws in Clinton's operation allowed Trump to hijack large swaths of the electorate. Journalists Jonathan Allen and Amie Parnes go into plenty of detail about campaign gossip, but the most compelling part of the book is its last few chapters, when it recounts the grim ticktock of Election Night — including how Clinton and her aides pulled together a speech she was never supposed to deliver.
On Election Night, Allen and Parnes write, Clinton and her top aides were holed up at the Peninsula Hotel, just a block from Trump Tower in New York. As the night wore on and the numbers shifted in Trump's favor, the mood in the Clintons' hotel suite grew bleak. At around 11 p.m., an Obama aide called Clinton's campaign manager, Robby Mook, to relay a message: He wanted Clinton to concede. Clinton protested:
"I'm not ready to go give this speech." Though she focused her pushback on the nature of her remarks—How should she frame the election of Donald Trump? What would she say to little girls and elderly women who treated her as a champion? Could she hit the right notes?—the effect was the same. Hillary wasn't quite ready to put an end to the dream she'd pursued for at least the past decade.

"You're right," Mook assured her. "'I lost. Have a good night' isn't the way to go."
Later that night, after a conversation with President Obama convinced her to call Trump and concede ("the denouement lasted all of about a minute," Allen and Parnes wrote), Clinton sat down with her aides in her hotel suite to hash out a concession speech. Dan Schwerin, her chief speechwriter, had written a bare-bones draft, but he hadn't even shown it to Clinton, as he "hadn't wanted the possibility of defeat clouding her mind." He and fellow speechwriter Megan Rooney fleshed it out, "hammer[ing] out remarks aimed at comforting Americans who feared a Trump presidency." But Clinton took issue with the draft:
As Hillary thumbed through the pages, the speech struck her as tone-deaf. It's too charged, she thought, too political. When Hillary was done reading, she looked up and told her advisers it was too much.

"It's not my job anymore to do this," she said, her voice growing more forceful as Chelsea nodded in agreement. "Other people will criticize him. That's their job. I have done it. I just lost, and that is that," she continued. "That was my last race." With clear marching orders, she instructed her speechwriting team to go back to the drawing board and strike a balance shorter on stating values and longer on graciousness.
Clinton went to bed before her aides, who slipped a finished draft of the speech under her hotel-room door at 5 a.m. When they met the next morning to go over the wording one more time, Clinton had changed her mind again. "We should go further than we have," she told her team, according to Allen and Parnes. "I want you to put in the Constitution as a device." Once the tone of the speech had transitioned from "gracious" to "graciously critical," Clinton made one last major change:
In one of the margins, she had drawn a circle with a cross beneath it—the symbol for women. She said she wanted to say something about the glass ceiling—that it would someday be shattered. Rooney added "sooner than we think" and "to all the girls who are watching this, never doubt that you are valuable and powerful." She and her aides made tweaks right up until the time, around midday, that she stepped to a podium at the New Yorker Hotel.
As Allen and Parnes tell it, Clinton was much more unmoored by her loss than she appeared when she gave her speech. "Inside, there's a person that's crushed," one longtime friend said of her. "There's a person that's got to rebuild her life." But on November 9, at least, she delivered.