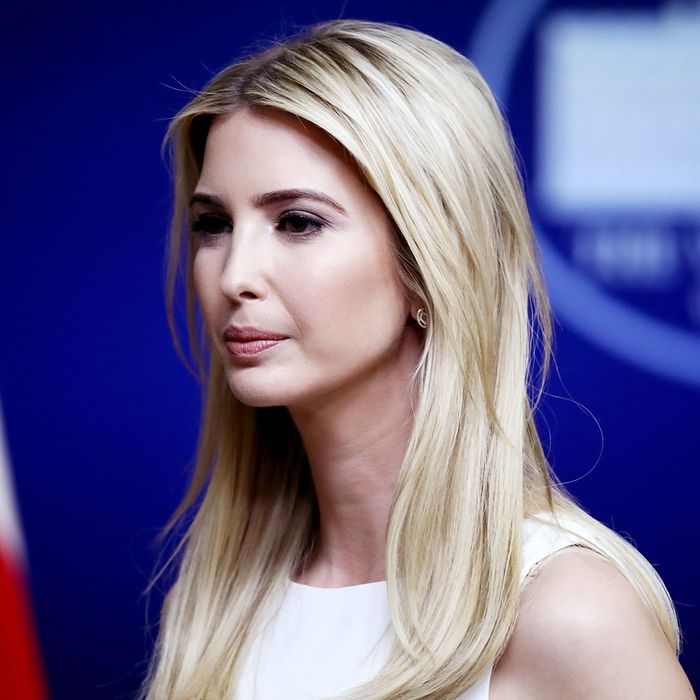 Ivanka Trump's neighbor isn't a huge fan of the current administration.
Photo: Win McNamee/Getty Images
On Saturday night, hundreds of LGBTQ climate protesters held a dance party in front of Ivanka Trump's house. And although the First Daughter likely wasn't home to take in the scene, her neighbor, Dianne Bruce, watched the whole thing unfold from her front steps while wrapped in fur and drinking a glass of white wine.
A photo of Bruce watching the protest was widely circulated online, and although she looks a little smug, Bruce told Cosmopolitan that she was just having a good time. "We were enjoying [it] thoroughly," she said of the dancers who flooded her Kalorama neighborhood. "And another neighbor came out with a bottle of wine, some glasses, so we all sat there and enjoyed watching the party. That was about it! The whole thing — everybody kept saying about the 'protest.' I thought it was more of a parade, quite frankly."
She added that she's a "relatively liberal Democrat" who's "not particularly crazy about the Trump administration," but she's lived in Washington too long to develop strong feelings about one president or another. "Some you agree with, some you don't" she said, but each thinks "they're gonna solve the problems of the world. Well, four, eight years, they might not be back."
She was a little less delicate when asked what Ivanka and Jared are like as neighbors:
Yeah. I don't know why they chose the house. I think it's a difficult house to secure. It's on a corner, it's very exposed. And they immediately put up tacky saw horses wrapped in fluorescent tape, and crowd barriers. And we weren't allowed to walk on the sidewalk. You just thought, Are you really that important? And now they've just put a tacky Johnny on the Spot out on the sidewalk of our neighborhood. I guess it's for the Secret Service. I'm like, Ewww, really?
Bruce added that, so far, she hasn't seen Ivanka or Jared around the neighborhood. Someone add "casserole exchange" to Jared's to-do list, stat.