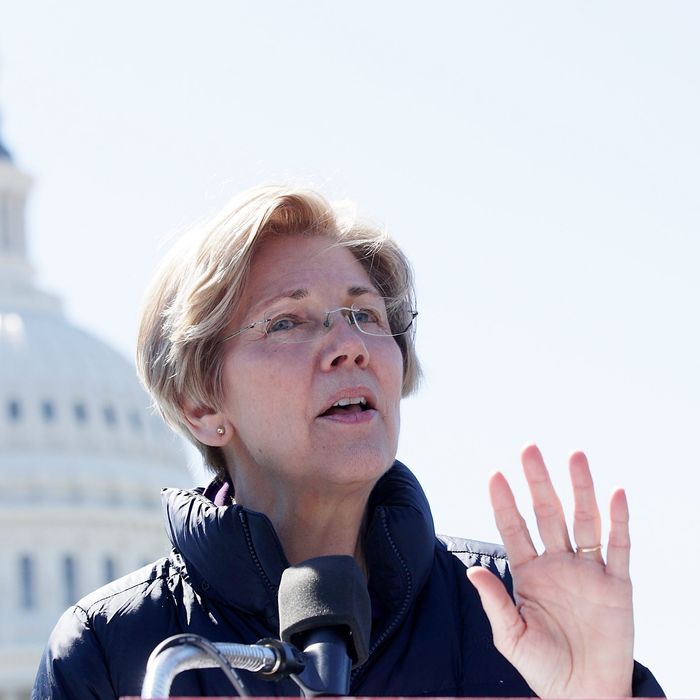 Elizabeth Warren knows how to push Donald Trump's buttons.
Photo: Alex Wong/Getty Images
It seems so long ago, but in reality it was only last March that Senator Elizabeth Warren began attacking then-candidate Donald Trump on Twitter. In one memorable series of tweets, she called him a "loser" not once, not twice, but five times, and after he became the Republican nominee for president, she promised to fight to ensure Trump's "toxic stew of hatred and insecurity never reaches the White House."
Well we all know how that turned out, but in her new book, This Fight Is Our Fight: The Battle to Save America's Middle Class, Warren suggests that even drawing Trump into Twitter battles (he famously called her "goofy" and "Pocahontas") was a victory of sorts.
"[T]hose tweetstorms and Facebook posts causes millions of people to tune in — at one point, about 46 million people were following these exchanges," she wrote, according to an excerpt published in Axios. "Trump had figured out early on that every over-the-top tweet became a news story. Now there was a fresh story line: someone had found a way to get under Donald Trump's skin and fight back."
As Axios's Mike Allen notes, at points in the book Warren "takes the breezily dismissive approach to Trump that may be the key to rankling him in his reelection race," calling him things like "the hot-air balloon known as @RealDonaldTrump." Even her gallows humor comes off a little condescending, as when she writes, "The day after the inauguration … I thought, 'One day into his presidency and at least Donald Trump hasn't blown up the world yet. Only 1,460 days to go.'"
She also wrote that she briefly considered a 2016 run for president, but that her husband, Bruce, talked her out of it. He was supportive but warned that "a race like this one looks pretty terrible," she wrote. "The Senate thing was bad enough, and running for president would be worse — a lot worse."
It's unclear whether she'll reconsider in 2020, but whatever she decides to do, she'll likely have millions of grassroots dollars to do it with.