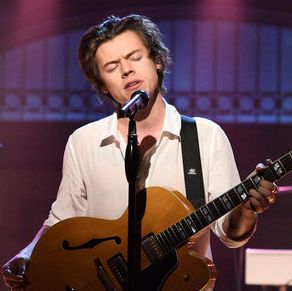 Harry Styles performing on Saturday Night Live.
Photo: Will Heath/Saturday Night Live/NBC
Sleeping on the sidewalk in hopes of snagging standby tickets to Saturday Night Live can make even the most die-hard Harry Styles fan hungry. Styles, being the floppy-haired, thoughtful dude of your 1D dreams, had SNL staff drop off pizza and kiwis to his adoring fans as they killed time in Rockefeller Center hoping to get in to see his solo performance Saturday night. The snacks weren't just a nice gesture, though, because honestly, pizza and kiwis? Sure, SNL staff also handed out water, coffee, and apples, but the kiwis had fans speculating. Styles was set to perform "Sign of the Times" and a then-unrevealed song. Would it be "Kiwi"?
Sadly, it was a fake-out. Styles performed "Ever Since New York," which may or may not be about Taylor Swift since that's where they first went public with their romance. In any case, fans have FEELINGS about this trickery.
Watch his performances of "Sign of the Times" and "Ever Since New York" below.