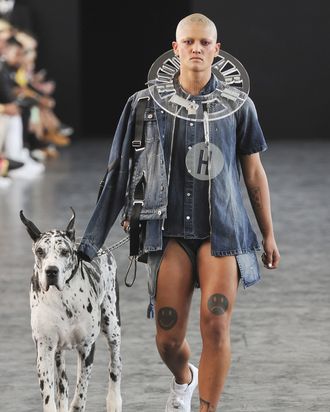 Say good-bye to dogs and lucite collars.
Last month Hood by Air's Shayne Oliver announced he would be working on a special project for Helmut Lang as a collaborating designer. That news — coupled with the cancellation of the brand's Paris show back in October — had fans worried that HBA would be no more. Today, unfortunately, those fears were proven right. Hood by Air announced in a statement that they were going on a creative hiatus, effective immediately. Oliver is going to focus on his new gig at Lang while partner Leilah Weinraub will be working on her film and directorial career, including her project at the Whitney Biennial.
But don't be too depressed: A line at the end of the announcement promised that "HBA will continue to fulfill its creative vision in the near future." Good, because we'll miss seeing giant dogs, S&M pacifiers, and x-rated beauty looks.