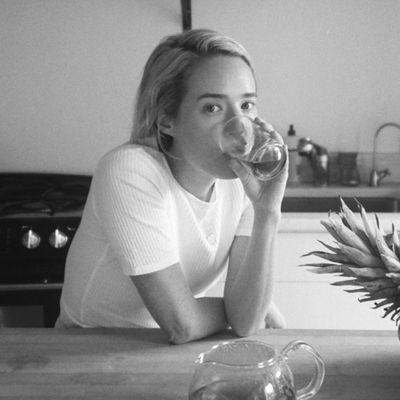 Daphne Javitch.
Photo: Ana Kras
"In 2014, I was diagnosed with stage-four endometriosis," explains Daphne Javitch of her journey toward starting her holistic-nutrition coaching practice, Doing Well, last year. "I was hospitalized and advised to take birth control and hormone supplements and to immediately have surgery." Javitch asked her doctors for a reprieve to try to heal her body naturally, by working with a nutritionist and other experts, plus a variety of lifestyle changes. "Within six months, symptoms I had had since age 13 were in remission," she says, "I used to take 12 Advil on the worst day of my period. Currently I haven't had an Advil in three years."
Inspired by her experience, Javitch, whose background is in fashion — she did time as a costume designer before consulting for Theory and Uniqlo and running her own comfortable-chic lingerie line, Ten — decided to embark on a career change, dedicating herself to sharing the nutrition and wellness tips that had so dramatically improved her own health. She studied under nutritionist MaryRuth Ghiyam and colon hydrotherapist Gil Jacobs, and became certified as a health educator through the Hippocrates Health Institute. Now, Javitch works with approximately ten private clients a month, regularly shares advice alongside aesthetically pleasing images on her Doing Well Instagram — the fashion sensibility is still very much in evidence — and she's evolving the company into a comprehensive well-being platform that goes beyond her one-on-one work. Part of the concept involves a podcast featuring interviews with "unexpected teachers" that she plans to launch this summer.
Below, Javitch spoke to the Cut about geriatric fashion, her favorite vintage shops, and easy wellness tips we can all incorporate. Read on for the full interview.
Your health has improved so dramatically — what are some of the changes you made?
I became much more compelled by my insides and less obsessed with my outsides. That was definitely a huge shift having worked for so long in fashion. I used to be very concerned about my cellulite and now I'm extremely interested in my colon. I'm trying to be more accepting of where I'm at any given moment. Every single person's protocol is unique and individual, but things that I do that universally help are that I stay very hydrated, I drink a lot of water, I cherish my sleep, I eat a lot of water-containing vegetables and leaves, I don't eat any processed foods really. I'm much more connected to how my thoughts affect my physical being, I move my body every day, and I quit smoking. I was a heavy smoker for 15 years.
How did you manage to make those shifts?
None of them were about grit and forcing myself to make adjustments; things very naturally shifted as I consistently practiced small changes and consistently saw results. It wasn't like "Oh I have to quit smoking, this is torture." By the time I was ready to quit smoking, I was excited. It's a process and the trick is just incorporating one thing every day, instead of a million new things. A lot of times we feel like to be healthy we have to do like ten thousand things and like "I could never do that." The truth is it really takes just one or two things every day. Seeing change motivates to incorporate one or two more.
What are some of your favorite accounts to follow on Instagram?
On my personal Instagram I follow all my friends, but on my Doing Well Instagram I follow people who are health-and-wellness related so that people can find other resources. Some of my favorites are the Blue Zone, which is all about longevity, studying why some people live to be 100. They give tips on how to live a long time, and often include pictures of people who are 100 years old. I also love this Instagram called Humans of New York, that shows a little portrait of a person and their story. Instagram can be a place where we feel so lonely and disconnected or even discouraged but Humans of New York is a really beautiful way of helping us maintain connection and compassion and understanding.
Who would be your dream dinner companion?
I would like to have dinner with Louis C.K. Is that weird? He's my dream dinner companion, my dream podcast guest. My dream evening out would be to go see him do a show.
How do you stay organized?
I'm such a nerd. I make lists, I use my calendar on my phone but I'm big into lists and I'm actually a very organized person; like anything, I take it one step at a time. I plan, I'm a scheduler. I plan what I'm doing this weekend, what I'm doing next week, because I have a lot of friends who I want to see. My teacher said to me, "If you want to get it done, you've got to get it done first," so I do a lot of the things that I dislike doing in the morning.
What's on your reading list?
This is embarrassing. I was like "I'm going to circle into the library again;" and I took out Swing Time, the new Zadie Smith book, and it's fabulous but I'm very busy right now so I keep having to renew it. I'm not proud to say it but I read a lot on vacation, and when I'm not on vacation I listen to more podcasts because I can do it while I'm in transit and running errands and grocery shopping.
What are your favorite podcasts?
My ultimate favorite is The Rich Roll Podcast, he's an incredible, sensitive, thoughtful person who is an endurance athlete but his podcast is about accessing your authentic self. He interviews athletes, spiritual entrepreneurs, and interesting thinkers. I love Fresh Air and On Being with Krista Tippett. I really like Here's the Thing with Alec Baldwin. I'm a podcast junkie.
What do you never leave home without?
Water and my MetroCard.
What kind of water should we ideally be drinking?
Water is so funny. Ideally we want to be drinking filtered water out of a glass or non-plastic vessel. Plastic is an endocrine disruptor and the toxins from it leach into your water. Especially women, because of our hormones, want to be drinking out of a nonplastic vessel. You can make any water alkaline by squeezing lemon into it. But at end of the day, it's most important just to drink the water, it's less important whether the water's warm or cold, or alkaline or this or that, it's mostly just important to be hydrated and that really means two to three liters of water a day. That's the biggest game changer for so many people. So many people are dehydrated and they don't know it.
What's in your bag?
I usually just have my water, my wallet, and my chapstick. I love this Boiron Homeostick chapstick — I was turned on to it by my mother-in-law, you get it in Paris pharmacies, so whenever I have a friend traveling to Europe I have them pick some up. I have an Il Bisonte wallet — it's a very classic 1970s style, and I feel like Faye Dunaway or Steve McQueen had it.
What's your go-to outfit?
I'm still me so I still really love clothes. A lot of people say "Daphne has such sporty style" but that's just because I don't change out of my gym clothes all day. I love a vintage print dress or classic simple jeans and a T-shirt and a great bag or a cool shoe. The truth is I rock a Beverly Hills Juice tote 70 percent of time. Sometimes I like that because I'm into nice things and very indulgent but I'm not so into the "rich" look, I'm more into the natural look, so if I'm wearing The Row — I think I'm the number-one fan of The Row under the age of 70 — I would pair it with the tote. I have a lot of great vintage bags as well. I have this vintage Gucci bag and this vintage Dior bag, I'm into these kind of '70s bags, and then for shoes I always love Maryam Nassir Zadeh. I also have some cashmere slippers from The Row, and I wear a lot of Belgian loafers. I guess I have really granny style. Belgian shoes are the classic 75-year-old Upper East Side woman shoe.
What are your favorite vintage shops?
Scout in L.A. is incredible, and I love Ellen in New York on the Lower East Side for many reasons. She's got a great selection but she's also an original gangster. She's just such a New York character and has the sweetest soul.
What's next?
I'm launching a podcast this June. It's sort of an accessible, achievable approach to health with personal conversations with unexpected teachers. Not the obvious choices. It sort of brings me back to Louis C.K. He might not represent to some people the picture of health, but he uses a flip phone, and doesn't use the Internet until after five, and listens to NPR with daughters and has lots of practices that cumulatively lead to a more healthful experience. And I have some talks coming up — one at Ludlow House for May 7, one at CAP Beauty on May 31, and I'm setting something up at The Wing.
What inspires you?
It sounds kind of corny but I'm super inspired by my husband. He is truly my greatest teacher in life, he innately has qualities I aspire to have. He's not forcing himself to be a certain way, he just is that way, and he never pushes it on me. That's a beautiful way of teaching people, just be yourself and allow people to connect. He has such a great sense of humor, I have so much fun with him and I'm so inspired by humor and laughing and joy.