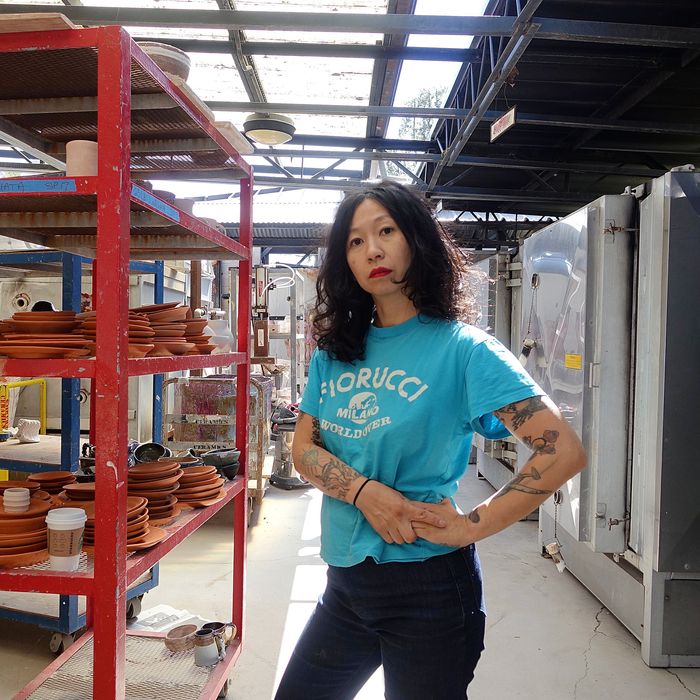 Ceramic artist Jennie Jieun Lee's story can only be described as one of expansion. Born in Korea, Lee immigrated to New York at age 4. New York was where Lee developed a zeal for clay. Her mother, who'd been an art teacher in Korea, started studying at Pratt, and would bring her daughter along to classes, eventually signing her up for a children's pottery course. "I knew then that I wanted to do ceramics," Lee says, remembering her first piece, a seven-inch clay mask modeled after her mother's visage.
Lee went on to attend the Museum School in Boston for college — where she'd frequently pull all-nighters at the pottery wheel — but after moving to New York, took a ten-year detour away from her chosen craft. "I was a little bit blocked and needed to get a full-time job," the artist explains. "I didn't give myself a chance, really, to do my art. I was more concerned with 'How do I make a living?,' 'How do I support myself?'"
Lee worked her way around the fashion industry, until five years ago, when things reached a tipping point. "I was depressed that I wasn't giving myself a chance to make art," she remembers. At the time, a close friend of Lee's was working out of a Greenpoint studio called Clayspace 1205, and encouraged her to sign up too. "I started doing a work-study there, working there on the weekends and after my freelance jobs at night, until it became a full-time thing," Lee says. Demand for her early work — melty-colorful, symbolism-rich masks and flat sculptures, as well as tabletop pieces she creates under the name Glazemoods — was immediate. Soon thereafter, she joined Martos Gallery, where she had her first New York solo show in 2015. She quickly outgrew her studio, expanding into a larger space out of her home in Fort Greene, and then to an even larger one in the Navy Yard.
This past year, Lee's made her biggest move yet, road tripping out to Long Beach, California, with her boyfriend for a residency at California State University, Long Beach, a move that's provided the artist the opportunity to create on an even grander scale. And on the heels of her solo show at The Pit gallery in Los Angeles, the artist and newly minted Guggenheim fellow caught up with the Cut to talk about inspiration, her immigrant experience, and westward expansion.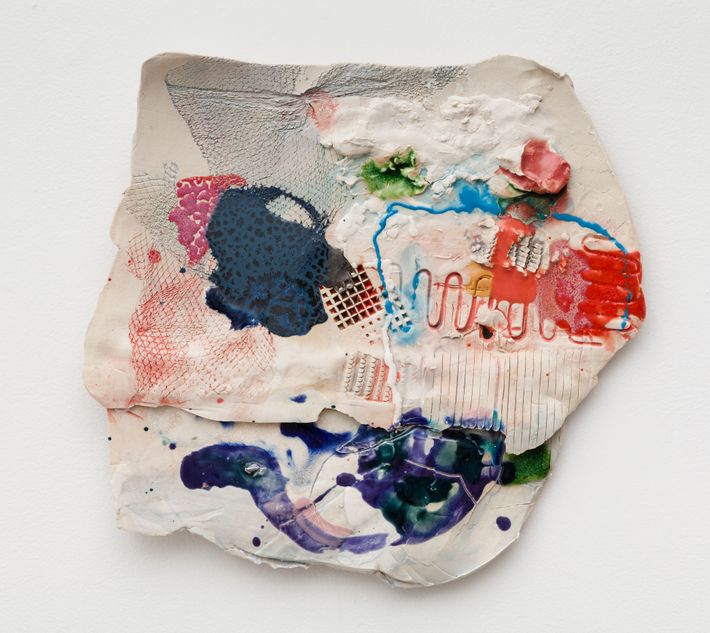 Tell us a bit about how you found your way back to ceramics.
I needed to return to making art and the only way I knew to do it was little by little. I was introduced to this clay studio in Greenpoint, Clayspace 1205, through [my friend] Jana Flynn, and I started doing a work-study there; working on the weekends and after my freelance jobs at night, until it became a full-time thing. I would be throwing pots, and cups, and vases on the wheel while doing slab rolling and making the masks. A friend of mine, Eddie Martinez, saw the masks and put me in a group show at Martos Gallery. From there I would make larger vessels on the wheel and larger masks and I just kept going. I started applying for grants and showing with Martos as well as selling tabletop pieces in stores that belong to my friends — Dream Collective in L.A., and Wilder in Nashville — and at Tenoversix. My first solo shows were at Lefebvre et Fils in Paris, and then in New York at Martos Gallery in 2015.
How did you end up in Long Beach?
I was looking online at different artists that work very large in ceramics, and I came upon the ceramic department at Cal State Long Beach, and then a week later, I saw that the head of department posted on Instagram that they were looking for artists to do residencies. I applied and got the residency, alongside another artist.
Tell us about your tabletop line, Glazemoods — how does it dovetail with your fine artwork?
In the beginning I was worried I couldn't do both, that I would have to pick. But it worked out naturally — when I have a show to work on, as soon as that ends, there's a little pocket so then I can throw tabletop work. My fine artwork is what I prefer to do, but for friends, I love making the tabletop.
And you did a project with Rachel Comey …
We did a print collaboration for pre-fall 2015, where she took a few of my pieces, photographed them and either silk screened or digitally printed onto clothing. Pants, dresses, bags …
Tell us about the show you just had at The Pit.
I wanted to transform the space completely, so it was unrecognizable. The gallery used to be a pit for car repair; I wanted to expose and recontextualize that. I made large pieces and fired them in the kilns here at Cal State Long Beach — I wanted the space to be kind of an interpretation of what it would be like inside my mouth, because I've had a lot of teeth removed over the years. Also, while I was making this show I was listening to the radio nonstop, and just processing the election and the violence going on in the world.
How has your work helped you navigate that?
My work has always been deeply personal. I'm always thinking about what it's like to be Korean and how far I've come when I first moved here; I moved [from New York] to New Jersey in fourth grade and was faced with a large amount of racism. And a lot of my work has been about getting out of that and evolving into a person I'm not ashamed of and instead embrace. It's also having a voice, which I didn't think I had at all when I was growing up. I felt like I'm a minority and shouldn't be even allowed to talk or feel. Being able to come out now is very important.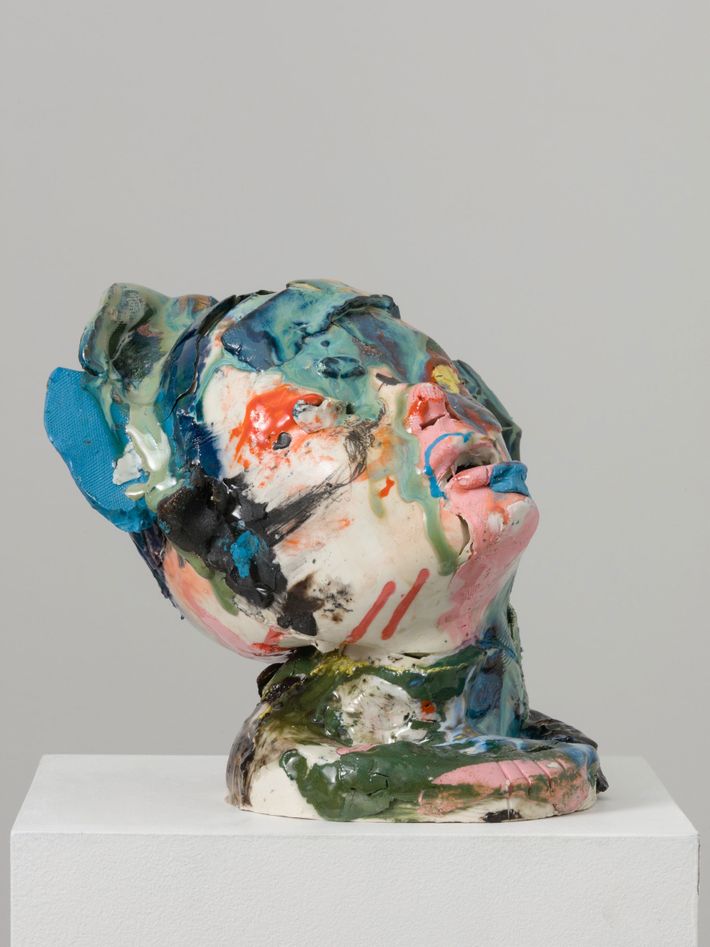 What makes you feel inspired?
The Huntington Library; when my cat lies down with his paws up; listening to other artists talk about their work; friends that make me laugh and all their creative projects; also this artist's residency and the other women artists in the residency, Anna Sew Hoy and Amy Yao. They're right next to me and they inspire me so much daily. Also the ceramic department [at Cal State Long Beach] is indoor-outdoor, and every day there's this soft breeze that blows through the courtyard and rustles all the birds-of-paradise — that's very inspiring to me.
What's next?
I have a Glazemoods pop-up at Dream Collective for Mother's Day, on May 11!
What's in your bag?
Because everything gets caked with clay, I carry a canvas tote. The one I'm using is from when I was dancing with Stanley Love Performance Group at the Kitchen's spring gala at Cipriani in 2016; it has a portrait of Leigh Bowery in a Charles Atlas video on it. In the bag right now I have Thierry Lasry sunglasses I finally got fixed after I got my learner's permit, Anbesol for my teeth pain, Salonpas for my neck pain, gym clothes, extra contact lenses, Chanel and YSL lipstick, and a bottle of Coyote glaze.
If you could have dinner with anyone, dead or alive, who would it be?
I would like to eat with Sun Ra. I saw him perform when I was in high school at Central Park Summer Stage and it started to rain and he made the rain turn into sun.
Who would play you in a movie about your life?
This is going to sound like I'm too big for my britches, but since we're talking the big screen, either Maggie Cheung or Joan Chen.
NYC or L.A.?
Right now, I don't want to pick. But I'm enjoying living in California. I'm actually in Long Beach, so it's really mellow. I don't even have a driver's license. It's been really good to make stuff, because I can't really go anywhere except the gym. This year California is great for me, because it's given me time and space to pause and think about something different.
Any favorite places here?
I feel like I haven't been to enough yet. I've just been to the forest and Huntington Library. And [dim sum restaurant] Din Tai Fung and Mo Ran Gak, the Korean place in Garden Grove.
What's on your reading list?
I'm currently reading Montpelier Parade by Karl Geary — I like to read books my friends write. And I think one of my all-time favorites is A Taste of Power by Elaine Brown; she was the first female Black Panther.
What are your hobbies?
Zumba, and dancing with Stanley [Love]. It was my dream to be a Stanley Love Performance Group dancer, because I did jazz and tap when I was little. My friend Jana joined and told me Stanley was looking for people — it's a mix of professional and nonprofessional dancers. I was like, "Can I? Should I? I don't know." That amount of visibility I was not comfortable with, but I realized that if you do things that are uncomfortable and even painful the rewards are huge. So I started going to the practices, which are outside in Williamsburg, and it completely changed my life. I had to learn these dances to Beyoncé, Prince, and Aaliyah and we performed at the Kitchen gala in front of I don't know how many people, and at the Gene Frankel Theatre. It was one of the most amazing experiences of my life.