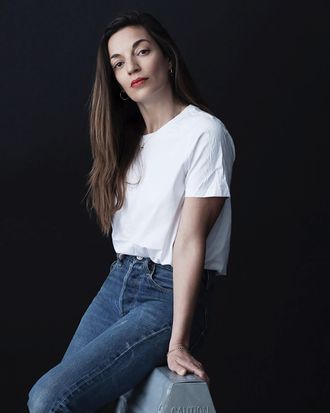 Marisa Competello.
Photo: Ellinor Stigle
Though it would be easy for one to assume that Meta Flora floral designer Marisa Competello was a sculptor in her past life, one would be mistaken. The New Jersey–born, Chinatown-based artist — that's really the only way to describe what she does — actually worked as a stylist's assistant for close to ten years before deciding the fashion game wasn't for her. "I finally realized it was time for a change," Competello says simply. "I distinctly remember thinking flowers would be my new path."
Her answering of the botanical call coincided serendipitously with the opening of Dimes, the Lower East Side restaurant that has evolved into a mini-empire in the following years (in addition to the main eatery, the owners now operate a to-go/deli space and an immaculately curated mini-market down the block). Competello asked her friend Sabrina De Sousa, one of the owners, if she could create an arrangement for the restaurant's opening "I vaguely remember kind of wispy bits leaning to one side," she describes. Both the restaurant and the arrangement were wild successes, and doing Dimes' flowers became a weekly gig for Competello, one which she credits with giving her an avenue to experiment and discover her style, ultimately leading her to start Meta Flora, her official business.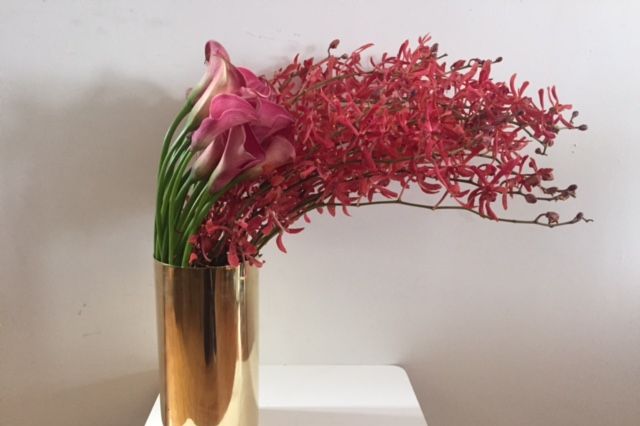 Today, Dimes' and Meta Flora's colorfully minimalist aesthetics are closely intertwined (Competello's favorite dish at the culinary destination is the black-rice bowl, for the record). And from its neighborhood beginnings, Meta Flora has grown and blossomed. Competello's dreamed up arrangements for an impressive roster of cool clients, including Creatures of the Wind, Rachel Comey, Apparatus, Nike, and Kelly Wearstler, and her creations were in fact the stars of their own editorial shoot for The Last Magazine in 2016. Indeed, Meta Flora's recognizably fluid, pared-back works are art in and of themselves, often centering on between one and four types of plants at a time, and tending toward palm fronds (sometimes cut into geometric shapes), anthurium, birds-of-paradise, or pampas grass.
Below, Competello explains more about her inspiration, her current favorite flower, and what she never leaves home without.
How did your collaboration with The Last Magazine come about?
The photographer [Nicholas Alan Cope] reached out to me to see if I would be interested in shooting together — it was my first floral shoot, which is now one of my favorite ways to create and execute new ideas.
Where did the name "Meta Flora" come from?
It developed one day while I was contemplating what to name the business. I knew I didn't want it to be my namesake, and I both read and heard the word "meta" several times that day. I added "Flora" to complement and identify the work, and it kinda just came together …
What inspires you?
I have been a dancer since I was a small child. Studying dance and seeing dance is a huge part of who I am and influences how I see things or shapes.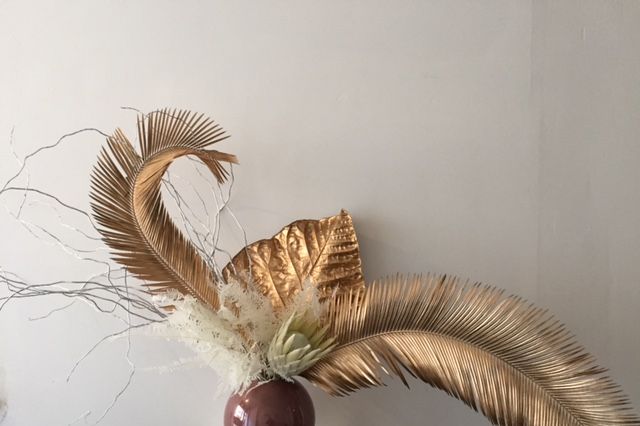 What's your favorite flower at the moment?
Amaranthus. It's droopy, strange, and quite dramatic!
Where is your studio and what's it like?
I share a workspace with a gallery in Chinatown. I have a small work area in the back. I always listen to music while I'm working. Typically classical or jazz … early-morning vibes.
What's in your bag?
My bag is a polka dot Comme des Garcons pouch. Its contents vary, but I do always carry a small pouch filled with credit cards, Rosebud Salve lip balm, Nars Heat Wave lipstick, headphones, my phone, and keys.
What would you do in an alternate life?
I think I'm currently living my alternate life and loving it. Although I do fantasize about living near the beach.
What are your favorite neighborhood haunts?
Dimes, Kiki's, and Bacaro are my go‐tos.
What are you currently reading and what's your favorite book?
I'm currently reading Miranda July's latest; Just Kids by Patti Smith is one of my favorites.
What's your astrological sign?
My sign is Cancer … intuitive, domestic, moody.