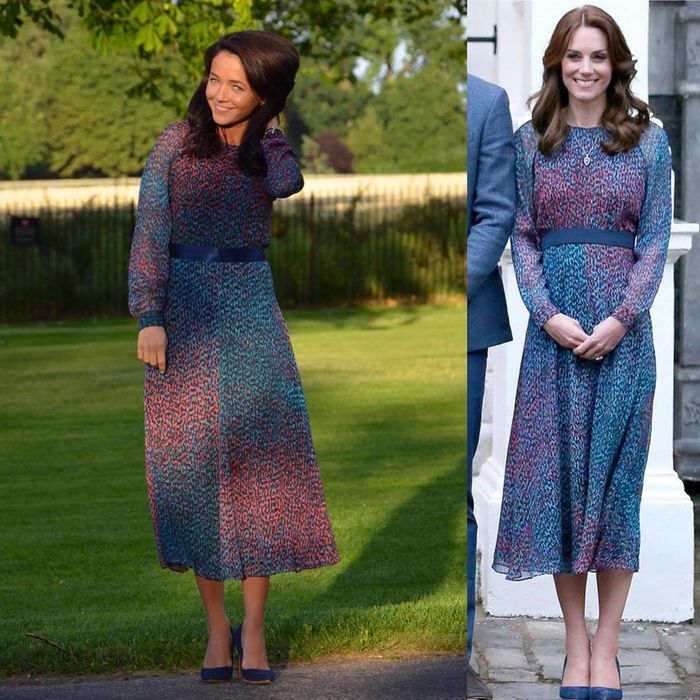 Kate Urbanksa (left), and Kate Middleton (right).
Photo: greatreplikate/Instagram
If you scroll through your Instagram Explore, chances are you'll come across one of the countless fan accounts dedicated to the life and fashions of Kate Middleton, Duchess of Cambridge, from pages devoted to her children to those focused on her quintessentially British style. The Daily Mail has highlighted one such account by a Middleton devotee, who goes beyond the trend of posting highly filtered pictures of the Duchess — instead, she replicates Middleton's best looks on the cheap.
Just like the Duchess, Kate Urbanksa is named Kate and hails from Berkshire, where (unlike the Duchess) the 29-year-old works as a beautician and moonlights as a Middleton aficionado. She's apparently created what the Daily Mail refers to as "her own royal wardrobe" by scouring eBay for affordable picks, hitting up a tailor to reconstruct certain looks, and purchasing just a few pairs of the Duchess's favorite shoes at full price. Everything else, she gets for a fraction of the cost.
"Rather than going for high-street replicas, I like to buy the exact high-end outfit the princess wore so I'm always looking for bargains," Urbanksa told the Daily Mail.
In all, Urbanksa has spent about £7,000 ($8,726) re-creating Middleton's wardrobe. It's a lot of money to the rest of us, but when you consider that many of Middleton's outfits include individual high-end designer pieces, Urbanksa's approach seems at least slightly affordable. For instance, Middleton was spotted wearing a red £640 ($797) Alexander McQueen pleated dress — and Urbanksa had it remade at a tailor for only £102 ($127).
She also picked up Middleton's £325 ($405) L.K. Bennett Addison print dress for just £150 ($187).
But of course, Middleton is not the only royal (or perhaps soon-to-be royal) Urbanksa admires — she told the Daily Mail that she's also a fan of Prince Harry's girlfriend Meghan Markle's style. "And who knows," she added, "maybe I'll start replicating Meghan's outfits, too."