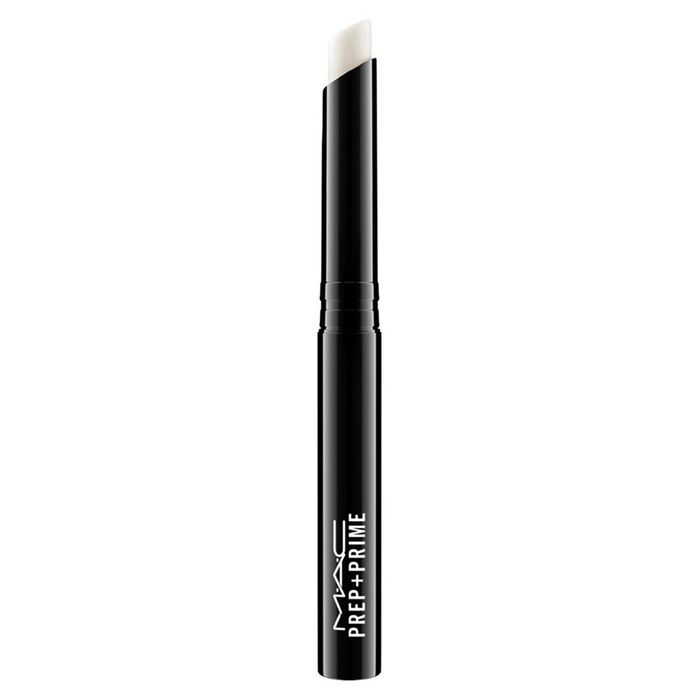 M.A.C. Prep + Prime Lip.
Photo: MAC
Everyone's an expert on how Instagram fueled the big bad contouring conundrum of 2015, but hardly anyone mentions what the app has done to lips. I'm not talking about how seemingly everyone with a blue check next to their name decided to grant their lips an up-size (that's a discussion for another day). What I mean is that in the past four years or so, the lips on my feed have morphed into one lineless, impossibly smooth, puffed-up, lipstick-lacquered entity. Everyone has cushiony-soft lips that defy the architecture of human skin. And let me tell you, these are everywhere.
This is partly because anyone with a bit of extra money is injecting their lips with collagen, which in addition to making lips larger, smooths lines as well. Of course photo-perfecting apps blur and smooth too, and even the recent popularity of lip masks has helped lineless lips become more attainable, but the cheapest, most effective way to get Instagram-like smooth lips is with a lip primer.
A lip primer is not quite a lip balm, but not entirely a lipstick, either. It sits somewhere in between and partially moisturizes while laying on a fastidiously smooth foundation for lipstick. I was recently introduced to the unique utility of lip primer by Michelle Clark, a senior artist at M.A.C. We were participating in a tutorial when she plucked M.A.C's Prep + Prime Lip from her beauty bag. It seemed like a product that no one really needed, to be perfectly blunt about my initial reaction.
My lips aren't incredibly wrinkly, but I can always spot a line or two, especially when my lipstick starts to wear and sinks into a crevice. M.A.C's Prep + Prime Lip glides over lips to to create a smooth surface for whatever comes next. It fills in each line to manipulate an even lip-canvas: In a way, it's like a layer of liquid glass that floats over your mouth.
Prep + Prime Lip won't dry lips because its formula includes a dose of vitamin E. Additionally, a host of silicone-family ingredients promote its smoothing effect, and a tiny injection of vanilla ensures that the primer's taste isn't totally disgusting. Prep + Prime makes my lips so ridiculously smooth that I can even forgo a lip scrub. Better yet, lipstick clings to the primer and it extends the lifespan of any shade, no matter its finish or texture. It also prevents lipstick feathering, especially in the corner of my mouth. So I suppose you could say I learned that a lip primer isn't totally useless. It is, in fact, useful in every way.