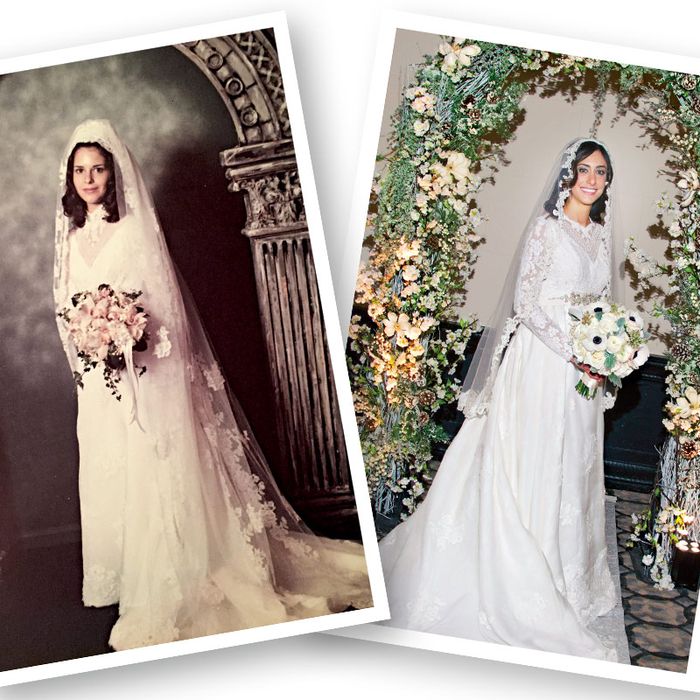 1973: Erica's mother (left), Lora, on her wedding day. 2017: Erica in her mother's dress.
Photo: Michael Polito/Courtesy of Erica Wolf
"Matt and I decided to have a super-short engagement, just three months, and people were like, 'But how will you find a dress?!' I immediately thought of my mom's dress. I'd already been thinking of her even more than usual; she passed away in 2015, and who else besides your mom is going to put up with you through all those hours of wedding planning?
We searched for the dress for weeks in my dad's house until my little sister finally found it in the attic, hidden underneath stained and disintegrating christening dresses. Two miracles: It was in decent shape, and I could fit into it if I arched my back in the right way.
My dad has known an Italian seamstress in the Bronx for like 30 years, so he drove me to her house himself. She let out the bust, found identical ivory beads to replace some that were missing, and dropped the high neckline, which was choking me (she ultimately incorporated the fabric into my veil). My dad was so protective of the dress that he came to every appointment; he'd get on the floor and tell this poor woman all the things she was doing wrong. The seamstress knew my dad's a dentist, so she'd say in her heavy accent, 'Listen: You do-a the teeth, I do-a the dress.'
Considering this material was from 1973, it was surprisingly comfortable on my wedding day. I felt graceful and even kind of regal dancing to our first song, 'I Will' — we went with the Beatles, just like my parents. But I guess long lace sleeves can be comfortable for only so long — by the end of the night, I was overheated and sticky. Those sleeves were not meant for the 'Single Ladies' dance. Still, I could feel my mom watching me. In my speech, I thanked my dad for coming to all of the fittings. He was bridezilla enough for all of us." —Erica Wolf
*This article appears in the summer 2017 issue of New York Weddings.