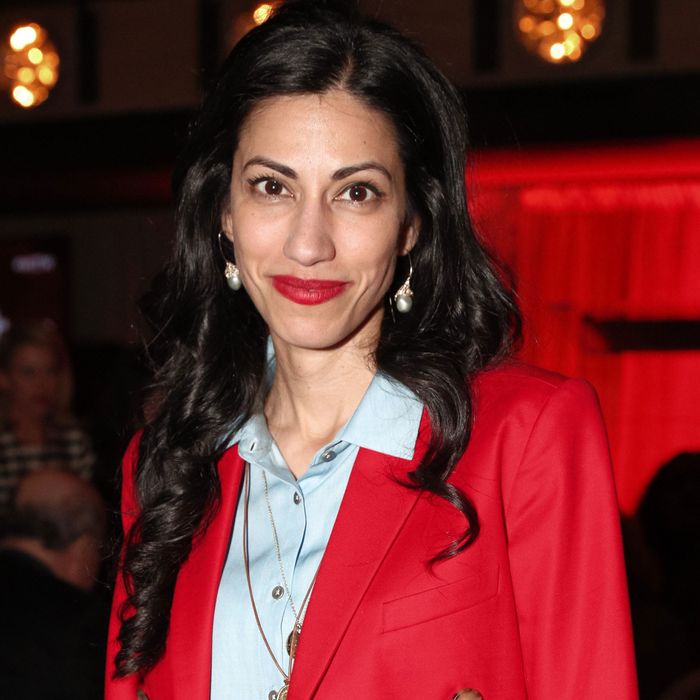 Huma Abedin is reportedly in talks with literary agents.
Photo: Matteo Prandoni/BFA.com
Since Hillary Clinton's loss, her most trusted aide has mostly steered clear of politics, instead popping up in places like the front row of a New York Fashion Week show and Disneyland. But it appears Huma Abedin might finally revisit the 2016 campaign — and her husband's disastrous role in it — in a new tell-all book.
According to The Hollywood Reporter, Abedin has been meeting with "top literary agents" to explore a book "that is envisioned as a reflection on how her personal and professional lives collided during the campaign." She's reportedly asking as much as $2 million for the book, which has Clinton's blessing.
The rub for publishers will be exactly how much Abedin is willing to tell. She was famously reserved in Weiner, the documentary about her maybe-estranged husband that was still being filmed when news of his first sexting scandal broke. "This will be an interesting sale," one top literary agent told THR. "If she reveals a lot, it turns your stomach. If she doesn't, she puts the publisher in a bad place."
The book could be further complicated by her relationship with Anthony Weiner. Abedin announced she was separating from her husband back in August, but after he attended sex rehab in November, she's reportedly ready to give him another chance. In fact, a source told the New York Post that their split was "more for optics for the campaign and [under] pressure from Hillary's camp," i.e., it's unclear if she'll be willing to throw him under the bus — even for $2 million.