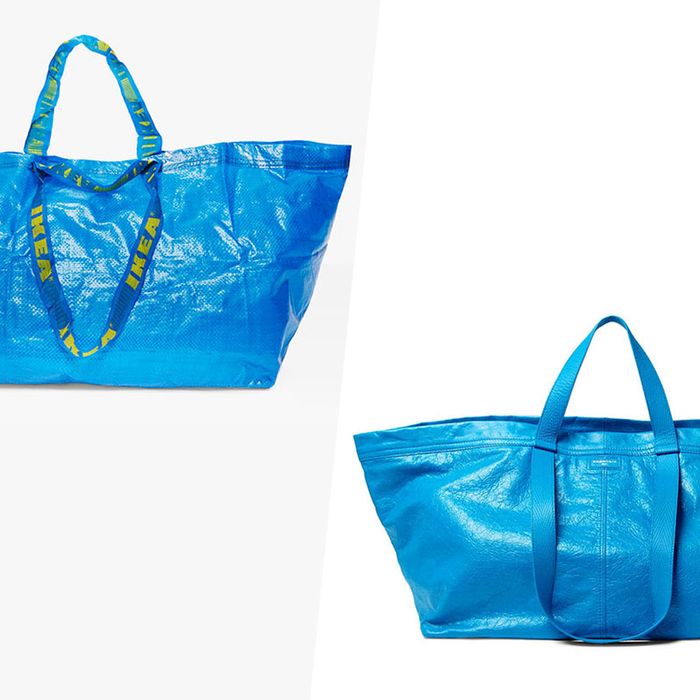 Who wore it better? Ikea bag (left), Balenciaga bag (right).
That blue Ikea bag you use to carry clothes to and from the laundromat suddenly became fashionable after Balenciaga created a $2,145 tote that looks, well, basically the same, only fancier. The French fashion house's version recently went viral, with folks marveling at just how much money très chic people could save if they opted for Ikea's 99-cent Frakta bag instead of Balenciaga's très expensive Arena Extra-Large Shopping Tote. And so, as AdWeek reports, Ikea crafted an ad in response to Balenciaga's bag, touting the original's sleek design and rugged benefits.
The ad reads:
How to identify an original Ikea Frakta bag 1) Shake it. If it rustles, it's the real deal. 2) Multifunctional. It can carry hockey gear, bricks, and even water. 3) Throw it in the dirt. A true Frakta is simply rinsed off with a garden hose when dirty. 4) Fold it. Are you able to fold it to the size of a small purse? If the answer is yes, congratulations. 5) Look inside. The original has an authentic Ikea tag. 6) Price tag. Only $0.99.
"We are deeply flattered that the Balenciaga tote bag resembles the Ikea iconic sustainable blue bag for 99 cents. Nothing beats the versatility of a great big blue bag!" a representative for Ikea told Today in a statement.
Now that we know our utility totes are destined to be high fashion, we can't wait for our Whole Foods bags to come in style next season.