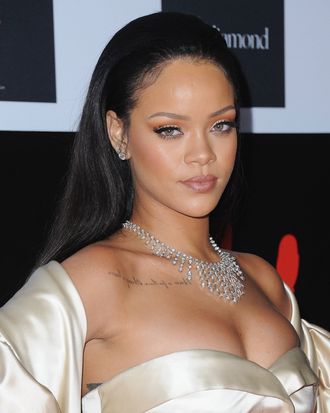 Rihanna in makeup.
Photo: Jon Kopaloff/FilmMagic/Getty
In the long tradition of people lining up for celebrity and celebrity-adjacent events, I can't say I wasn't a bit surprised to arrive at the open interview for Fenty Beauty's global makeup-artist team at the Rivington Hotel on the Lower East Side back in February to find a line of perfectly coiffed hopefuls modestly stretching half a NYC block. After all, Fenty Beauty is "the Rihanna makeup line" and Rihanna is the most marketable celebrity possibly ever.
Nearly a year in the works since being teased, the deal was inked April 2016 over a $10 million licensing deal with the Kendo division of LVMH (the beauty-brand developer responsible for Kat Von D and Marc Jacobs Beauty). With the release date slated for this coming fall, the time to assemble the Fenty Beauty squad has come.
Just a week prior, the open casting was announced via Instagram from a few professional celebrity makeup artists, including James Vincent, saying:
James Vincent and Kendo Beauty are excited to announce that the search is on to hire…. …the GLOBAL MAKEUP ARTIST FOR FENTY BEAUTY BY RIHANNA as well as an International Fenty Beauty Artistry Team. As always, Rihanna does things differently and is looking to build a diverse team of the best artists in the business. We will be hitting three major makeup cities and hold Open Interviews to find the artist and artists whose talent, drive and personality make them the right person for the position and separate them from the pack.
In the New York running were an assortment of people with and without train cases, roller suitcases, and several W-magazine-sized portfolio binders clutched tightly to the chest. They came prepared and overprepared. Nary an eye appeared un-lashed, nor cheekbone un-strobed, nor hair untouched by some sort of heat-styling tool. It was as if an entire department-store beauty-counter staff had en masse flocked to this event. Men and women, predominantly people of color, wearing mostly black, politely lined the Hotel Rivington entrance as the doorman walkie-talkied back and forth with unseen casting coordinators, sending groups of about ten up at a time. The doorman informed me that people started lining up at 10:30 a.m. (the start time was 2 p.m.). Still, no one there during operational hours seemed to wait for much longer than an hour, at most. The Fenty team would prove to be nothing if not brutally efficient.
I watched as several groups were ushered upstairs for 10-to-15-minute interview sessions. Weirdly, only a few individuals would come back out the same way, every 20 minutes or so — which begged the question, what is everyone doing up there? Is there a back exit? Trap door in the floor? The few individuals who came back down would beam at me, a complete stranger sitting in the foyer of a hotel lobby, on the way out. I'm guessing it went well.
As another group marched toward the elevators, a dude who looked like he just stepped out of a skateboard video exited the hotel, gawping at the line of beautiful impeccably made-up makeup artists, dressed in their best sexy-yet-professional attire (I'm guessing so as not to detract from the other extension of their makeup portfolios, their faces). He asked a young girl with long blonde hair and severely self-tanned limbs what the line was about. Before she finished saying, "It's for Rihanna's makeup line —" he had a business card in an outstretched hand, "Cool well I'm a fashion photographer. I'm in L.A. but I'm staying here for work. Definitely let me know if you want to shoot." He didn't specify shooting what.
A woman with matching purple lipstick and purple glasses frames sat next to me. She said she was accompanying a friend for support, who was currently upstairs being interviewed. She looked like she clearly had makeup skills herself so I asked her why she wasn't trying out for the team.
"I mean, look at this crowd," she said, gesturing to the people waiting in line, "I'm pretty sure it's all gonna be that Instagram kind of look. That's not really my thing. And I just don't want to do retail."
I asked what she meant.
"I heard from some people I know behind it that they're basically hiring people to rep the brand in retail — like working in Sephora."
"Oh, the casting call made it sound so much more … glamorous," I replied, remembering the travel requirement being mentioned in the glamorized rhetoric of a jet-setter.
Any new celebrity-endorsed makeup line that is hyped via social media would naturally be influenced by the Instagram-beauty aesthetic — and how could it not, if it's expected to build hype and sell? Just think of all the likes that could potentially translate to dollars, with Rihanna herself being the biggest influencer of all in the fashion and beauty game.
It struck me that the soft feud between the editorial makeup artists and Instagram beauty influencers was mostly pushed under the table at this open casting call for editorial makeup artists for a heavily digitally native line. Perhaps it will be Rihanna, with her love for purple lipstick and continual features in editorial magazines, who will broker peace between the warring aesthetics of Instagram makeup and editorial.
Then again, at the moment there are no clues or teasers as to what products Fenty Beauty will be launching, only Rihanna's track record of always pulling off the unexpected with gasp-inducing aplomb. She is and always has been above whatever "aesthetics" may already exist.
About ten minutes later, the woman's friend returned from her interview, fairly nonplussed. Before either of us said anything she shrugged and shook her head.
"Wasn't good?" the woman asked.
"I mean, it was kind of whatever," her friend replied while changing from heeled boots into sneakers she pulled out of her tote bag. "It was me and a bunch of other people, and I talked to a guy with an iPad and he just asked me about my work and all of my social-media accounts."
"Did they say anything about next steps?"
Her friend shrugged and shook her head again. "I think they're definitely looking for a type, but if that's not me, then I don't think I want it anyway. I can only be myself."
"And that's why we're friends," the woman said, smiling. And then they left to get ice cream, which seemed like a completely appropriate activity post-celebrity-makeup-artist casting.
Unsatisfied with the anticlimactic experience, I stepped outside and talked to a tall athleisure-chic guy with a crop of bleach-blond hair who had just finished an on-camera interview with a pair of black-T-shirt-wearing crew dudes with a clunky Steadicam setup. They had been sporadically filming the line moving outside to inside all afternoon (castings are now content). He sounded completely comfortable and articulate on camera which made me wonder if he was one of the team members scrutinizing hopefuls.
"Hey, did you just go through the Fenty Beauty casting?" I asked. He had. He was one of the few who made it on to the next of what I learned were multiple rounds.
"When they bring a group in, they look at everyone's portfolio and basically tell some people to go upstairs to see the next person, and I guess if they don't like your portfolio you're asked to leave," he explained.
Ouch.
"So there's an upstairs to the upstairs?" Seemed hierarchical but I guess appropriate, in a reality-show type of fashion.
"Yeah, after the first round, in the second round there's a lady who just looks at you and your work and writes down some notes all intimidatingly, and then I guess if you make it through that, you're told to go on to see the actual five judges and do an on-camera interview where you talk about your mission statement for Fenty Beauty."
"Oh so you're supposed to like, come to class prepared with a mission statement?"
"Well, they tell you to write down a little thing in between, before you see those judges. They're all makeup artists who specialize in different styles and stuff — James Vincent was there. And they ask about yourself, your vision, and your work."
No mention of Rihanna's presence. Then again, the casting call did say that finalists who made it past the first interview would be invited to a second interview at a later date for a "chance" to apply makeup on Rihanna herself. Mercifully, it seemed as if those declined were given the soft "don't call us, we'll call you" rejection. Only the chosen would know that — at least for today.
I left when the line seemed to have waned to nearly a "not really a line" status — just a handful of people who honestly could've probably just waited in the lobby, if not for the doorman's stringent but efficient loitering-regulation preferences.
Walking down Essex Street, I briefly skimmed the Instagram (every makeup artist's calling card) account of the makeup artist I just chatted with. From what I saw of all the content on his feed and hefty amount of followers (denoted by the "k" following the number), his current career seemed like all the "chance" he would need to one day apply makeup on Rihanna herself.