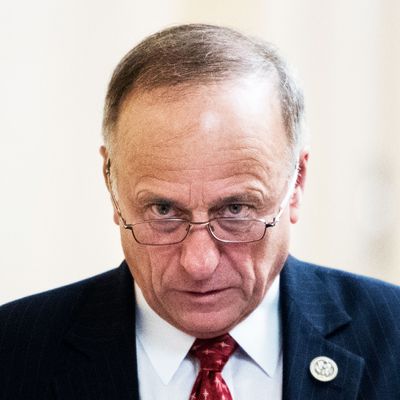 Republican Representative Steve King blew off a meeting with his constituents on Tuesday.
Photo: Bill Clark/Getty
Republican Representative Steve King of Iowa mocked one of his Latina constituents on Twitter after blowing off a meeting with her on Tuesday. According to the New York Daily News, Vanessa Marcano-Kelly — a board member of Iowa Citizens for Community Improvement — traveled all the way to Washington, D.C., from Des Moines, Iowa, to discuss immigration with King's legislative director, Jared Culver, only to find out that their 2 p.m. meeting wasn't happening. So she tweeted at King to ask what the deal was:
To which King replied, "Do you always lie in English?"
"It was shocking to see that," Marcano-Kelly, who speaks English, Spanish, and French, told the Daily News. She added, "I felt targeted, attacked and offended that you have this person who's supposed to be representing Iowa, who has power, belittling you like that."
Marcano-Kelly and the group she'd traveled with went to King's office to demand an apology, which they recorded on Facebook Live. In the video, she explains that she wants to address King's harassment of immigrants on Twitter, and that his tweet to her proves her point.
Eventually, Culver emerges and apologizes for missing the meeting, which he says King didn't know about. King later followed up with:
But Marcano-Kelly, who's an immigrant from Venezuela, said King's mindset is still troubling. "I think he's proud of that hardline stance he has on immigration," she said. "He's not going to change." Given that this is the guy who toasted the deportation of a Dreamer and likes to send out overtly nativist tweets, she's probably right.