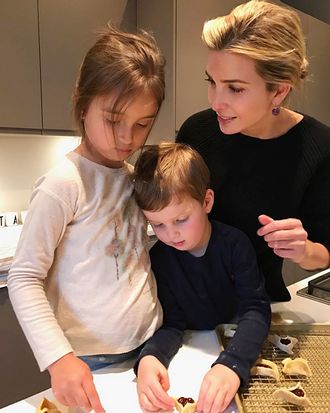 Ivanka Trump with her children.
Photo: Courtesy of Instagram/ivankatrump
When Ivanka Trump and Jared Kushner first moved into their Kalorama neighborhood in Washington, D.C., their neighbors were none too pleased. Secret Service agents hung out around the house "chatting loudly," Ivanka and Jared couldn't get the trash-pickup schedule right, and the parking situation was … not great.
But according to a Financial Times report, the First Daughter managed to win over at least some of her fellow Kalorama residents:
How Ivanka has dealt with this local kerfuffle offers insight into her role in the Trump court. Part goodwill ambassador, part court consigliere, she has the most access to her father. In Kalorama, Ivanka employed her own brand of diplomacy. She knocked on each of her neighbours' doors with stealth weapons in tow: her children and baked goods. The blatant PR offensive was highly effective. "Lovely, just lovely," says Rhona Friedman, a lawyer and neighbour who had been wary. "People who know her say the same thing: that she's very gracious."
Incidentally, Friedman is the same neighbor who "started screaming" and furiously emailed the city when "No Parking" signs appeared outside her house shortly after the couple's arrival. "We were a nice, quiet residential community and we've become a neighborhood where people take pictures," she complained at the time.
Maybe Ivanka can bring her magic cookies along next time she visits Berlin.