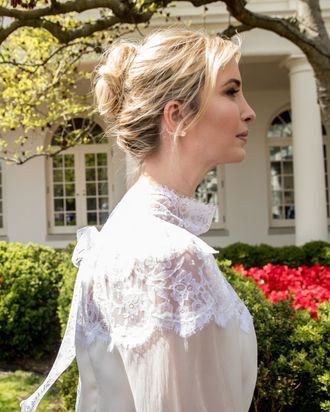 Ivanka Trump's book tour is no more.
Photo: Andrew Harnik/AP
Ivanka Trump has already been implemented in one sticky ethical situation this week, so "out of an abundance of caution and to avoid the appearance of using [her] official role to promote the book," she announced on Facebook that she won't go on tour with her upcoming book, Women Who Work.
The book, which is being published by Penguin Publishing Group's business imprint, Portfolio, was supposed to come out in March, but Ivanka pushed the date back to May to redraft the introduction post-election. "In light of government-ethics rules, I want to be clear that this book is a personal project," she wrote. "I wrote it at a different time in my life, from the perspective of an executive and an entrepreneur, and the manuscript was completed before the election last November."
Her post also announced the creation of the Ivanka M. Trump Charitable Fund, which will receive all proceeds from the book and the unpaid half of her advance, and will donate $100,000 to the Boys & Girls Clubs of America and $100,000 to the National Urban League. "It is my sincere hope that the book proceeds further benefit women and girls through the great work of [those organizations]," she wrote.
According to Politico, Ivanka's book was meant to be a natural extension of her fashion-and-lifestyle brand, and she was expecting to promote it all spring. So rude of Ivanka's dad to deprive the American public of "the best advice, tips, and skills" the First Daughter has to offer.