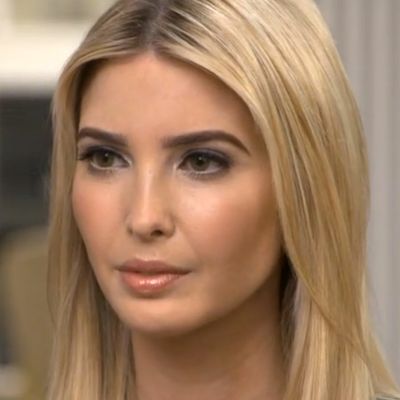 Ivanka Trump on CBS's This Morning.
Ivanka Trump and Jared Kushner are often portrayed as a moderating force in the White House — leak after leak has suggested they're steering Ivanka's dad on issues like climate change and LGBTQ rights. But neither has done much to vocally protest Ivanka's dad's agenda, leading many to call the First Daughter "complicit."
In an interview with CBS's Gayle King, Ivanka did her best to flip the "complicit" label on its head. And she also reassured King that she does push back against her father in areas where they disagree — just not where the public can see it.
"I think there are multiple ways to have your voice heard," she said. "In some cases, it's through protest, and it's through going on the nightly news and talking about or denouncing every issue on which you disagree with. Other times, it is quietly and directly and candidly … I would say not to conflate lack of public denouncement with silence."
She added that just because she doesn't do it loudly, doesn't mean she's not telling the president "hard truths." "We're in a very unique time where noise equals, in a lot of people's perception, advocacy, and I fundamentally disagree with that," she said. "You asked me about people who criticize me for not taking to social media on every single issue, and I would ask them if that would render me more effective or less effective with the people ultimately making decisions?"
But when King asked her to give an example of something she and her father disagree on that she "speak[s] up frequently" about, she dodged the question, saying, "I think that for me, this isn't about promoting my viewpoints." She added that she's fine keeping her advocacy under wraps, even if it means the very pointed perfume ads keep coming — "I think most of the impact I have, over time most people will not actually know about," she said. Whatever that impact is, it doesn't appear to be very effective.