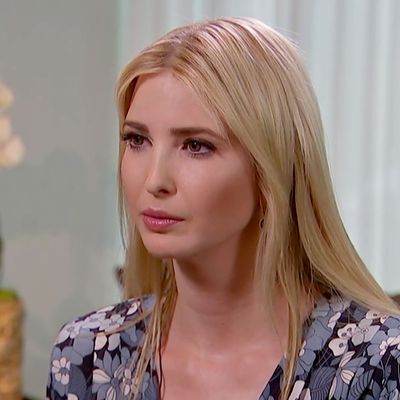 Ivanka Trump spoke to NBC's Hallie Jackson.
Photo: Courtesy of TODAY
If Ivanka Trump's "Complicit" fragrance had a second edition, it could be "Accomplice" — that's the word German newspaper Berliner Zeitung used to describe the First Daughter on the eve of her trip to Berlin, where she was booed while speaking at Angela Merkel's summit on the economic empowerment of women. "Is she going to bring her father on a moderate course, as some hope?" the paper asked. "Or will she be a loyal accomplice?"
When asked by NBC's Hallie Jackson how she'd answer the paper's question, Ivanka instead took issue with its phrasing. "I don't like the intonation of that … I don't like the word 'accomplice,' because in this context, I don't know that that's productive," she said.
She went on, "One of the things that I value about my father, as first a businessman and now as the leader of our country, is that he curates ideas and he likes to hear from people with divergent viewpoints. And that's not always true in politics. It's actually seldom true."
First "complicit," now "accomplice" — which synonym will she denounce next? Stay tuned.