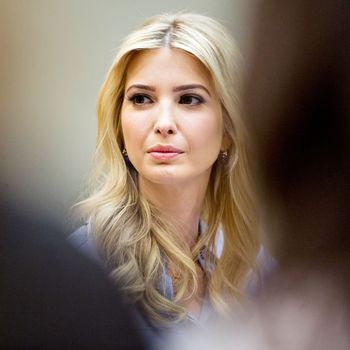 Ivanka Trump is a powerful player in the West Wing.
Photo: Getty Images
Most news of Ivanka Trump's political maneuvers inside the White House comes not from Trump herself, but from cleverly timed leaks to the press — the First Daughter explicitly told CBS's Gayle King that she critiques her father away from the public eye, and that most of the impact she has "over time, most people will not actually know about."
But since taking a West Wing office and an official government title, Ivanka's influence has become more evident than ever, both in the realm of international affairs and closer to home, when it comes to her dad's staff. According to a New York Times report, Ivanka has been instrumental in edging out Steve Bannon, her father's former main man.
Although Ivanka "has never been close to Mr. Bannon," sources close to her said she "appreciated the ferocity of his work." But it seems she took issue with depictions of Bannon as her father's "great manipulator:"
In recent weeks, she has spoken bluntly about Mr. Bannon's shortcomings to the president. She was especially incensed by articles she believed were planted by Mr. Bannon's allies suggesting he, not her father, honed the populist economic message that helped sweep the Midwest. She made that point in the strongest terms to her father, who agreed, according to a family friend.
What's more, according to Vanity Fair, one of the reasons Bannon lost the president's favor in the first place was because he planted stories about Ivanka and her husband, Jared Kushner, leading a liberal coup. "The president sees through that kind of thing, and he's aware of what's happening," an unnamed official told the magazine. "The reality is, if he keeps this up he's not going to be here."
People close to Ivanka refuted the idea Bannon allegedly planted: that she's left-leaning on social issues. Those stories have been "unhelpful," they said, adding, "She shares his economically conservative view and did not enter the White House to be a social-issues warrior."
And although it's unclear who will be left standing post–West Wing "civil war," Ivanka has an obvious advantage. "You can't compare family members to other staffers," a West Wing veteran told Vanity Fair. "You aren't going to fire your daughter."