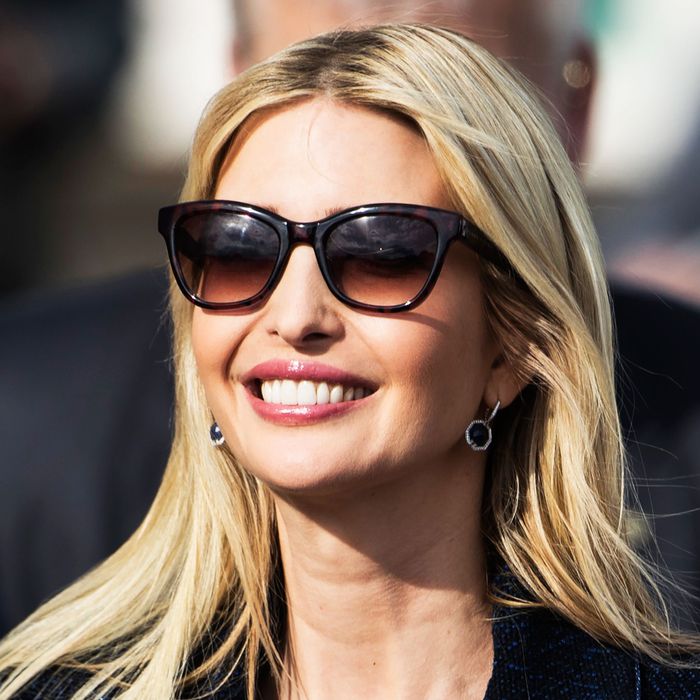 Ivanka Trump.
Photo: ODD ANDERSEN/AFP/Getty Images
On her trip to Germany this week, Ivanka Trump did not let a crowd booing and hissing at her distract from her agenda as First Daughter. In a conversation with Axios's Mike Allen on Tuesday, she said she has begun a "massive fund" to benefit female entrepreneurs around the world.
The fund, according to Allen, will be a "pool of capital" contributed to by both countries and companies around the globe. "The statistics and results prove that when you invest in women and girls, it benefits both developed and developing economies," she told Axios. "Women are an enormous untapped resource, critical to the growth of all countries." According to Axios's source, Canada, Germany, and "a few Middle Eastern countries" have already made "quiet commitments" to the fund.
Meanwhile, the Washington Post reported that workers in the Chinese factory that makes clothes for Ivanka's brand make roughly $62 a week and work nearly 60-hour weeks.
Update, 4/27/17, 11:52 a.m.: A White House official told the Washington Post on Wednesday that the fund Trump spoke to Axios about will be run by the World Bank, and that Ivanka will not solicit funds. "This is not a White House fund. This is not something that she will have any authority over in any way," the official said. An administration official told the Post that the idea merely came from Ivanka when she was in a meeting with World Bank president Jim Yong Kim.