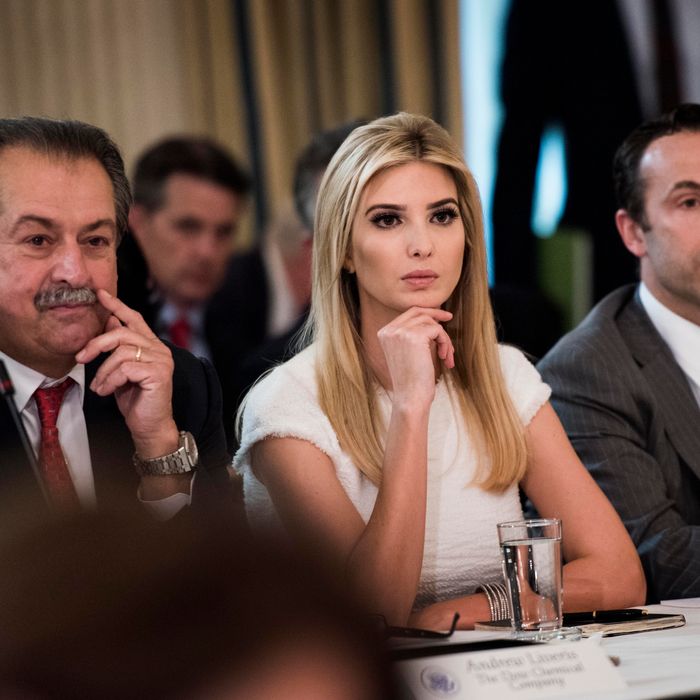 The swap allegedly occurred without Trump's knowledge.
Photo: Melina Mara/The Washington Post/Getty Images
Following the election, retailers dropped Ivanka's line en masse. Business of Fashion, however, has uncovered a different approach. They report that Ivanka Trump clothes at Stein Mart are being labeled as Adrienne Vittadini, another womenswear brand that makes some garments, but better shoes.
G-III, the apparel group that distributes Ivanka Trump (the brand), said the mislabeling occurred independently of Ivanka Trump (the person). The company, which also owns DKNY and distributes Calvin Klein and Jessica Simpson, said in a statement:
G-III accepts responsibility for resolving this issue, which occurred without the knowledge or consent of the Ivanka Trump organisation … G-III has already begun to take corrective actions, including facilitating the immediate removal of any mistakenly labelled merchandise from its customer. The Ivanka Trump brand continues to grow and remains very strong.
The swap is technically legal. It's a fairly common practice for places like Stein Mart, as some brands are hesitant to be associated with heavily discounted prices. Therefore, it's possible G-III was trying to protect Ivanka Trump's good name.
The Stein Mart website shows only one Ivanka Trump item for sale, while Adrienne Vittadini is a "featured brand." An executive told BoF that the swap was not politically motivated. Seems fake, but okay.