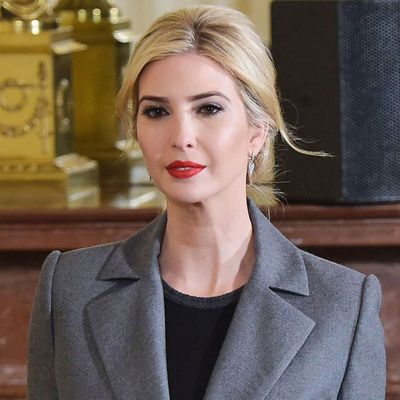 Ivanka Trump's Chinese involvement is tricky.
Photo: MANDEL NGAN/AFP/Getty Images
Ivanka Trump became an official White House employee (albeit an unpaid one) to avoid ethical concerns, but it seems the First Daughter is still finding it difficult to keep business and politics separate. According to an Associated Press report, on April 6 Ivanka's company won approval from the Chinese government for three new trademarks, "giving it monopoly rights to sell Ivanka-brand jewelry, bags, and spa services in the world's second-largest economy." Later that night, Ivanka sat next to Chinese President Xi Jinping during a formal dinner at Mar-a-Lago.
The trademarks are the latest sign that Ivanka's brand is thriving under her father's presidency, especially in China, where she's become wildly popular. And although she's technically stepped down from her brand and rolled her fashion and jewelry lines into a $50 million trust, she'll continue to receive payments from them. To further complicate matters, many items from Ivanka's clothing line also happen to be manufactured in China.
All these factors combine to create a situation that, while not technically illegal, is certainly ethically fraught. According to the AP, federal conflict-of-interest laws prevent government officials from getting involved in policy issues that could directly affect their own financial interests, or those of their spouse. That would seem to mean both Ivanka and her husband, Jared Kushner, staying silent on any issues related to China, including trade and diplomacy.
"Ivanka has so many China ties and conflicts, yet she and Jared appear deeply involved in China contacts and policy," said Norman Eisen, who was chief White House ethics lawyer under President Obama. "I would never have allowed it."
But Ivanka's lawyer, Jamie Gorelick, told the AP that Ivanka and Jared "are under no legal obligation to step back from huge swaths of policy, like trade with China." "You have to assess it case-by-case," she said.
This isn't even the first time the First Daughter has been criticized for meeting with the leader of a country where she has business ties — in December, she sat in on her father's meeting with Japanese prime minister Shinzo Abe while her brand was finalizing licensing deals in Japan.
After the election, Ivanka's brand applied for at least nine new trademarks in the Philippines, Puerto Rico, the U.S., and Canada, according to public records. And although Ivanka herself didn't sign off on the trademark applications, they could still color the appearance of, say, future Broadway dates with Justin Trudeau.