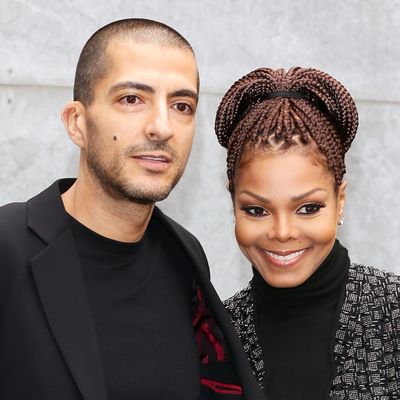 Photo: Vittorio Zunino Celotto/Getty Images
It's been just a week since sources revealed that Janet Jackson was splitting from Wissam Al Mana after five years, but neither camp has officially commented on the matter — until now. Sort of.
This weekend, Al Mana updated his personal website with a message for his soon-to-be ex.
To the most beautiful person in the world, thank you for your divine love, your eternal support and for being my best friend. I love you so much, inshallah we will be together in the Great Forever x
Last Thursday, he posted a passage from the Koran that some thought might be a message meant for Jackson, but it looks like this time he thought the more direct route might be better. Vaguebooking is fun and all, but sometimes you just gotta spell things out.
Yesterday, Jackson shared a post-nap pic of herself with son Eissa. It's not entirely clear if the photo was posted before or after Al Mana's message went up because the latter isn't time-stamped. If only he had an Instagram account!