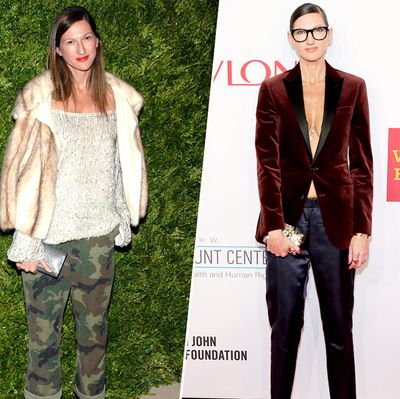 Lyons pioneering evening camo, the blazer-sans-shirt look, and printed pants.
Photo: Getty Images
Jenna Lyons's distinct style, which has become synonymous with J.Crew's look, has inspired women to look at clothes differently. She's made us care about the tiniest details — from the way a shirt is tucked in (we owe the mainstreaming of the studiedly casual half-tuck to her), to how we roll up our cuffs. Lyons isn't afraid of big, bold details such as giant earrings, loud prints, or sequins donned during the day; she's the living embodiment of practicing what you preach. Scroll down to see all the ways the departing designer has changed our point of view on fashion during her time at J.Crew.
She Changed How We Roll Up Our Shirtsleeves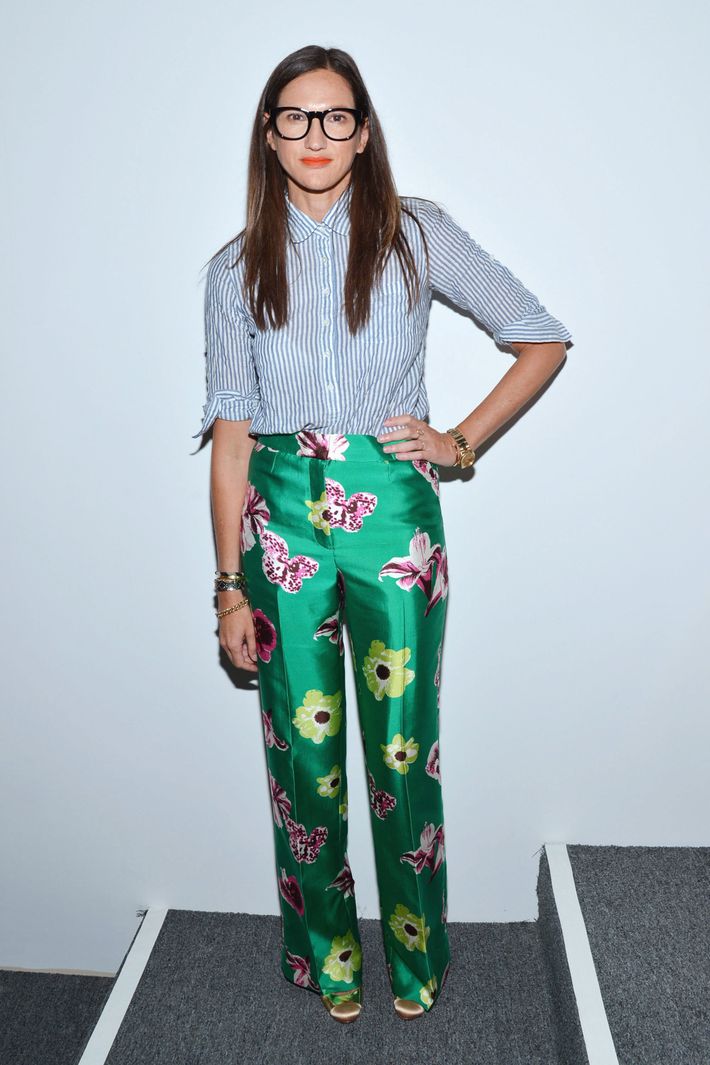 There's a very specific way that J.Crew cuffs its shirts: Fold your sleeves up halfway, then fold again, so that the shirt hits just above the elbow. Leave a tiny bit of the cuff casually askew. This advice works for men and women alike because it creates a clean line, but also because it actually stays in place. The J.Crew cuff adds a looser effect to any outfit, in the same way that Lyons's style has never seemed forced or overly formal.
Besides the cuff, Lyons is a master at changing up the way a shirt is tucked. Depending on her mood, she either tucks it in completely, leaves it undone, or does the half-tuck. And because of that, we all do the same.
She Loves Clashing Prints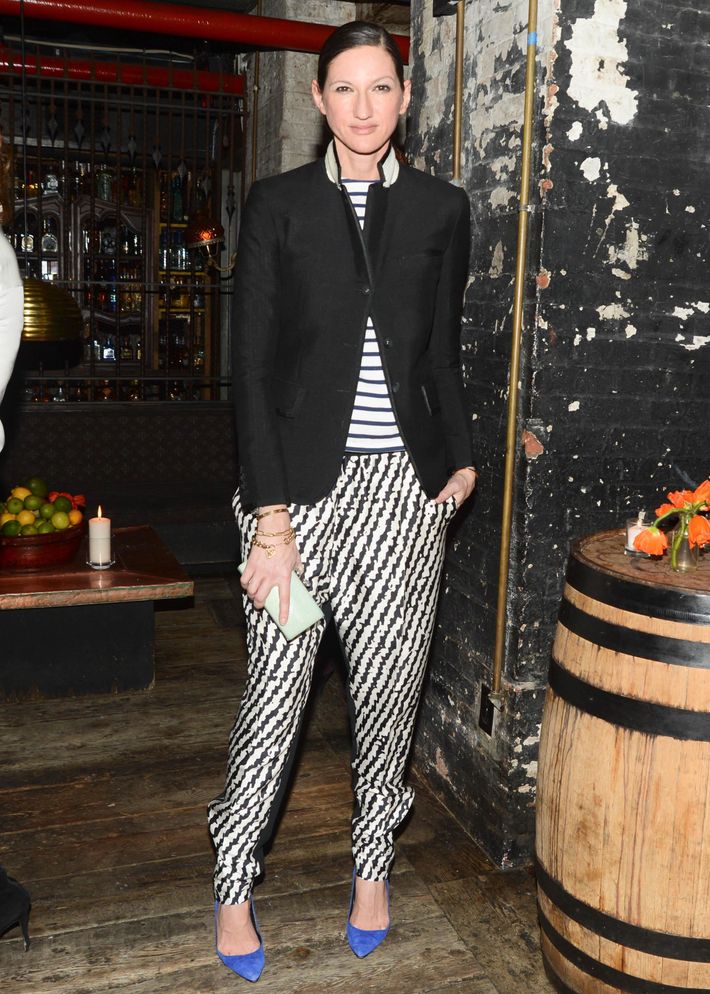 Quirky prints, traditional florals, and preppy stripes are all J.Crew staples (they even devoted an entire day to the latter). But it's really what Lyons does with them that makes them memorable — in her world, no two patterns are too loud to wear together. Whether it's polka dots with bright flowers, or a beautiful, brocade skirt with a casual, French-inspired striped tee, women have taken her lead to dress more boldly.
She Mixes Sequins With Military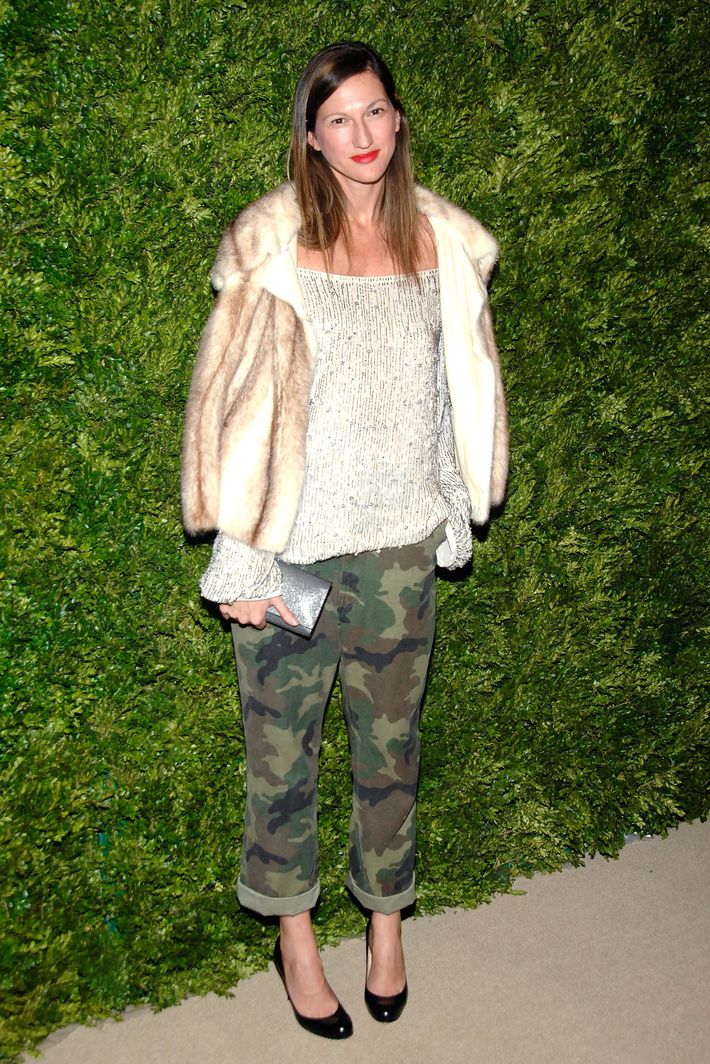 Lyons has an uncanny knack when it comes to putting things together that wouldn't traditionally "work." Who would think that something as masculine and tough as camouflage pants would look good with dangly, gold sequins and fur — much less on a red carpet? But, time and time again, Lyons has put the two together, making for another J.Crew signature.
She Treats Leopard Like a Neutral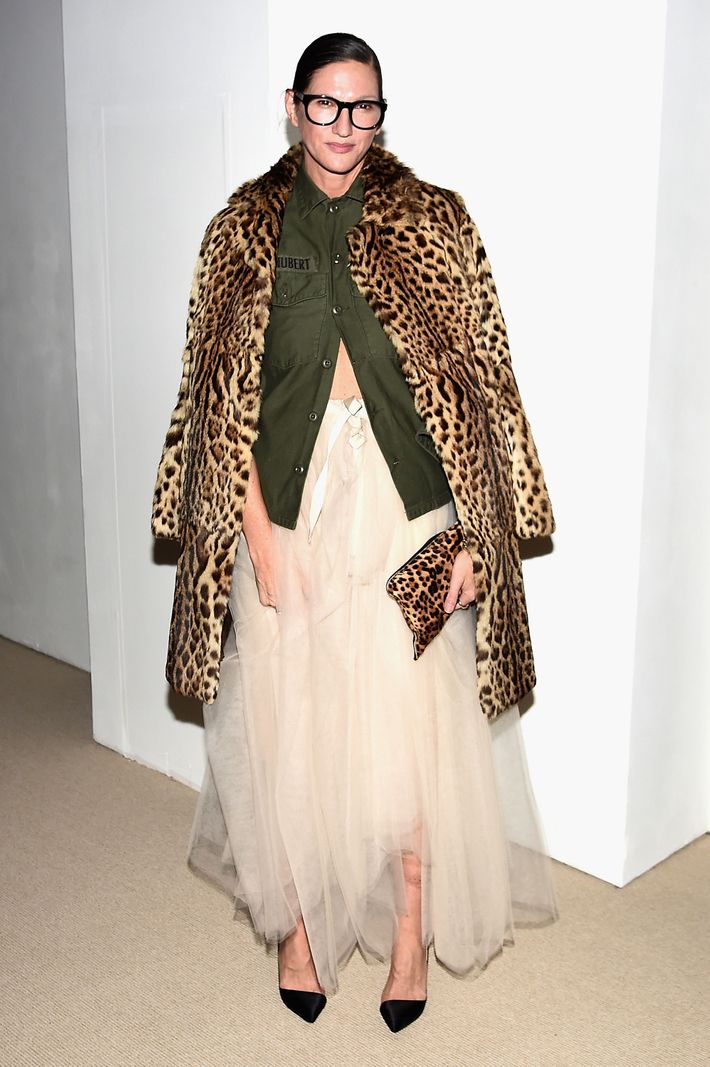 Whether it's a giant coat or a tiny clutch (or both at once), Lyons loves to mix an animal-print accent into any outfit. It has encouraged women to think beyond leopard as a relic of the overly ostentatious '80s or grunge-filled '90s. It suddenly became chic again, especially when worn with jeans or even a tulle skirt.
She's Had Us All Wearing Neon Brights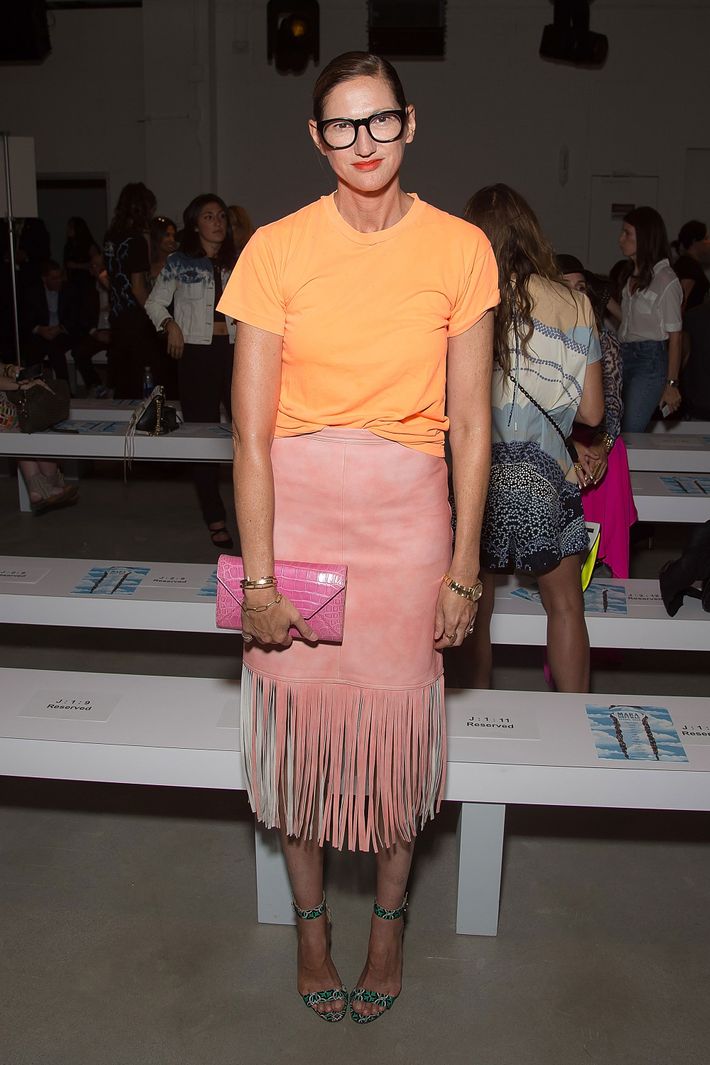 Another vestige of the '80s Lyons brought back? Neon brights, especially pink. It's flashy, fun, and exactly the kind of kicky accent every J.Crew girl remembers fondly from her youth.
She Isn't Afraid to Show Off Her Chest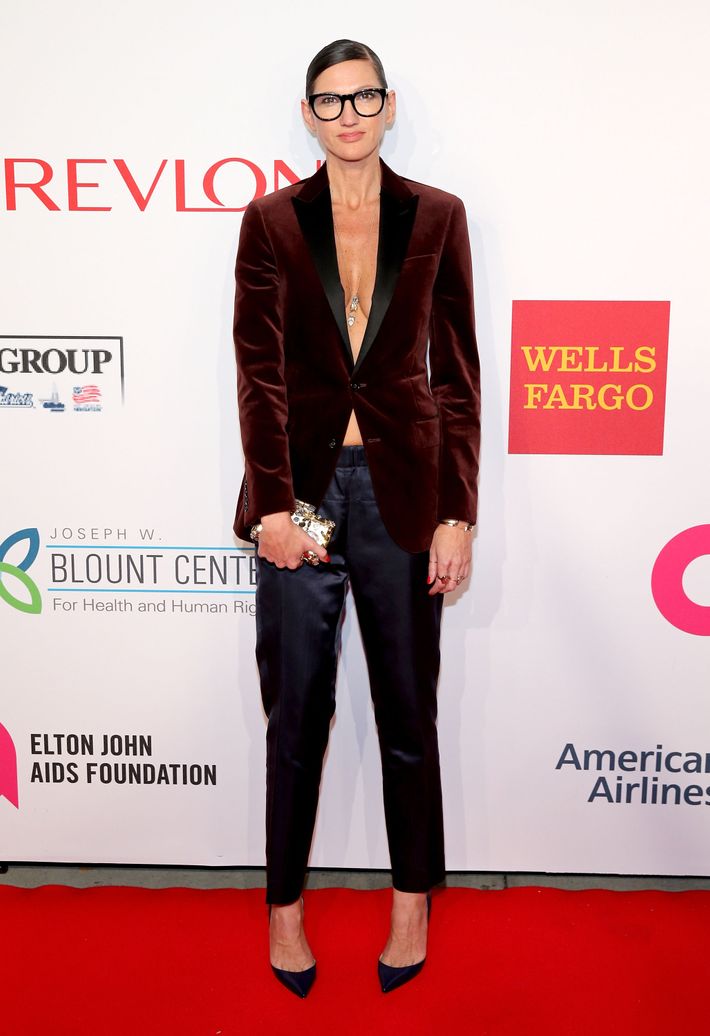 No shirt? No problem — Lyons doesn't need one, anyway. When it comes to wearing blazers or plunging necklines, she doesn't shy away from baring her chest, regardless of societal norms.
She Made Pajama Dressing Cool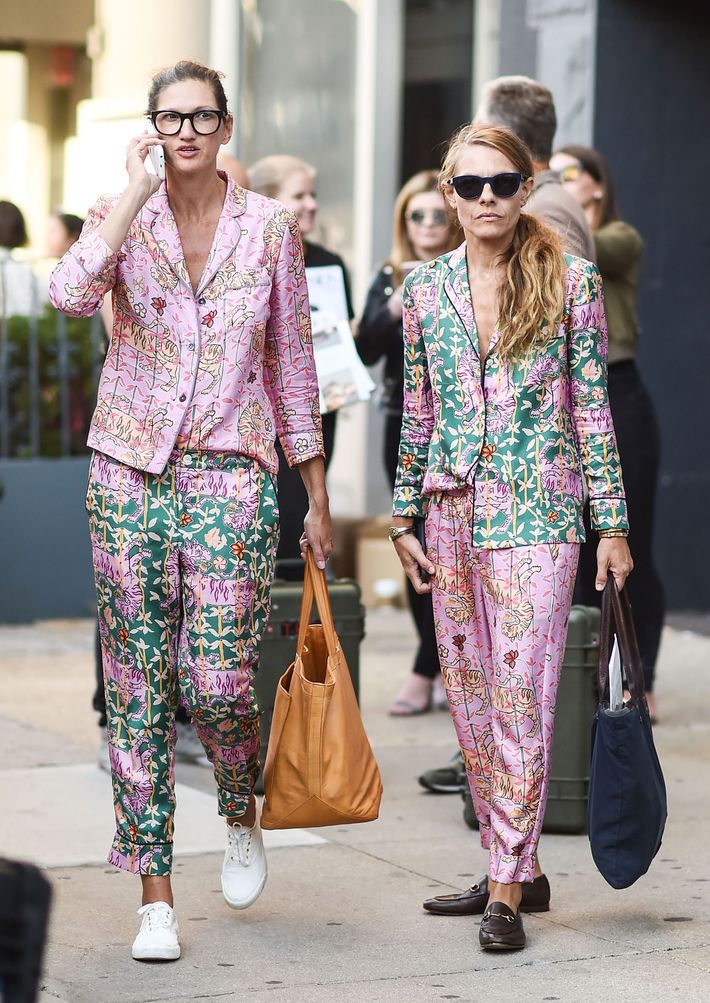 Back in September 2016, we asked: Why not split a pajama set with someone you love? Lyons did so with longtime partner Courtney Crangi at the Altuzarra show. But beyond that nifty styling trick, Lyons made it cool to wear pajamas outside the bedroom by using every weapon in her arsenal. This outfit embodies nearly every detail Lyons loves: You have neon accents, bold clashing prints, and then the weird twist — this time in the form of white sneakers.
She Doesn't Play by the Rules on the Red Carpet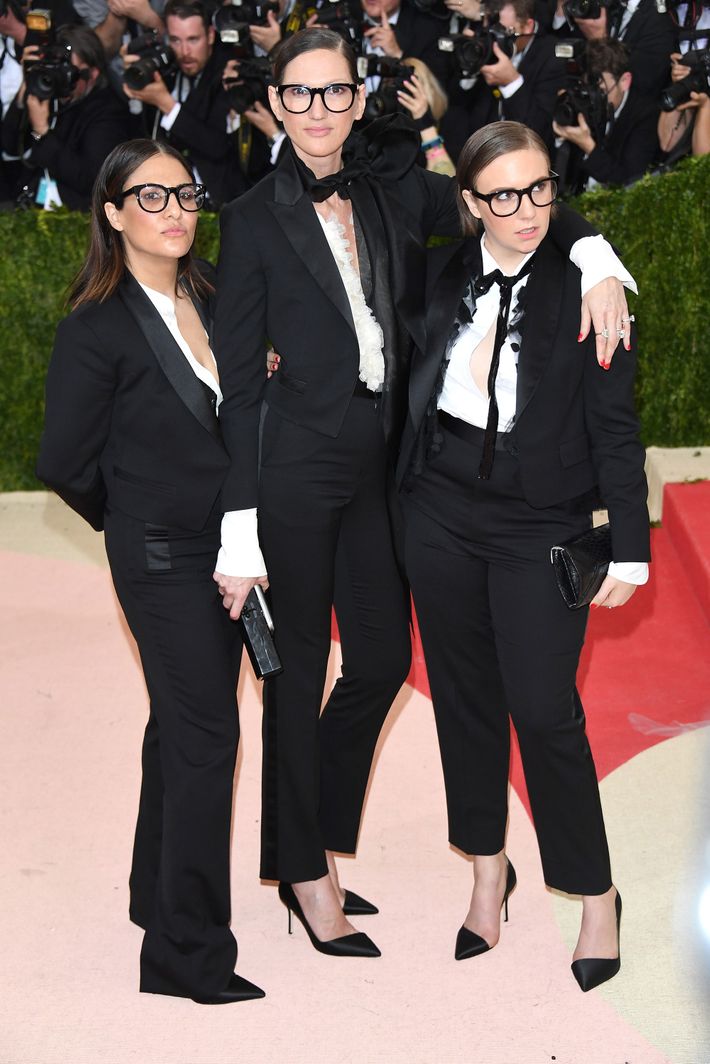 Lyons doesn't bother with traditional red-carpet dressing. She prefers to try out a military shirt with a tulle skirt, sequins with cropped pants, or a black tuxedo. At one of the biggest nights of them all, the Met Gala, she decided to show up with Lena Dunham and Jenni Konner, both of whom were dressed exactly like Lyons — down to the "birth-control" glasses. She proved that you didn't have to fuss with overly elaborate gowns to be the best-dressed of the night.
Weddings Don't Have to Be a Complicated Affair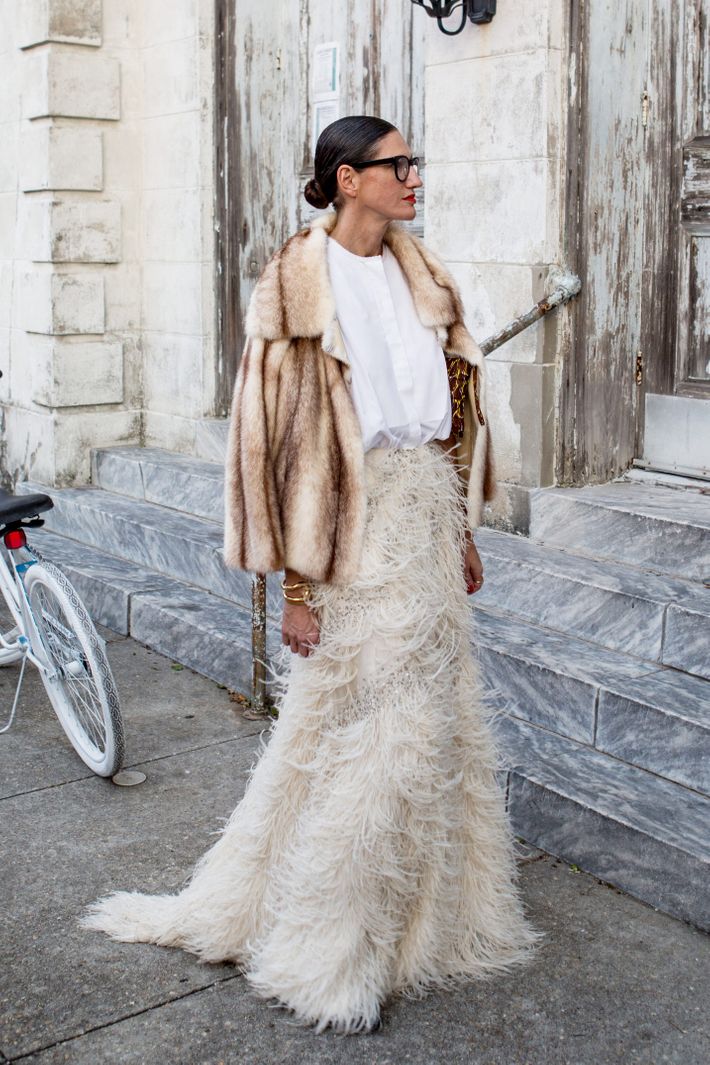 While technically she wore this feathery concoction to Solange's wedding, Lyons knows that there is a core group of women out there who don't buy into traditional bridal fare. For those women, she has conceived of other options which don't cost a small fortune, feel more relaxed, and exude the same cool she does. Maybe it's a tiered, ruffly style made for the beach, a bridal jumpsuit, or an amazing skirt worn with a white button-down — whatever it's been, Lyons has made it work, and women, in turn, have shopped.