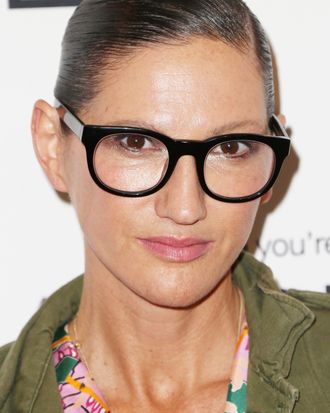 Jenna Lyons.
Photo: Frederick M. Brown/Getty Images
In her 26 years at J.Crew — an eternity in the constantly churning world of fashion — Jenna Lyons has practically become synonymous with the brand, with her love of sequins, quirky prep dressing, and signature "birth-control glasses" finding their way into the brand's collections over the years. But today Business of Fashion reports that Lyons's time at J.Crew has come to a close.

"Jenna and I got together and we both agreed it was time for a change," J.Crew chief executive Mickey Drexler tells BoF. "That being said, she's got plans to do other things. It's been a great run. There's a lot of mutual respect between Jenna and me."
Somsack Sikhounmuong, who is the retailer's head of women's design and previously headed up design at Madewell, will now be the company's chief design officer.
Update: Lyons has not yet announced her next step, but a rep for J.Crew told the Cut that she would be staying on as a creative adviser through the end of the year. "The decision was 100 percent mutual between Jenna and Mickey. She has made J.Crew what it is today," said the rep. "That said, she and Mickey both recognize that she has a super senior team, and the time felt right, as her contract is up in December. She will remain on until then as a 'creative adviser' to help the team transition."