On the Jay Leno show in 2008.
Photo: Getty Images
With the news today that after twenty seven years Jenna Lyons will be leaving J.Crew, it's truly the end of an era in American fashion. While J.Crew will likely stay interesting, there was something about Lyons's signature mix of bright colors and patterns, stripes with florals, and sequins for daytime, that perfectly embodied the American optimism during the Obama years—and no one wore the styles better than FLOTUS Michelle Obama.

Michelle Obama's public love of J.Crew was well documented, and dates back to an appearance on the Jay Leno show in 2008, when she went on the show to campaign for her husband who was then the Democratic nominee for president. Leno revealed that Sarah Palin allocated $150,00 on her clothing budget. When he asked Michelle about her outfit, she replied, "J. Crew." You couldn't get better advertising than that.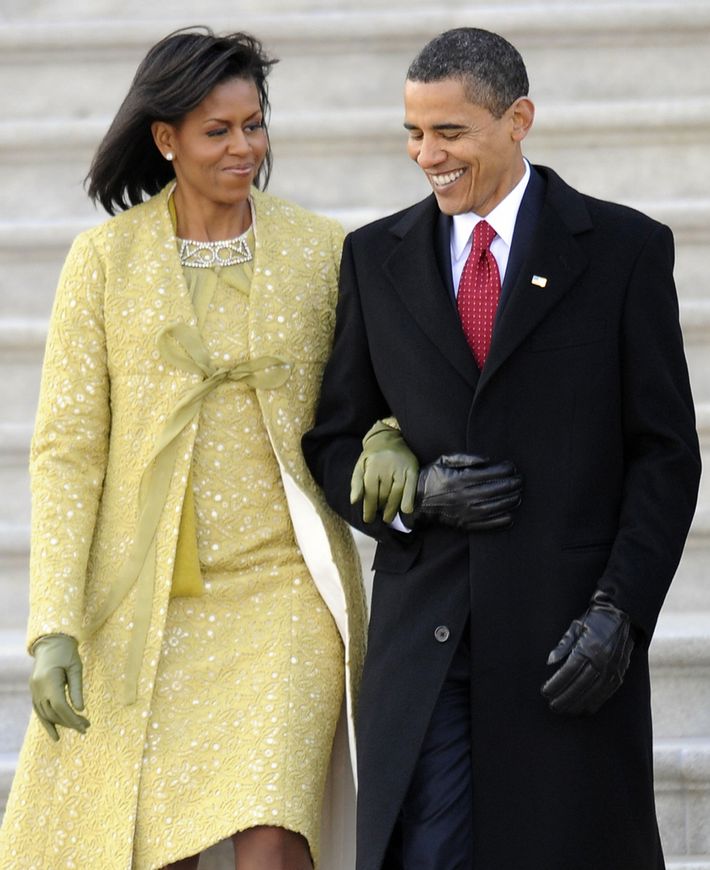 And during her eight years as First Lady, she continued to wear J.Crew statement necklaces, embellished cardigans, ballet flats and pencil skirts, all because she simply liked the brand. When she appeared at the 2012 Inauguration wearing J.Crew, Lyons told WWD, "As far as we know, they literally ordered online and they shop like anyone else in America."
J.Crew and Michelle Obama were like two ingredients made better when put together. The crisp looks Obama chose made her seem effortless, approachable, almost as if she was one of your best girlfriends—this was not some unattainable chic. And of course, it made J.Crew look powerful, fun, as if wearing it could make you part of the possibility of a more inclusive America.

Harvard Business Review reported that the average value generated by any public appearance of Michelle Obama was $14 million, and the total value created for the companies by way of her wardrobe choices was $2.7 billion. And J. Crew continuously found itself having to re-stock items so that followers could re-create original looks she wore, in an attempt to translate her style into their wardrobe.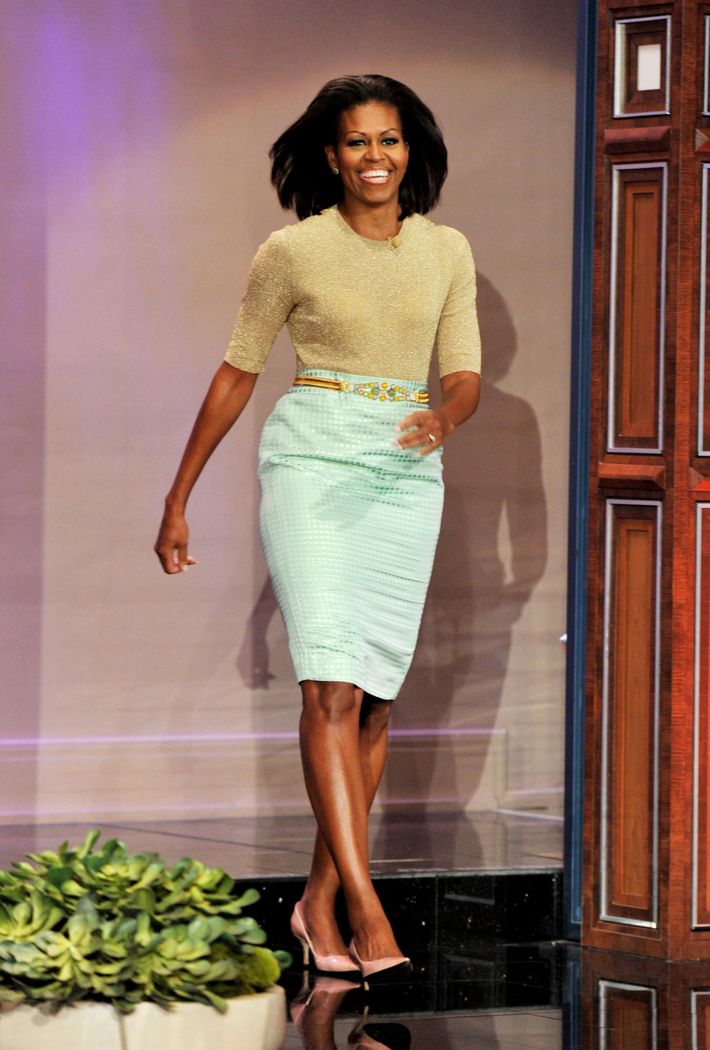 Michelle also stuck to Jenna Lyons' famous styling that made the pieces even more appealing. She wasn't afraid of some of the more adventurous mixes of bright colors with prints, or bejeweled belts and broaches—she would often go the full look and pair it with a kitten heel. She wore these outfits everywhere, from children's events to television appearances, to both of President Obama's inaugurations. It's hard to imagine having a better spokeswoman.

It's hard to imagine J.Crew without Jenna Lyons, just as it was hard to imagine a time when Michelle Obama wouldn't be in the White Jouse. When we look back on the Obama years—when, perhaps, there is a Metropolitan Museum show about Michelle's style—it is Lyons' legacy that will define it visually. And that is perhaps her best accomplishment of all.