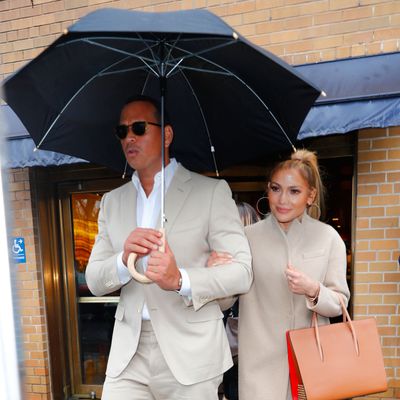 Alex Rodriguez and Jennifer Lopez sharing an umbrella.
Photo: Jackson Lee/Splash News
Things are getting serious with Jennifer Lopez and Alex Rodriguez. The new couple spent Saturday snuggled up on the couch watching a Yankees game, judging by J.Lo's #saturdayvibes post. Although their faces aren't visible, their intertwined legs and matching white kicks say it all.
Rodriguez and Lopez recently took their relationship purposefully public, going from weekend getaways to public lunches, a business meeting, and even a shout-out on The View. A source told E! that the couple is officially exclusive. "Boyfriend and girlfriend titles have been vocalized with each other. What was a hot, casual thing is turning into something more serious." Spring has sprung.