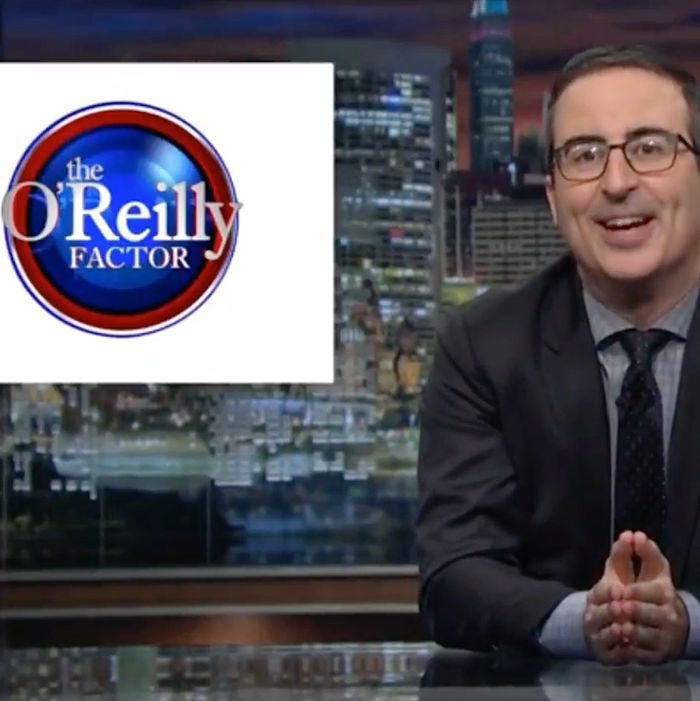 Shortly after it was revealed that Fox News shelled out $13 million to women who accused Bill O'Reilly of sexual harassment and verbal abuse, President Donald Trump — who has been accused of sexual harassment, assault, and verbal degradation by more than a dozen women — spoke out in support of The O'Reilly Factor host, to the surprise of absolutely no one.
On Sunday's Last Week Tonight, John Oliver astutely observed that Trump appears to be the only person "willing to die" on the hill "formed by Bill O'Reilly's workplace erection poking up against his old-man slacks." And so, Oliver decided to try to reach out to the commander-in-chief through the best way he could: By attempting to purchase ad time during The O'Reilly Factor to air a PSA featuring a catheter spokesperson, to educate the president on the perils of sexual harassment and of defending O'Reilly.
Oliver and his team produced an ad to air during The O'Reilly Factor in New York and Washington, D.C., which they submitted to stations on Friday. "Weirdly, we haven't heard back from them since, which is a little surprising because we're one of the only advertisers offering to buy time on his show at the moment," Oliver said. But in case the stations don't pick up the ad, Oliver aired a preview for his viewers.
"Howdy again, I'm a professional cowboy," Oliver's trusty catheter spokesperson says in the ad. "I use catheters and there's two things I know: I don't like pain when I cath, and repeated unwanted sexual advances or obscene remarks in the workplace constitutes sexual harassment. If there's a power disparity between the two parties, well that's about as inappropriate as lubricating the catheter with hot sauce, partner. Why would you do that? I do not like pain when I cath."
The spokesperson continues, "And if you've got a friend who is accused of something like that over and over again, I might think twice about defending him, because that just contributes to a culture where women don't want to come forward. And I know you might not care about that, but on some level, you've got to know, you're blowing this. You're sacrificing the chance to make society a better place on the altar of your tower of ignorance and fragile ego. You are blowing this."