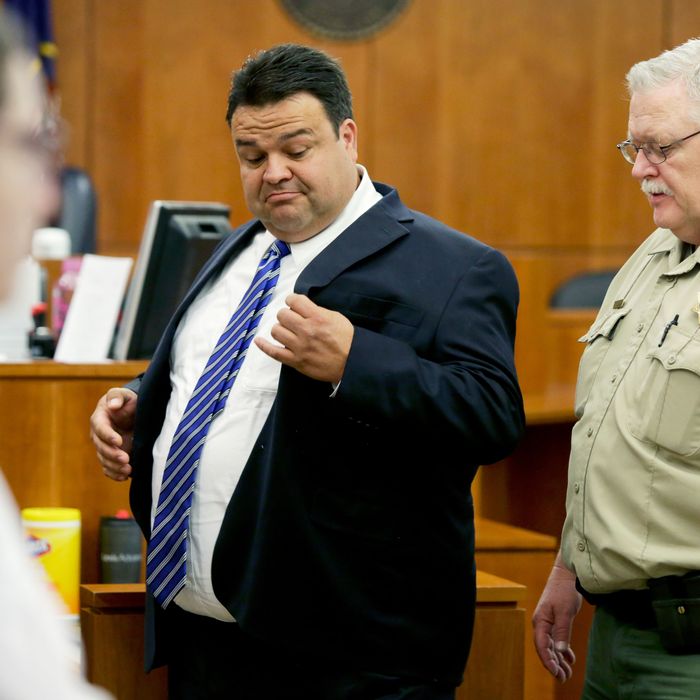 Keith Robert Vallejo.
Photo: Dominic Valente/AP
A judge in Utah is under fire for praising former Mormon bishop Keith Robert Vallejo, who had been convicted of sexually abusing two women, as an "extraordinary, good man" during a sentencing hearing last week, the Salt Lake Tribune reports.
Judge Thomas Low reportedly became emotional when sentencing Vallejo to concurrent prison sentences for ten charges of forcible sexual abuse and one count of object rape, according to the Tribune. A jury in February had found Vallejo guilty of inappropriately touching two women — one of whom was his sister-in-law and the other who was a relative — at his Provo home multiple times in 2013 and 2014.
Low initially allowed Vallejo to remain free on bail while waiting to be sentenced. However, the judge reversed that decision during a March 30 hearing after complaints were lodged against him. Last week, Low sentenced Vallejo to concurrent sentences of 5 years to life for the object-rape charge and 1 to 15 years in prison for each of the sexual-abuse charges. Per the Tribune:
"The court has no doubt that Mr. Vallejo is an extraordinary, good man. But great men," the judge said Wednesday before taking a long pause, "sometimes do bad things."
One of Vallejo's alleged victims, Julia Kirby, was 19 when Vallejo — her brother-in-law — abused her. Kirby told the Tribune after the sentencing that she was shocked by Low's praise of the abuser, and that she plans to file a judicial complaint against him. Additionally, Utah civil-rights group Restore Our Humanity reportedly plans to file a complaint against Low, whose comments director Mark Lawrence said show "absolute disregard" for Vallejo's victims.
One of the prosecutors on the case, Christine Scott, told the Washington Post that Low said during the sentencing that he agrees with the jury's verdict, and that he called Kirby a "survivor." She noted that she didn't think he intended to be insensitive when characterizing Vallejo as a "good" man. "I bet today he wishes he had said it differently," she told the Post.