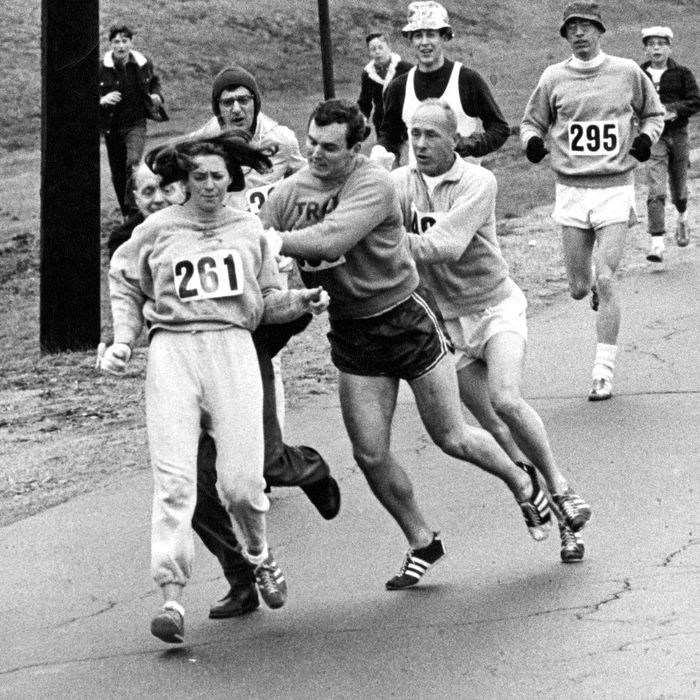 Kathrine Switzer being ambushed during the 1967 Boston Marathon.
Photo: Boston Globe/Boston Globe via Getty Images
In 1967, a few miles into the Boston Marathon course, 20-year-old Kathrine Switzer was ambushed by race director Jock Semple, who tried to rip her bib — number 261 — off. Fifty years later, on April 17, Switzer is returning to the race wearing the same number.
Following the incident in the now-iconic photo, Switzer went on to complete the marathon in about four hours and 20 minutes. (The year prior, Bobbi Gibb became the first woman to run the marathon, but she did it unofficially.) Though there were no official rules barring women, it wasn't the norm; Switzer was able to register without suspicion in the first place because she used her first two initials, K.V., instead of her full name. Still, Semple had her disqualified, while another race organizer reportedly commented, "If that girl were my daughter, I would spank her."
By 1972, the race allowed women to register too. Switzer has since run 39 marathons and started 261 Fearless, a foundation to support women runners.
Now 70, Switzer tells the Boston Globe, "I'm not worried about the physicalness of my capability … what I do worry about is being tired."
After this year's race, the Boston Marathon is retiring Switzer's bib number.