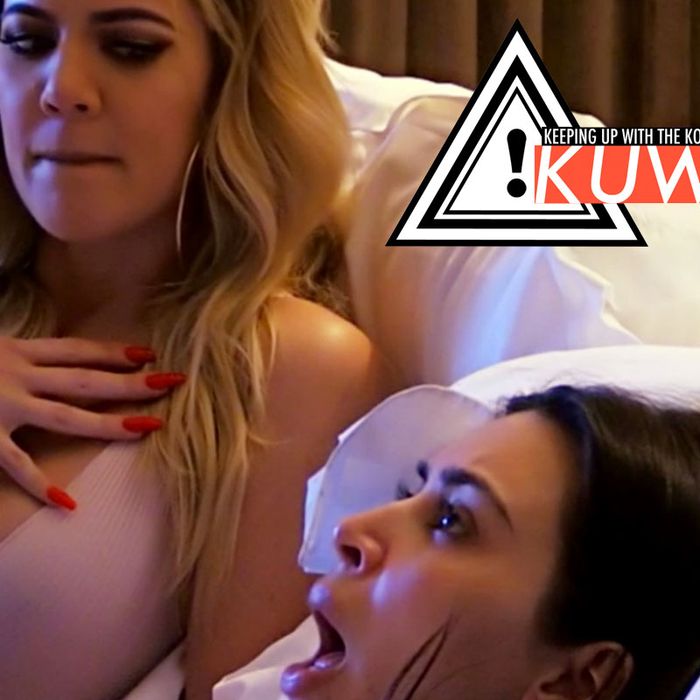 Photo: Courtesy of E! Entertainment
On this week's episode of Keeping Up With the Kardashians, our A plot was Khloé's denim launch; our B plot was Kim's uterine surgery; and our C plot was Rob, just being Rob. Khloé's denim won't discuss itself, so #LEGGO.
Scene Two:
Kylie Jenner takes a road trip from her Calabasas Compound to visit Khloé on set for her Good American jeans photo shoot. Luckily, she gets a two-for-one special, as Everybody's Favorite Best Friend in Training (EFBFIT) Jordyn Woods is also there. Jordyn's been asked to be a part of Khloé's Good American Good Squad, on account of her burgeoning modeling career and full-time job as a prop in Kylie's Snapchat. While Khloé gets glam, she forces her team to listen to her learn Spanish for the "Spanish class" she's taking at "home," which I can't help but assume is Duolingo. While Khloé learns a second language, Kylie takes over the mirror and gives herself a full face of makeup. After everyone's out of glam, Khloé heads to set, where she tries on, and shoots content for, every single pair of Good American denim. Later in the shoot, she's joined by Everybody's Favorite Best Friend Malika, her twin sister Khadijah, and EFBFIT Jordyn. Once again, Kylie uses her sister's resources and pops into a final shot with her sis. This scene was filmed on June 1, 2016.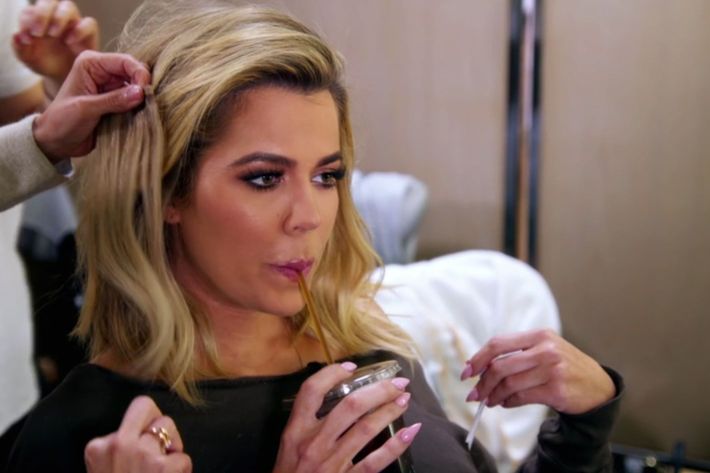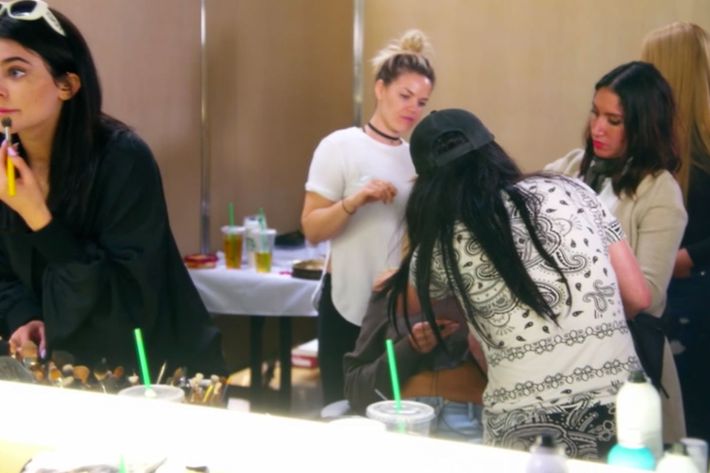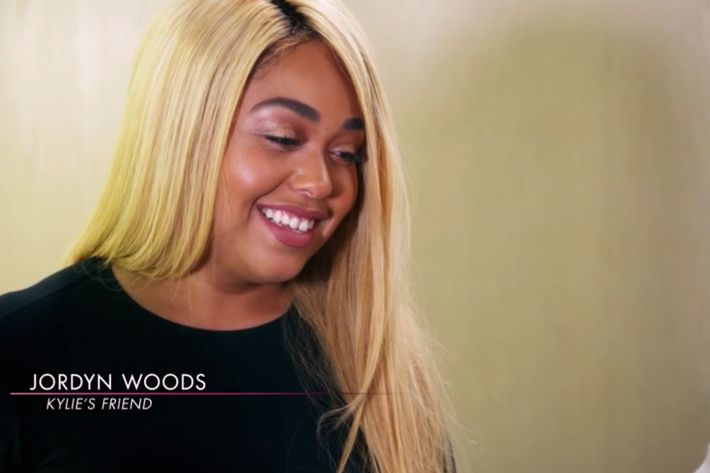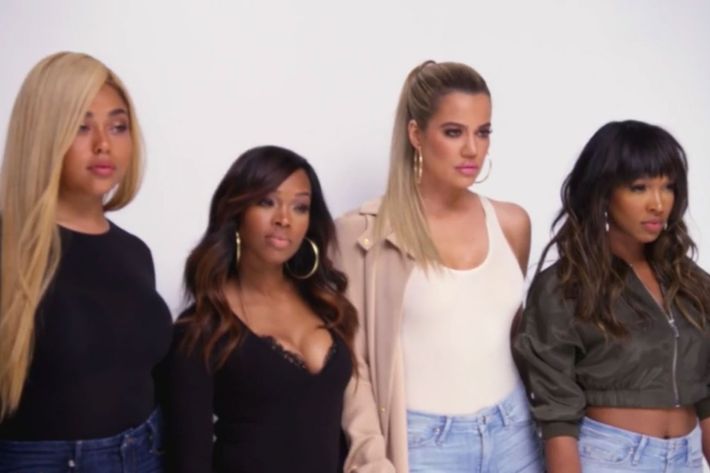 Scene Four:
At home, Khloé entertains a very-pregnant Blac Chyna and a very-ignorant Rob Kardashian. After performing what I can only assume to be contractual niceties toward Chyna regarding the growth of her baby and general well-being, Khloé dives right into the "Are you ready to be a father?" portion of the episode with Rob. Like he's said before, Rob is ready and hopes to get his life together for his daughter. He would like to measure up to his late father, Robert Kardashian. Rob also expresses his excitement over raising an Armenian child, but Khloé reminds him that his baby will be both Armenian and black. Rob refuses to accept this truth, and Khloé tries to simplify the biology of it all by saying that his baby will be like North. Rob stops her and asks her not to turn their discussion into a "race war." To close the scene, Chyna tells Khloé that Rob misses her. Khloé is touched. This scene was filmed on October 9, 2016.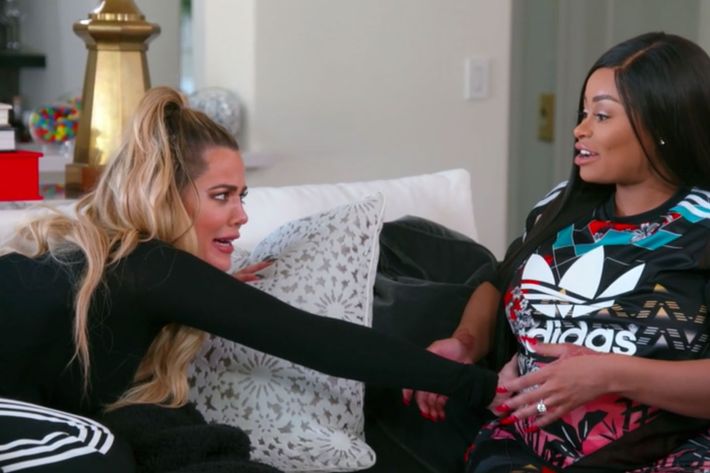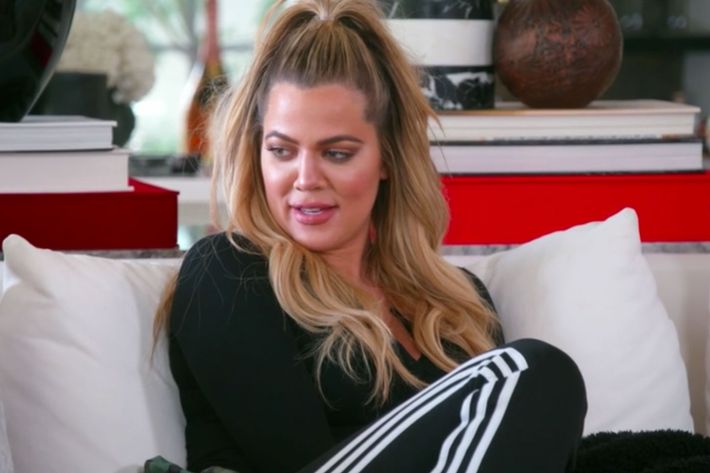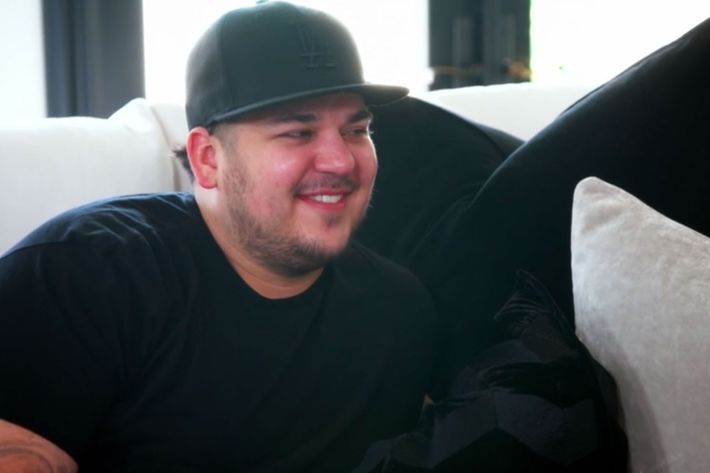 Scene Five:
To Kris Jenner's very own marvelous home, she invites her children (Kourtney, Kim, Khloé, Kendall, and Kylie), Scott, and her live-in employee, Corey Gamble, for lunch. Before partaking in the endless courses of food Kris's chefs have prepared, Kim takes some quick Snapchats for Kylie, and Kris wonders why Khloé's lips look uneven. Once they've dined, Kim brings up a very important topic: the upcoming surgery on her uterus that will hopefully allow her to carry one last child. After a tiny smirk from Kim and footage of doctors telling her that carrying another child could be fatal, we see her family members stare at her stunned, confused, and wary of her current decision-making skills. Kim doesn't budge, and her family doesn't push her out of her decision. This scene was filmed on October 17, 2016.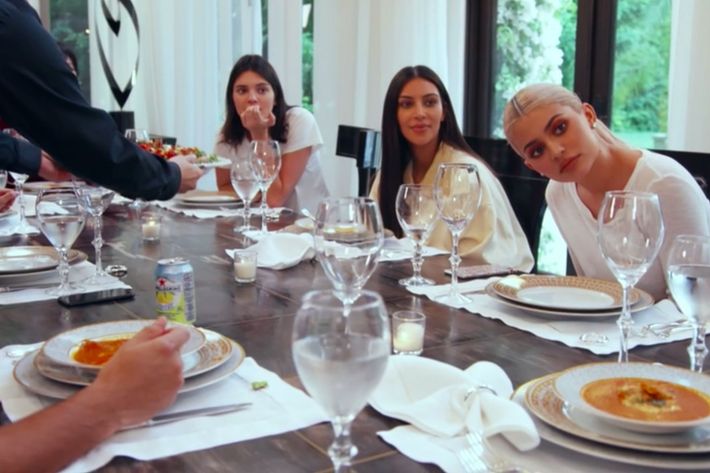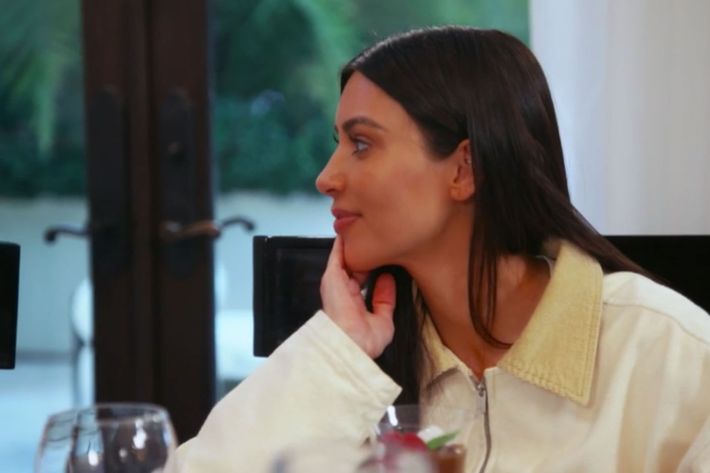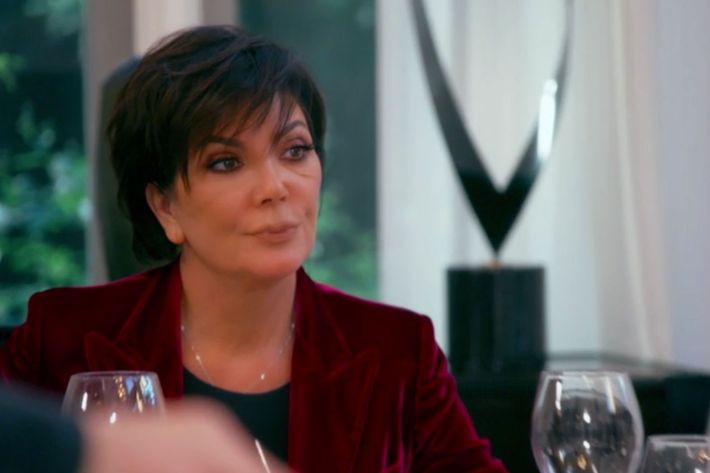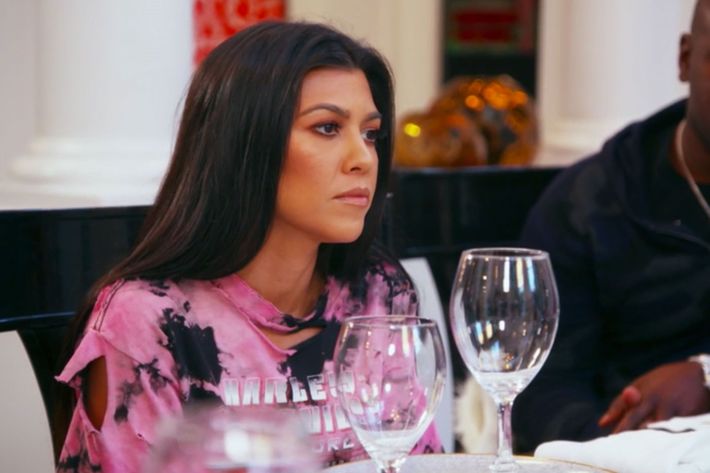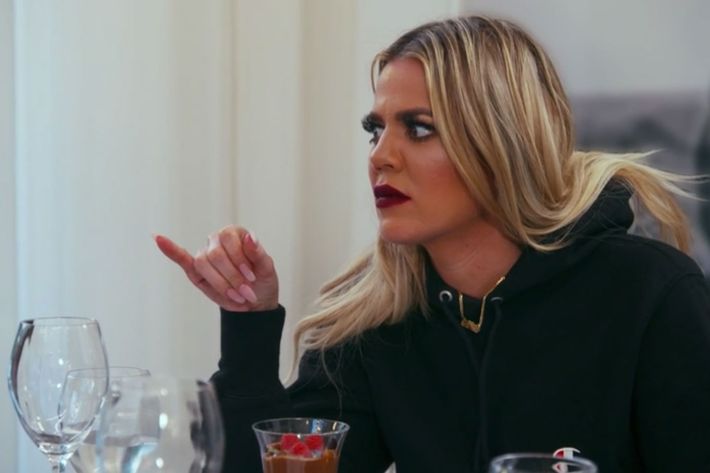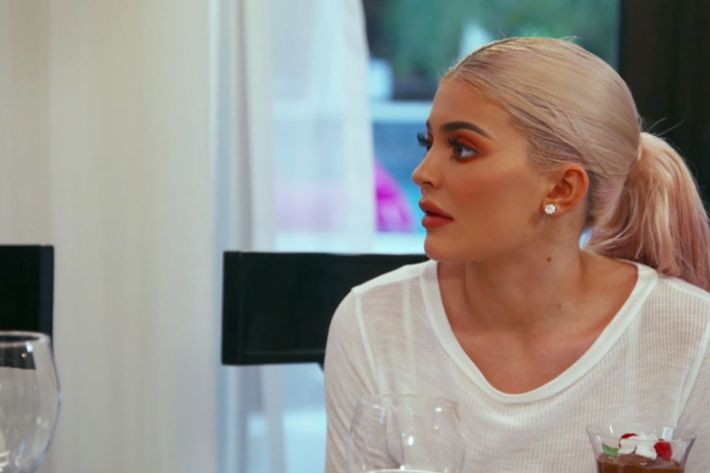 Scene Seven:
With Good American's co-founder, Emma Grede, Khloé does press for their line of jeans. The day starts out wonderfully, with Emma and Khloé telling an E! News reporter how to pee with a bodysuit on (pull the crotch to the side) and overall gabbing about the uniqueness of their line for all women. Sadly, the day does take a turn when Khloé, who seems to be just the face and body of the line, hears that they are expected to sell 150,000 units of denim. Khloé had never heard any talk of numbers or sales, so the high value and Emma's anxiety about reaching their goal leaves Khloé remarkably worried. This scene was filmed on November 12, 2016 — almost a month after the line launched.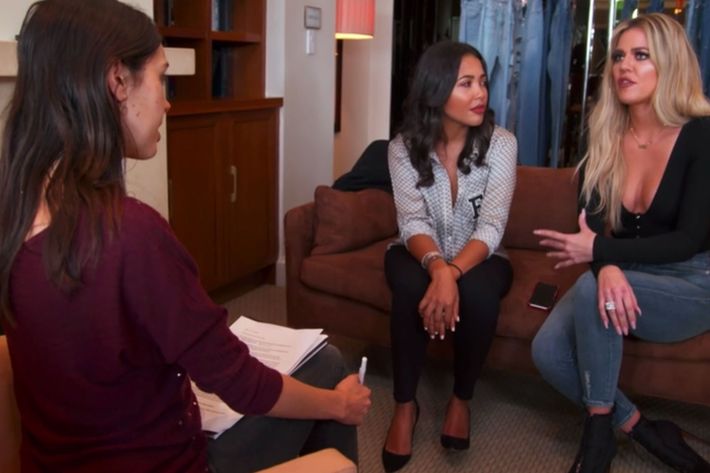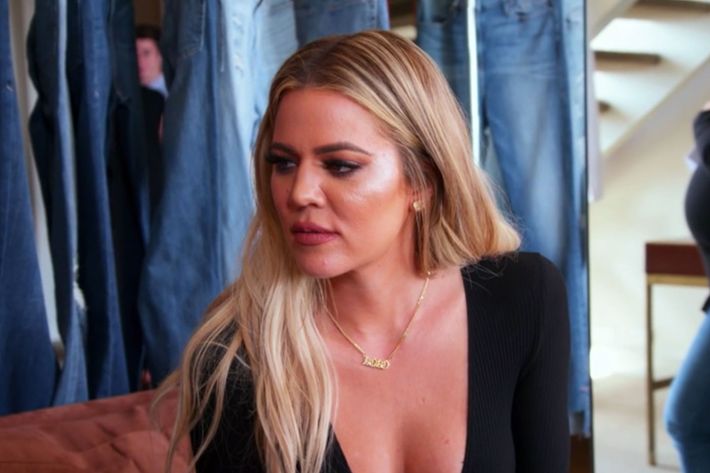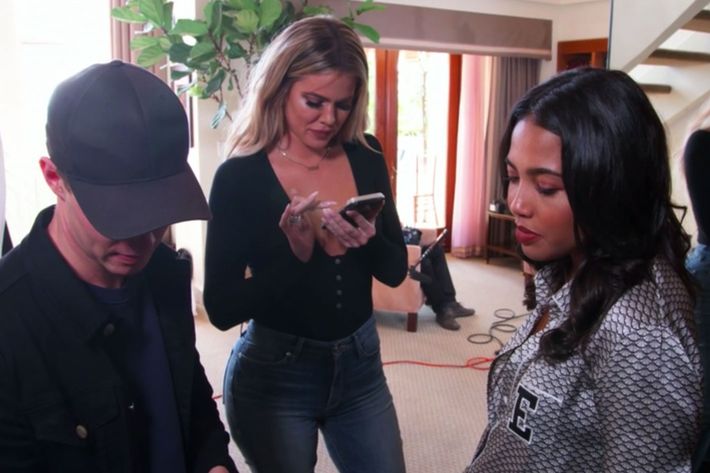 Scene Eight:
Khloé visits California's premier athletic facility, Kourtney Kardashian's Gym to the Kardashians and Occasional Jenner. While she does work out her body, Khloé can't work out her stress over the shocking news that she, much like a Girl Scout with cookies, has to meet a sales goal for her denim. Leaving Kourtney in a physical-fitness lurch, Khloé takes to the sidelines to text her Good American team about this seemingly unattainable goal. Still stressed after scream-dictating texts, Khloé has a sit-down with big sis Kourtney. Khloé tell Kourtney that she knows it's not a competition, but Kylie's insane lip-kit-and-cosmetics success is heavy on her mind. What will happen if she and her clothes don't measure up to the queen of overpriced cosmetics?! Kourtney tells Khloé not to worry, because she will in fact make denim "history." This scene was filmed on October 18, 2016.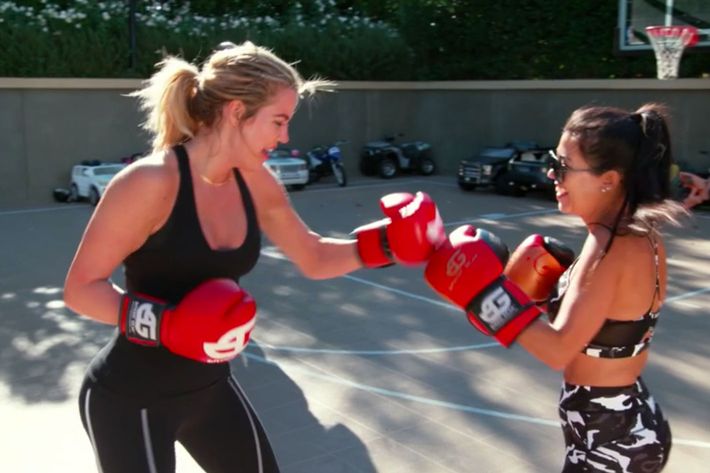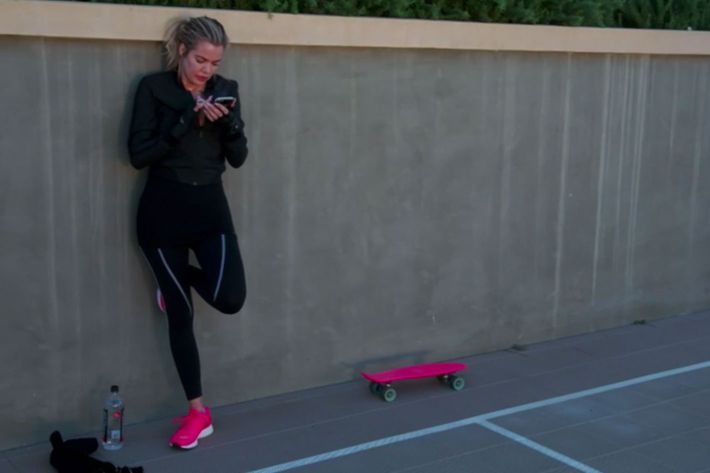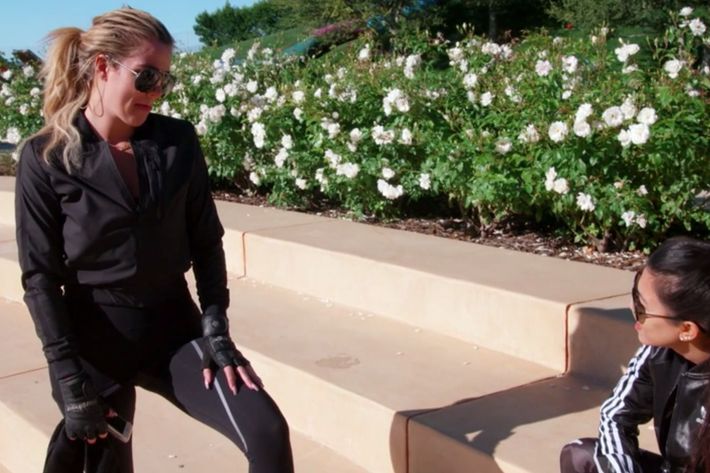 Scene Ten:
Even in her third trimester, Blac Chyna put in a full day of work at the Kardashian Factory, filming multiple scenes with Khloé and Rob at Rob's house. Khloé and Rob bake an Armenian bread, bisi, in front of Chyna, who lifts not a single helping hand. She does, however, lift any suspicions about how much is kicking around the space underneath her ever-changing lace front when she asks where Armenia is. There is a world where she'd get a pass for this question, but the fact that she didn't even know how to pronounce Armenia ("Armania," "Armanian") is a bit too much for ya girl (me) to handle. Without missing a beat, Khloé tells her future niece's mother that Armenia is above Iraq. Then, like the rest of us at 4:45 p.m. on Friday, Khloé keeps her head down until she can clock out for that day and hang out with family members she actually likes. Like Scene Four, this scene was filmed on October 9, 2016.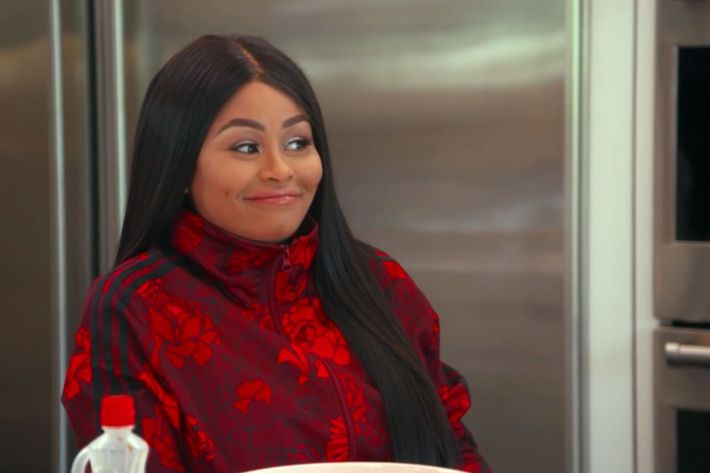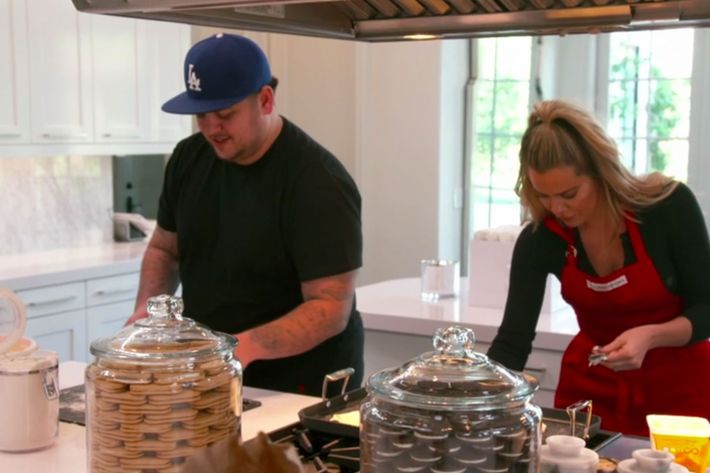 Scene 11:

Khloé visits Kim, who is just hours into recovering from her uterine surgery. Kim's still in a tremendous amount of pain and has a bloated torso, which she thinks makes her look pregnant. The only thing I could find a morsel of jealousy for is Kim's double-wide bed, which should be standard in EVERY medical facility! Khloé's already uneasy over her sister's pain, and this is exacerbated by Kim making Khloé look into the mirror she has pointed toward her enlarged vagina and catheter. Kim takes Khloé's tour of her undercarriage even further when Dr. Crane (the family's ob-gyn) does a pelvic exam on Kim right in front of Khloé and the cameras. Now, I've seen some things on this here show, but when I tell you that I was scandalized by the raw material that was presented to us, I'm telling not a morsel of a lie! Lord today, Jesus be an "end record" button! The pain is just a bit too palpable, my word! Kim's surgery and pelvic exam were filmed on November 9, 2016.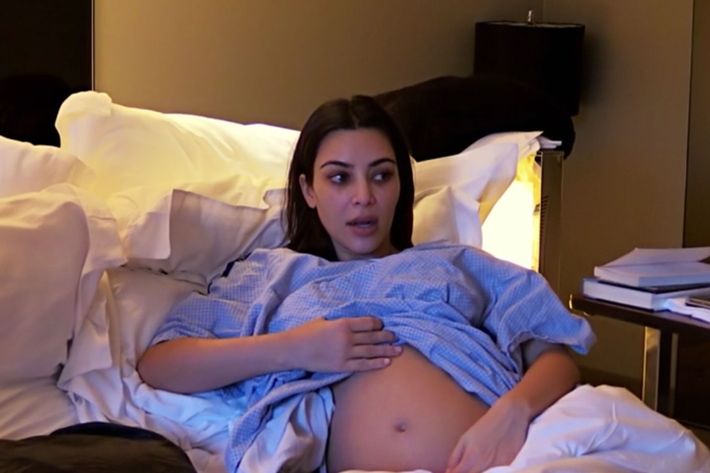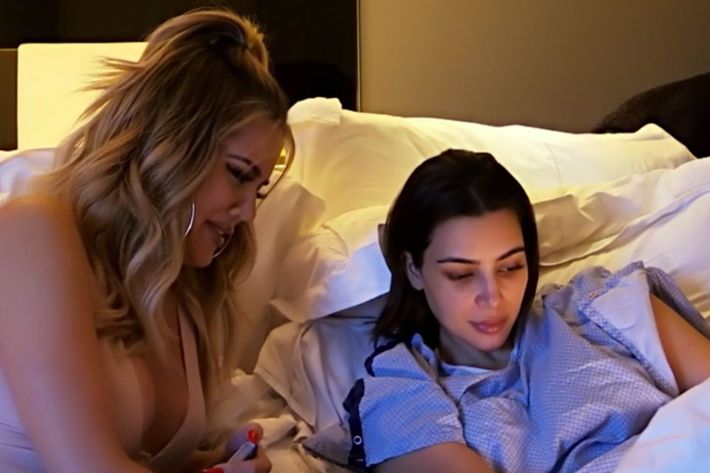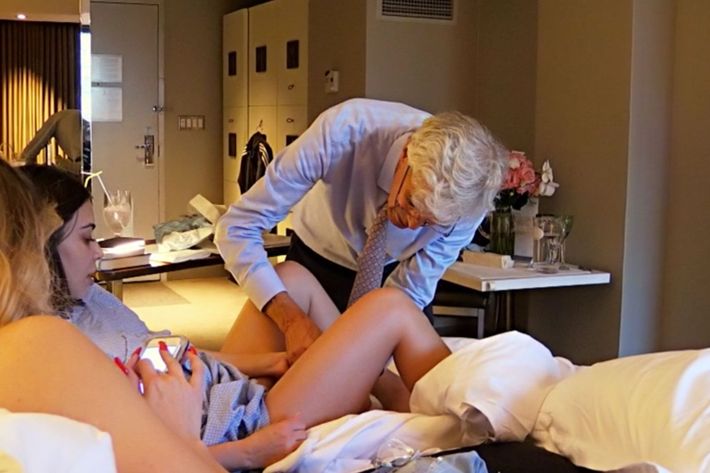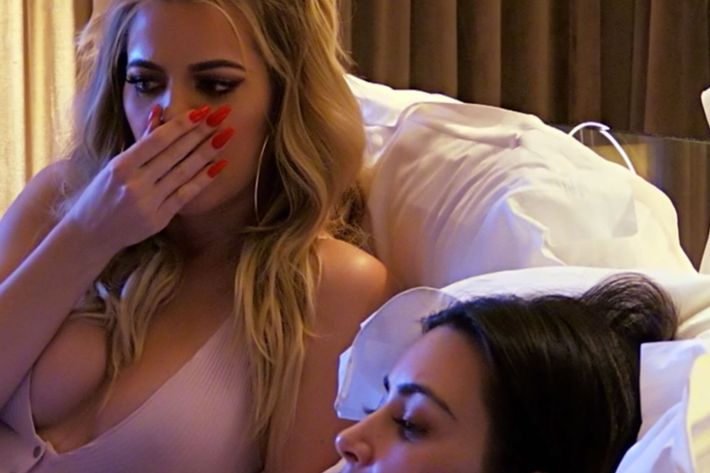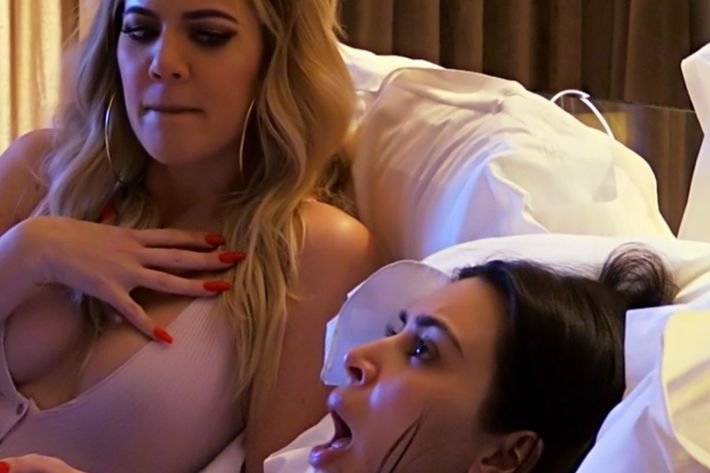 Scene 12:
Still stressed over her denim, Khloé seeks help from the Mini Mogul of Woodland Hills, Kylie Jenner. Unsure why she's been summoned to have a one-on-one with Khloé, Kylie listens, albeit confused. Once she has a grasp of what her sister is trying to say, Kylie tells Khloé that it's natural to feel nervous for her release, and that she too was nervous when her lip kits first dropped. In fact, she still gets nervous before any new launch. Khloé is very appreciative of Kylie's advice — even three months after Good American was released. This scene was filmed on January 5, 2017, and Good American was launched on October 18, 2016.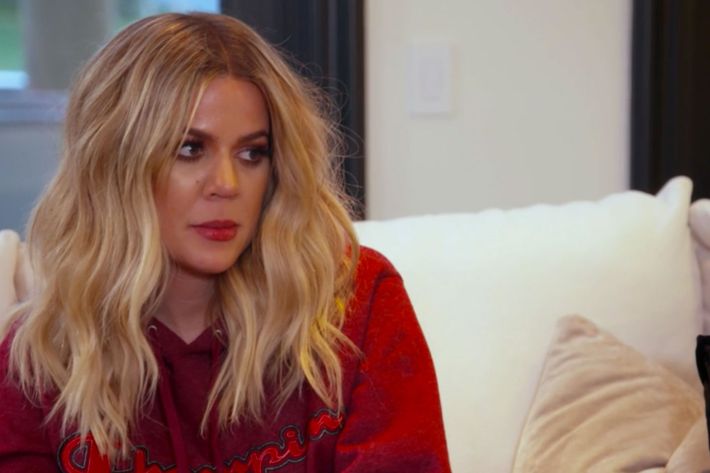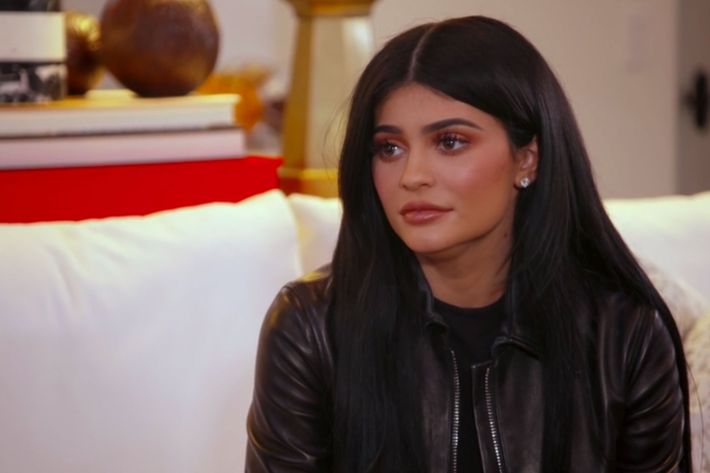 Scene 13:
Following her surgery, Kim accepts a visit from lifetime moocher Jonathan Cheban. In a surreal turn of events, Kim accepts this company while still using a catheter. To try and lighten the mood, Jonathan jokes that Kim would be the only person with pretty pee, then tells her that the urine she's secreted looks like "honey." Now listen here, if anyone ever told me my pee looked like honey, I'd make my way to the ER and force myself to the top of a kidney-transplant list ASAP. Listen to me and listen to me good: Not a single, solitary thing is funny about HONEY-COLORED PEE, hunnies! Tell me my pee looks like Clearly Canadian, and then we can talk. After the ultimate insult, Kim tells Jonathan that her surgery was not a success. In addition to complications, Kim's doctor told her that she officially cannot carry another child. Though she's not in tears now, Kim tells Jonathan that she was in hysterics after receiving the news. After a deep and unfortunate dive into the Food God's Instagram account, I can confidently say that his scene was filmed on or around November 18, 2016.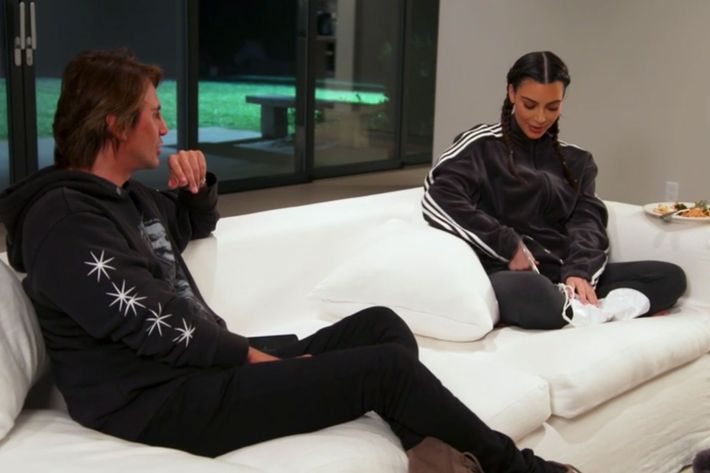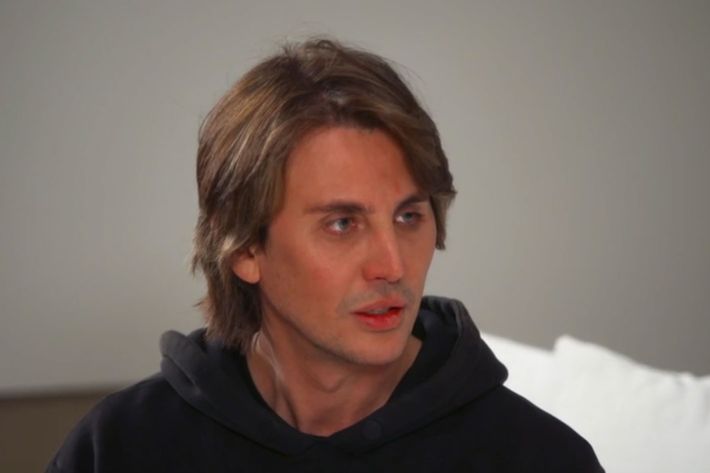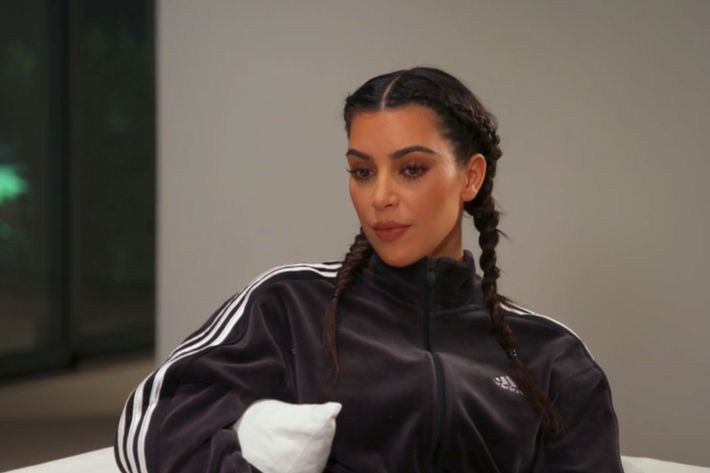 Scene 14:
The next day, Kim takes Jonathan with her when she gets her catheter removed. Still unable to pee on her own, Kim has water injected inside of her urethra by a urologist, which somehow helps the process. Kim leaves a changed woman, able to pee on her own and tell the tale. Before heading out, Kim tells Jonathan that while she had the catheter, North got a hold of one of her pee bags and accidentally spilled it all over her bedroom floor. Due to Kim's unmade face, and slightly askew braids, this scene had to have been filmed the day after Scene 13 on November 19, 2016. This means that Kim had a catheter in place for about ten days.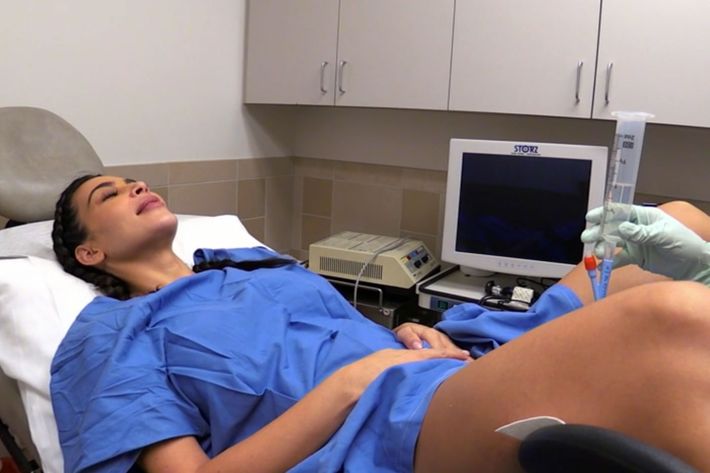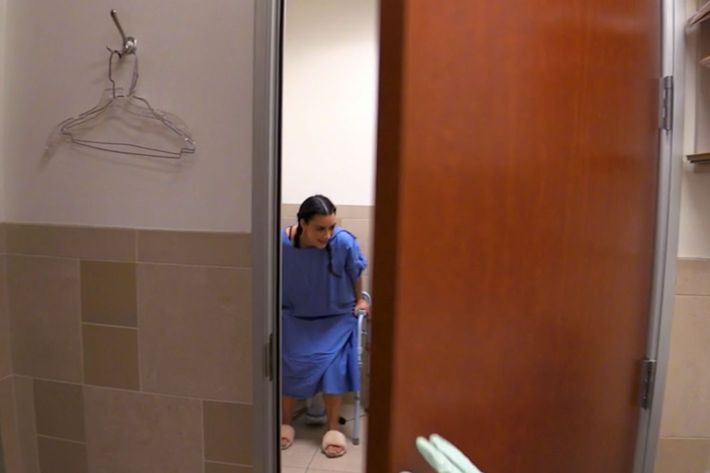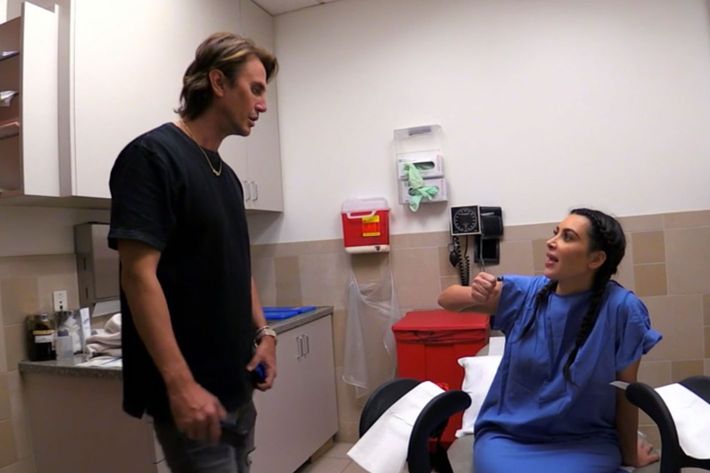 Scene 15:
At Los Angeles's the Grove, Khloé Kardashian, Kris Jenner, and Khloé's business partner who doesn't get enough chine, Emma Grede, launch Good American Denim. Before heading to a Q&A moderated by Kris Jenner, Khloé asks her mom to scale back on the new security hired to protect the family post-Paris. Kris pretends to think over asking the security to dial back their methods, but ultimately tells Khloé that their heightened measures are for the best, and to focus on her denim. After some questions from Kris and a look at the line, Good American is officially launched. Though she couldn't make it for the main event, Kourtney surprises Khloé backstage. They take some photos and Snapchats together to celebrate Khloé and her denim. Khloé's Good American release was filmed on October 18, 2016.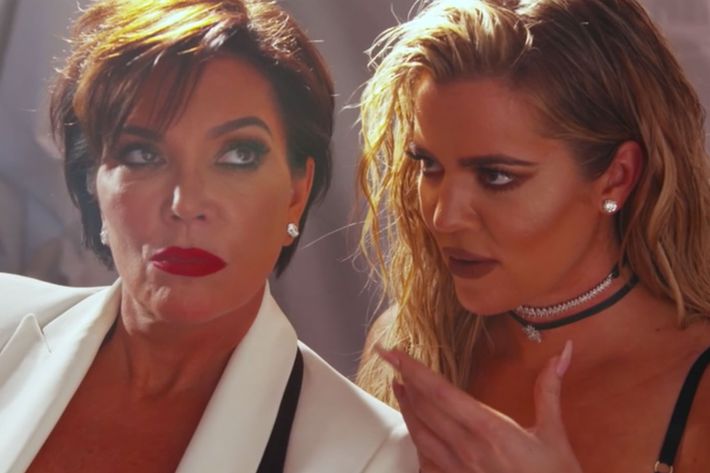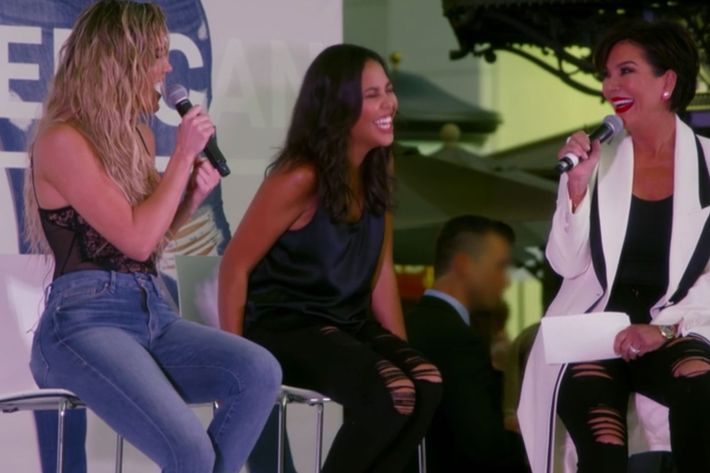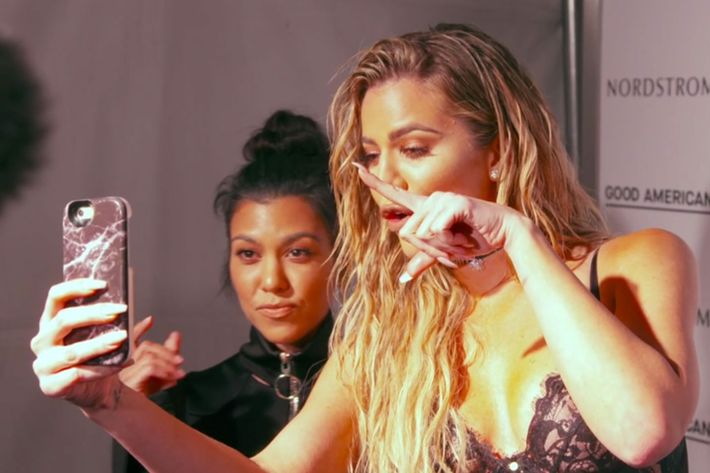 Scene 17:
With the hot sun of Calabasas beating down on them, Kris, Khloé, Scott, and Rob discuss Khloé's denim line in Khloé's backyard. Like a robot, Kris lists off the various successes of Khloé's line: It was the second-biggest launch Nordstrom had ever seen, and Khloé is now free from the burden of worrying about hitting a sales goal, because how women feel is what really matters. Khloé simply says the line did "astronomical." This scene was filmed on October 21, 2016, a month before Khloé learned of her sales goal.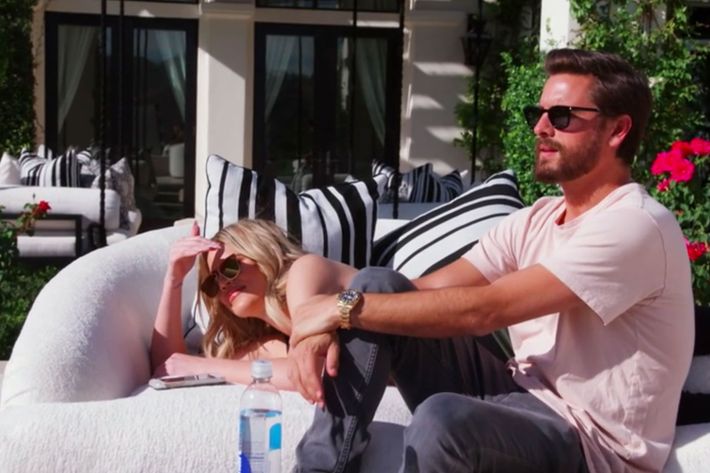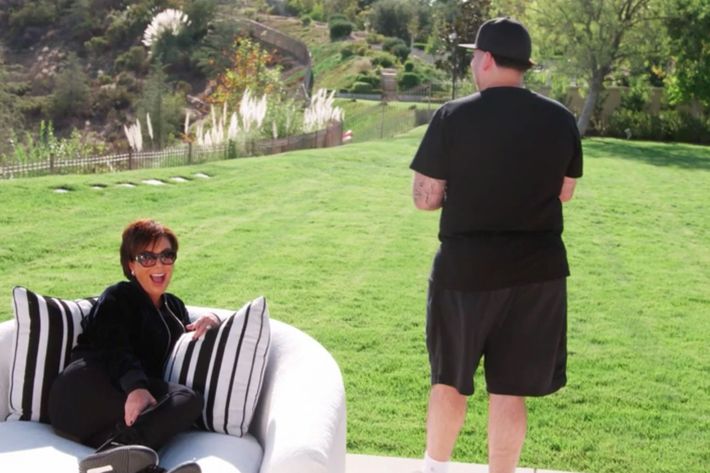 Well, my denim Dolls, that's it for this week. See about ya girl next week for another #KUWTKE recap of Keeping Up With Kim's Catheter. #DENIM